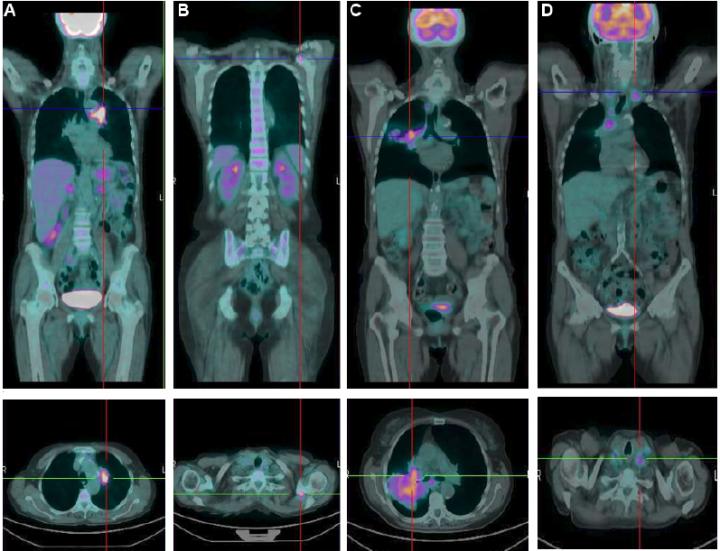 RESTON, VA - Italian researches have demonstrated a better way of determining the aggressiveness of tumors in patients with advanced non-small cell lung cancer (NSCLC). In a study presented in the featured clinical investigation article of the November issue of The Journal of Nuclear Medicine, they used 18F-fluorodeoxyglucose (FDG) PET/CT imaging to show that the amount of cell-free tumor DNA circulating in the bloodstream correlates with tumor metabolism (linked to cancer aggressiveness), not tumor burden (amount of cancer in the body).
According to the American Cancer Society, lung cancer is the leading cause of cancer death among both men and women, causing roughly 1 out of 4 cancer deaths. NSCLC represents approximately 85 percent of lung cancer cases. More than 22,000 new cases are expected this year in the United States, and the disease is expected to claim more than 155,000 lives.
"Despite the identification of circulating tumor cells (CTCs) and cell-free DNA (cfDNA) as biomarkers capable of providing clinically relevant information in cancer patients, at present their identification is not routinely used in clinical practice," explains Silvia Morbelli, MD, PhD, of the IRCCS San Martino - IST National Cancer Research Institute and University of Genoa in Genoa, Italy.
This study of 37 patients (24 men and 13 women, ages 51 to 80) who have never been treated with chemotherapy found direct correlation of the amount of cfDNA with tumor metabolism (based on PET-derived parameters), but not with metabolic tumor volume. These results suggest that cfDNA might better reflect tumors' biological behavior and aggressiveness than tumor burden in metastatic NSCLC.
The researchers noted that a subgroup of 13 patients had metabolically active bone lesions and also higher levels of cfDNA. In addition, while cfDNA correlated with tumor metabolism, no association was found with circulating tumor cells (CTCs). Previous investigations have suggested that cfDNA and CTCs might provide complementary information about tumor biology. The small size of this study means that no definitive conclusions could be made regarding the role of CTCs in NSCLC metabolism.
Morbelli points out, "Our findings illustrate the prognostic value of 18F-FDG and provide a deeper understanding of clinically reliable, noninvasive biomarkers that may help identify potential unresponsive NSCLC patients before treatment and limit unnecessary toxicity."
###
The authors of "Circulating tumor DNA reflects tumor metabolism rather than tumor burden in chemotherapy-naive patients with advanced non-small cell lung cancer (NSCLC): 18F-FDG PET/CT study" include Silvia Morbelli, Giulia Ferrarazzo, Francesca Bongioanni, Roberta Piva, Alberto Nieri, Matteo Bauckneht, and Gianmario Sambuceti, IRCCS San Martino - IST National Cancer Research Institute and University of Genoa, Genoa, Italy; Angela Alama, Simona Coco, Carlo Genova, Erika Rijavec, Federica Biello, Maria Giovanna Dal Bello, Giulia Barletta, IreneVanni, and Francesco Grossi, IRCCS AOU San Martino - IST National Cancer Research Institute; and Michela Massollo, EO Galliera Hospital, Genoa, Italy.
Please visit the SNMMI Media Center to view the PDF of the study, including images, and more information about molecular imaging and personalized medicine. To schedule an interview with the researchers, please contact Laurie Callahan at (703) 652-6773 or lcallahan@snmmi.org. Current and past issues of The Journal of Nuclear Medicine can be found online at http://jnm.snmjournals.org.
About the Society of Nuclear Medicine and Molecular Imaging
The Society of Nuclear Medicine and Molecular Imaging (SNMMI) is an international scientific and medical organization dedicated to raising awareness about nuclear medicine and molecular imaging, vital elements of precision medicine that allow diagnosis and treatment to be tailored to individual patients in order to achieve the best possible outcomes.
SNMMI's more than 15,000 members set the standard for molecular imaging and nuclear medicine practice by creating guidelines, sharing information through journals and meetings and leading advocacy on key issues that affect molecular imaging and therapy research and practice. For more information, visit http://www.snmmi.org.
---
Journal
Journal of Nuclear Medicine