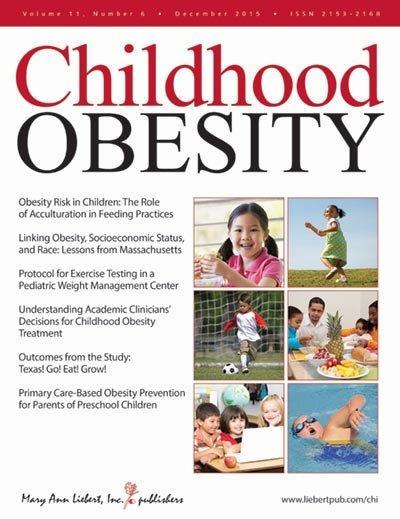 New Rochelle, NY, January 26, 2016--Compared to normal weight adolescents, severely obese teens had at least a 2-fold greater risk of having high total cholesterol, triglycerides, and fasting glucose levels, and a greater than 5-times increased risk of elevated blood pressure. These cardio-metabolic risk factors varied with weight, with risk greater for severely obese children and teens compared to moderately obese and normal weight youngsters, as reported in a study published in Childhood Obesity, a peer-reviewed journal from Mary Ann Liebert, Inc., publishers. The article is available free on the Childhood Obesity website until February 26, 2016.
Linlin Li, PhD, MPH, Duke University Medical Center (Durham, NC), Steven Kelder, PhD, MPH, The University of Texas School of Public Health (Austin), and coauthors assessed the dose-response relationship between weight status and cardio-metabolic risk factors among U.S. youths 6-19 years of age using data collected between 1999-2012. Based on a definition of severe obesity as a body mass index of at least 35 kg/m2, the researchers found that among severely obese adolescents, nearly 10% had high blood pressure, 40% had high triglycerides, 30% had high levels of low-density lipoprotein cholesterol, and about 27% had high fasting glucose. The results are reported in the article "Cardiometabolic Risk Factors among Severely Obese Children and Adolescents in the United States, 1999-2012."
"These findings dramatize the heightened cardiovascular disease risks associated with severe obesity even among teenagers," says Childhood Obesity Editor-in-Chief Tom Baranowski, PhD, Baylor College of Medicine, Houston, TX. "While causality cannot be inferred from these analyses, they do indicate that effective treatment programs are urgently needed for severely obese teens, and more effective prevention programs are needed at much earlier ages."
###
About the Journal
Childhood Obesity is a bimonthly peer-reviewed journal, published in print and online, and the journal of record for all aspects of communication on the broad spectrum of issues and strategies related to weight management and obesity prevention in children and adolescents. Led by Editor-in-Chief Tom Baranowski, PhD, Baylor College of Medicine, and Editor Elsie M. Taveras, MD, MPH, Massachusetts General Hospital for Children & Harvard Medical School, the Journal provides authoritative coverage of new weight management initiatives, early intervention strategies, nutrition, clinical studies, comorbid conditions, health disparities and cultural sensitivity issues, community and public health measures, and more. Complete tables of content and a sample issue may be viewed on the Childhood Obesity website.
About the Publisher
Mary Ann Liebert, Inc., publishers is a privately held, fully integrated media company known for establishing authoritative medical and biomedical peer-reviewed journals, including Metabolic Syndrome and Related Disorders, Population Health Management, Diabetes Technology & Therapeutics (DTT), and Journal of Women's Health. Its biotechnology trade magazine, Genetic Engineering & Biotechnology News (GEN), was the first in its field and is today the industry's most widely read publication worldwide. A complete list of the firm's 80 journals, newsmagazines, and books is available on the Mary Ann Liebert, Inc., publishers website.
---
Journal
Childhood Obesity