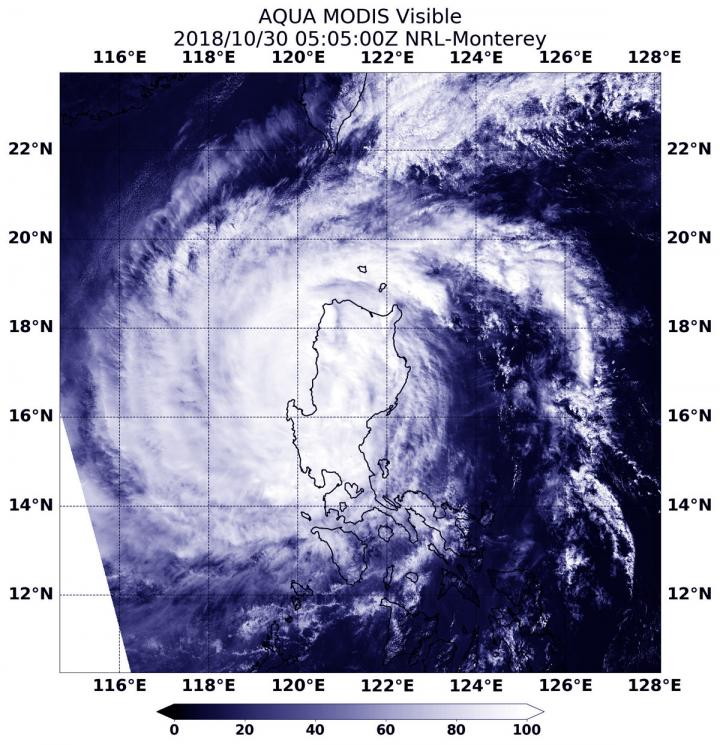 Visible satellite imagery from NASA's Aqua satellite showed that Typhoon Yutu maintained its structure as it exited Luzon, the northern Philippines.
Yutu is known locally as Rosita in the Philippines.  On Oct. 30, Yutu moved into the South China Sea after passing through La Union. La Union is a province in the Ilocos Region in the island of Luzon.
Philippines warnings that are in effect on Oct. 30 include Warning signal 3 over the Luzon provinces of La Union and Pangasinan; Warning signal 2 over the Luzon provinces of Abra, Ilocos Sur, Mt Province, Nueva Vizcaya, Nueva Ecija, Tarlac and Zambales; and Warning signal 1 over the Luzon provinces of Ilocos Norte, Apayao, Kalinga, Cagayan, Isabela, Quirino, Aurora, Bulacan, Pampanga, Bataan, Metro Manila, Rizal, Cavite, Laguna and Batangas.
At 1:05 a.m. EDT (0505 UTC) on Oct. 30, the Moderate Resolution Imaging Spectroradiometer or MODIS instrument aboard Aqua captured a visible image of Yutu as it was exiting then northern Philippines and entering the South China Sea.  Visible satellite imagery showed the storm maintained a symmetrical structure despite passing over land.
At 5 a.m. EDT (0900 UTC) on Oct. 30, the center of Yutu was located near latitude 16.8 degrees north and longitude 120.0 degrees east. That's 144 nautical miles north-northeast of Manila, Philippines. Maximum sustained winds were near 75 knots (86 mph/139 kph).
The Joint Typhoon Warning Center expects Yutu to re-strengthen in the South China Sea and then turn north. It is expected to dissipate in the Taiwan Strait, located between Taiwan and the Chinese mainland.
###
---