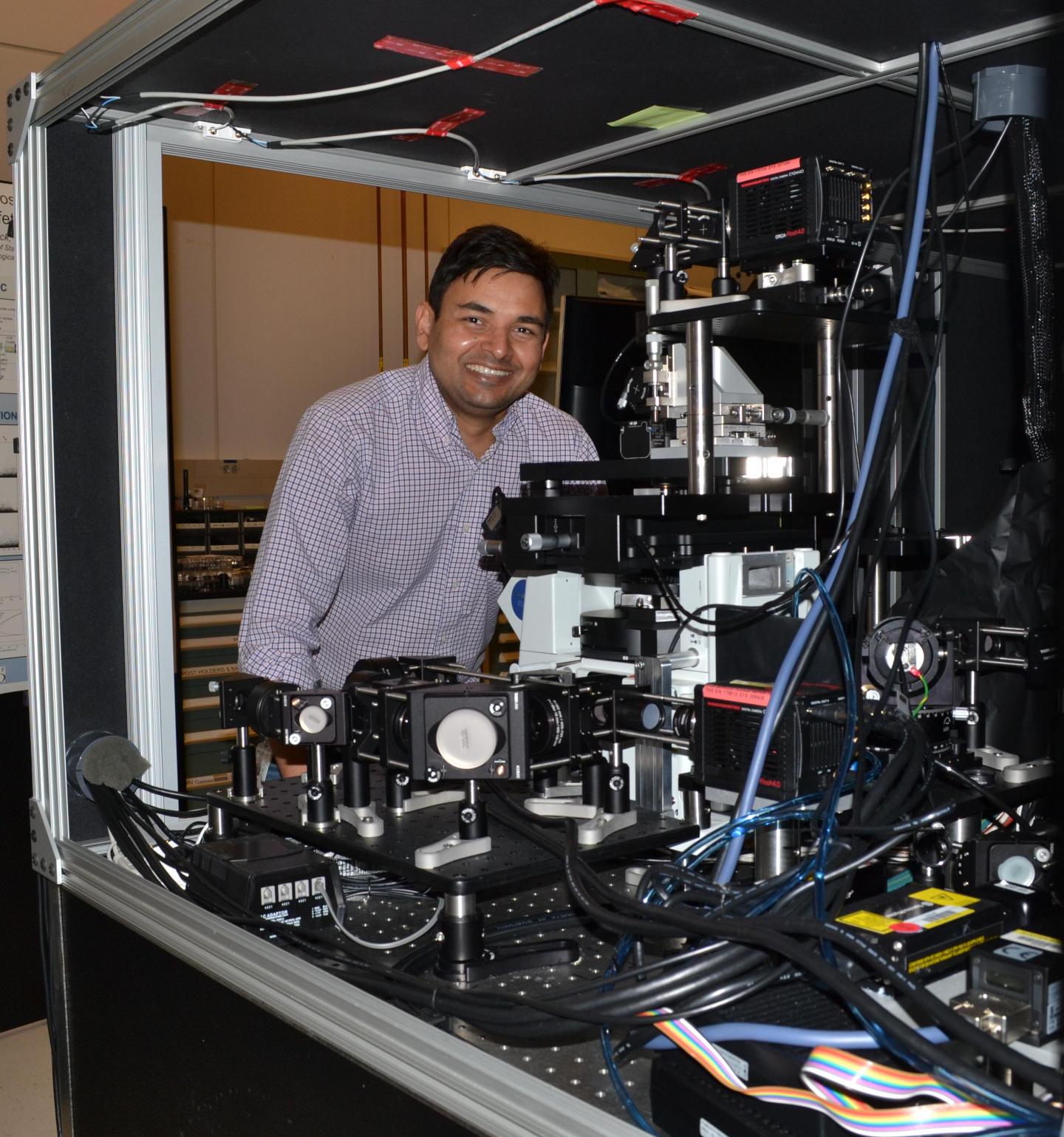 WOODS HOLE, Mass. – Microscopy innovator Abhishek Kumar, Ph.D., has received a national award from the Chan Zuckerberg Initiative (CZI) to join the staff of the Marine Biological Laboratory (MBL) as a key collaborator in the
MBL's Imaging Initiative
, an emerging, interdisciplinary center dedicated to research, discovery, and training in biological imaging and analysis.
Kumar is one of 17 "CZI Imaging Scientist" awardees announced today by the Chan Zuckerberg Initiative, the Redwood City, Calif.-based philanthropy. Each awardee will receive three years of salary support at one of 17 imaging centers across the United States.
"Microscopy — the core method of cell biology — is central to basic biomedical science," said Edwin McClesky, Science Program Officer at CZI. "Improving imaging means improving broad areas of biomedicine, which is central to CZI's mission of supporting the science and technology that will make it possible to cure, prevent, or manage all diseases by the end of this century."
Kumar brings expertise in developing optical (light) microscopes to the MBL Imaging Initiative's extraordinarily fertile environment for collaboration, innovation, and dissemination of discoveries. Hundreds of scientists, faculty, students, and industry experts convene at the MBL each year for research at the interface of biology, microscopy instrument development, and computational image analysis. Kumar will be directly engaged in imaging research and training, and will also catalyze collaborations and help ensure that innovations are disseminated quickly and broadly through the MBL's educational courses and workshops.
"All microscopes have strengths and weaknesses, depending on the biological problem you are trying to solve. That's why we are developing all types of instruments for specific needs and applications," Kumar said. "One of my goals at the MBL is to innovate new imaging technologies that address an increasingly diverse set of biological questions, ranging from the development of new model systems, to the structure of microbial communities, to understanding how organisms adapt to ecological changes."
"We are very grateful for this CZI Imaging Scientist award to Dr. Kumar, which will help ensure that MBL will continue to lead as a catalyst in advancing imaging technologies and driving biological discoveries," said MBL Director Nipam Patel. "Dr. Kumar will be a key contributor to our Imaging Initiative, which seeks to synergize and accelerate the innovation cycle in imaging and image-analysis technologies at MBL, and disseminate new findings widely throughout the broader community."
Kumar is presently an Assistant Scientist at the University of Maryland, College Park, and he is already embedded in the MBL's innovation culture. After receiving his Ph.D. in physics at University of Massachusetts, Lowell, in 2013, Kumar began a postdoctoral position with neurobiologist Daniel Colón-Ramos of Yale Medical School and biophysicist Hari Shroff from the National Institutes of Health. The three scientists began building a light-sheet microscope for fast, gentle live imaging of cells and smaller embryos, such as C. elegans (roundworm) embryos. That summer, they convened in the MBL's Whitman Center to finish developing the instrument there.
Kumar developed control software for this new microscope (the diSPIM), which allowed them to map brain-wide activity of the developing C.elegans nervous system during embryogenesis. He then became part of a wider collaboration at MBL to develop a light-sheet system to map the location and 3D orientation of single molecules in cells.
Kumar received a Grass Fellowship at MBL in 2015, and has participated in the MBL's Analytical and Quantitative Light Microscopy course.
—###—
The Marine Biological Laboratory (MBL) is dedicated to scientific discovery – exploring fundamental biology, understanding marine biodiversity and the environment, and informing the human condition through research and education. Founded in Woods Hole, Massachusetts in 1888, the MBL is a private, nonprofit institution and an affiliate of the University of Chicago.
---