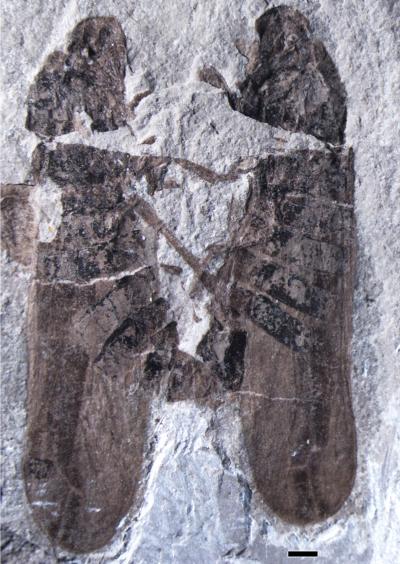 Scientists have found the oldest fossil depicting copulating insects in northeastern China, published November 6th in the open-access journal PLOS ONE by Dong Ren and colleagues at the Capital Normal University in China.
Fossil records of mating insects are fairly sparse, and therefore our current knowledge of mating position and genitalia orientation in the early stages of evolution is rather limited.
In this study, the authors present a fossil of a pair of copulating froghoppers, a type of small insect that hops from plant to plant much like tiny frogs. The well-preserved fossil of these two froghoppers showed belly-to-belly mating position and depicts the male reproductive organ inserting into the female copulatory structure.
This is the earliest record of copulating insects to date, and suggests that froghoppers' genital symmetry and mating position have remained static for over 165 million years. Ren adds, "We found these two very rare copulating froghoppers which provide a glimpse of interesting insect behavior and important data to understand their mating position and genitalia orientation during the Middle Jurassic."
###
Citation: Li S, Shih C, Wang C, Pang H, Ren D (2013) Forever Love: The Hitherto Earliest Record of Copulating Insects from the Middle Jurassic of China. PLoS ONE 8(11): e78188. doi:10.1371/journal.pone.0078188
Financial Disclosure: This research is supported by the National Basic Research Program of China (973 Program) (grant 2012CB821906), the National Natural Science Foundation of China (grants 31172143, 31230065, 31272352 and 41272006), Project of Great Wall Scholar and KEY project of Beijing Municipal Commission of Education (grants KZ201310028033), and China Geological Survey (grant 1212011120115). The funders had no role in study design, data collection and analysis, decision to publish, or preparation of the manuscript.
Competing Interest Statement: The authors have declared that no competing interests exist.
PLEASE LINK TO THE SCIENTIFIC ARTICLE IN ONLINE VERSIONS OF YOUR REPORT (URL goes live after the embargo ends): http://dx.plos.org/10.1371/journal.pone.0078188
Disclaimer: This press release refers to upcoming articles in PLOS ONE. The releases have been provided by the article authors and/or journal staff. Any opinions expressed in these are the personal views of the contributors, and do not necessarily represent the views or policies of PLOS. PLOS expressly disclaims any and all warranties and liability in connection with the information found in the release and article and your use of such information.
About PLOS ONE: PLOS ONE is the first journal of primary research from all areas of science to employ a combination of peer review and post-publication rating and commenting, to maximize the impact of every report it publishes. PLOS ONE is published by the Public Library of Science (PLOS), the open-access publisher whose goal is to make the world's scientific and medical literature a public resource.
All works published in PLOS ONE are Open Access. Everything is immediately available—to read, download, redistribute, include in databases and otherwise use—without cost to anyone, anywhere, subject only to the condition that the original authors and source are properly attributed. For more information about PLOS ONE relevant to journalists, bloggers and press officers, including details of our press release process and our embargo policy, see the everyONE blog at http://everyone.plos.org/media.
---