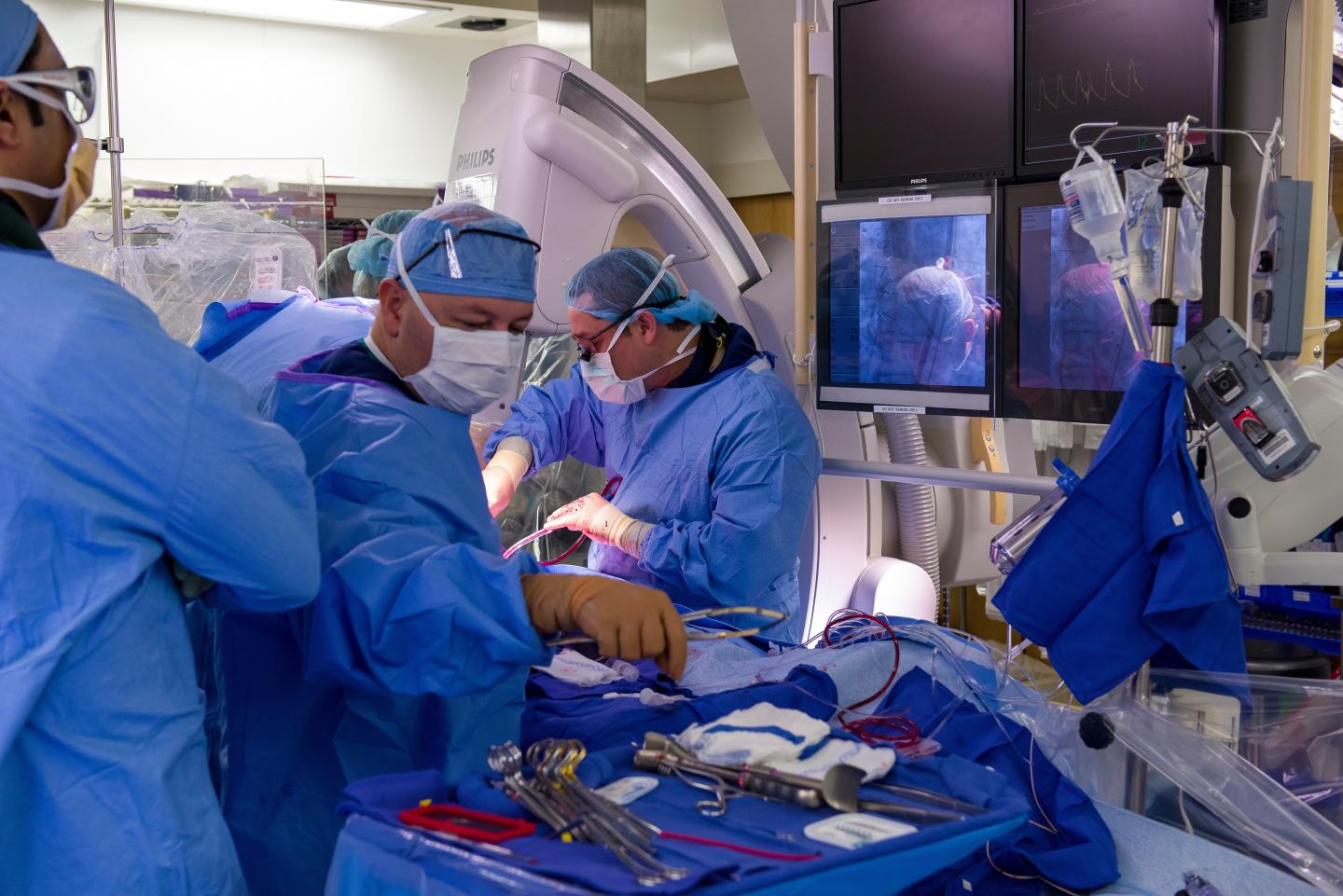 DALLAS - Feb. 5, 2018 - Looking at how well hospitals adhere to treatment guidelines for heart failure is more important than comparing patient volumes at hospitals, new research shows.
While volume alone didn't make much difference to mortality or readmission rates, hospitals seeing fewer heart failure patients were "significantly" less likely to follow American Heart Association treatment guidelines, the researchers found.
Interventional cardiologist Dharam Kumbhani, M.D.
Q&A: Heart Valve Replacement and Interventional Cardiology
Blog: Peripheral artery disease
Meet Dr. Kumbhani
Heart Valve Disorders Guide
UTSW Clinical Heart Center
"There's a very small, incremental relationship between how many patients a hospital sees with heart failure and the actual patient outcome once you adjust for adherence to the guidelines," said lead author Dr. Dharam Kumbhani, an interventional cardiologist at UT Southwestern Medical Center. "But we found that lower-volume hospitals have worse adherence to important heart failure processes than higher-volume hospitals."
Heart failure, which the American Heart Association says affects 6.5 million Americans, results when damage to the heart leaves it unable to pump enough blood to support the body. Without a heart transplant, it can be fatal.
Medications such as beta-blockers, and medical devices such as defibrillators, are commonly used to help such patients. But researchers found that hospitals treating fewer patients were less likely to:
prescribe beta-blockers or ACE inhibitors - medications commonly used for heart failure patients
run tests to check how well the heart's left ventricle was pumping blood
install a defibrillator or cardiac resynchronization therapy (CRT) pacemaker.
The study, which appears in American Heart Association journal Circulation, was based on records for more than 125,000 heart failure patients at 342 U.S. hospitals, admitted between 2005 and 2014. The study involved collaborations between scientists at UT Southwestern, which is recognizing its 75th anniversary this year, UCLA, Stanford University School of Medicine, Duke University Medical Center, Northwestern University Feinberg School of Medicine, Brigham and Women's Hospital, and Harvard Medical School.
Rather than directing patients to larger institutions, which can involve travel barriers and added costs, a better solution would be to find ways to give more hospitals easy access to treatment guidelines, said Dr. Kumbhani, Assistant Professor of Internal Medicine, and an epidemiologist.
###
Related Research
This study in Circulation
More not necessarily better with heart valve operations
Readmission penalties don't correlate to heart attack outcomes
Technology may help. For example, doctors treating patients at large metropolitan hospitals like UT Southwestern's William P. Clements University Hospital have guidelines readily available on computer screens and even their smart phones that smaller hospitals sometimes cannot afford.
Moreover, these are incorporated into admission and treatment order sets, leveraging the power of electronic medical record systems.
Researchers concluded that hospital profiling should focus on heart care improvement programs, adherence to process metrics, and risk-standardized outcomes rather than on hospital volume itself.
About UT Southwestern Medical Center
UT Southwestern, one of the premier academic medical centers in the nation, integrates pioneering biomedical research with exceptional clinical care and education. The institution's faculty has received six Nobel Prizes, and includes 22 members of the National Academy of Sciences, 18 members of the National Academy of Medicine, and 14 Howard Hughes Medical Institute Investigators. The faculty of more than 2,700 is responsible for groundbreaking medical advances and is committed to translating science-driven research quickly to new clinical treatments. UT Southwestern physicians provide care in about 80 specialties to more than 100,000 hospitalized patients, 600,000 emergency room cases, and oversee approximately 2.2 million outpatient visits a year.
---