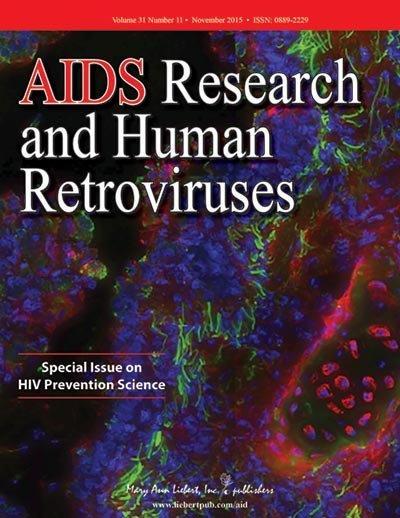 New Rochelle, NY, Nov. 19, 2015 -- New and emerging biomedical pre-exposure prophylaxis (PrEP) approaches to prevent HIV infection in targeted high-risk populations offer the most effective near-term strategy to reduce HIV transmission. The latest outcomes research, clinical trials results, and advances in HIV vaccine development are highlighted in multiple articles that comprise the annual HIV Prevention Science issue of AIDS Research and Human Retroviruses, a peer-reviewed journal from Mary Ann Liebert, Inc., publishers. The special issue is available free to download on the AIDS Research and Human Retroviruses website.
In the article 'Exploring Antibody Potential as Prophylactic/Therapeutic Strategies for Prevention of Early Mucosal HIV-1 Infection', Bin Su and coauthors from Université de Strasbourg, Hôpital de Hautepierre (Strasbourg, France), and Hôpital Henri Mondor (Créteil, France) demonstrate the ability of broadly neutralizing antibodies to prevent HIV infection of CD4+ T lymphocytes by inhibiting cell-to-cell HIV transmission. The antibody mixture also had a role in decreasing HIV replication. The researchers used a coculture system to model the types of cells and conditions present in the genital mucosal tissues where sexual transmission of HIV occurs.
Rebecca Pellett Madan and colleagues from Albert Einstein College of Medicine (Bronx, NY), University of Cape Town (South Africa), Centre for the AIDS Programme of Research in South Africa, University of KwaZulu-Natal, and National Health Laboratory Service (Durban, South Africa), and Massachusetts Institute of Technology (Cambridge, MA) examine the relationship between antibacterial activity in a woman's genital tract and her risk for acquiring HIV. The researchers show that women with higher inhibitory activity against E. coli bacteria and higher levels of antimicrobial peptides in cervicovaginal samples had an increased risk of HIV infection. They report their findings in the article 'Innate Antibacterial Activity in Female Genital Tract Secretions is Associated with Increased Risk of HIV Acquisition' .
In the Perspective article 'A Shot in the Arm for HIV Prevention? Recent Successes & Critical Threshold', Thomas Hope, PhD, Editor-in-Chief of AIDS Research and Human Retroviruses and Professor of Cell and Molecular Biology at Northwestern University, Feinberg School of Medicine (Chicago, IL), and Jeanne Marrazzo, MD, MPH, Professor of Medicine, University of Washington (Seattle), state: "Efforts to decrease the spread of HIV worldwide continue at a rapid pace. With the development of new biomedical interventions and findings from pivotal clinical trials, a new framework for short and long-term prevention strategies is emerging."
###
About the Journal
AIDS Research and Human Retroviruses , published monthly online with open access options and in print, presents papers, reviews, and case studies documenting the latest developments and research advances in the molecular biology of HIV and SIV and innovative approaches to HIV vaccine and therapeutic drug research, including the development of antiretroviral agents and immune-restorative therapies. Content also explores the molecular and cellular basis of HIV pathogenesis and HIV/HTLV epidemiology. The Journal features rapid publication of emerging sequence information, reports on clinical trials of emerging HIV therapies, and images in HIV research. Tables of content and a sample issue may be viewed on the AIDS Research and Human Retroviruses website.
About the Publisher
Mary Ann Liebert, Inc., publishers is a privately held, fully integrated media company known for establishing authoritative peer-reviewed journals in many promising areas of science and biomedical research, including AIDS Patient Care and STDs, Viral Immunology, and Journal of Interferon and Cytokine Research. Its biotechnology trade magazine, Genetic Engineering & Biotechnology News (GEN), was the first in its field and is today the industry's most widely read publication worldwide. A complete list of the firm's 80 journals, books, and newsmagazines is available on the Mary Ann Liebert, Inc., publishers website.
---
Journal
AIDS Research and Human Retroviruses