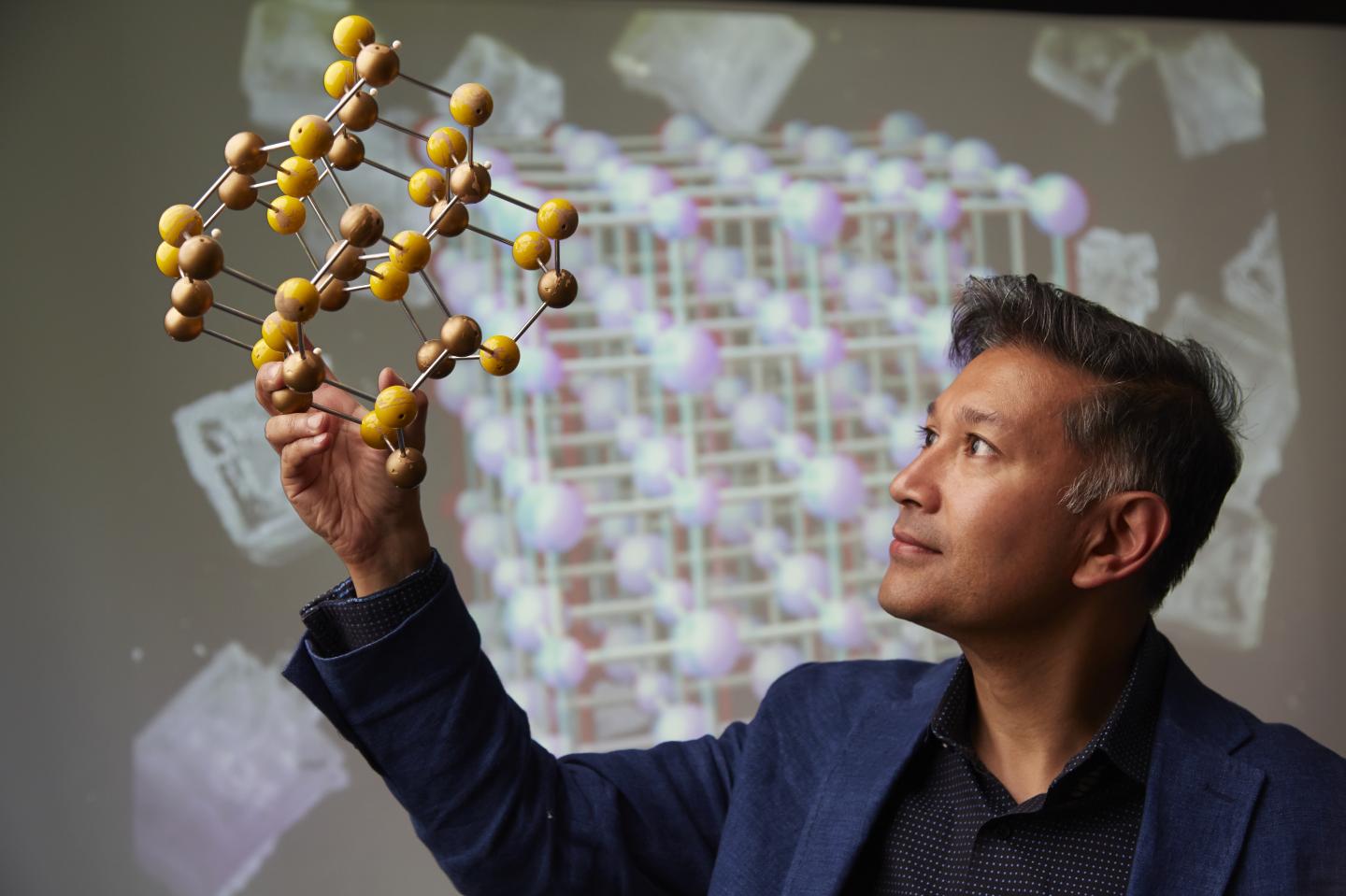 Faster recharging lithium batteries could be developed after scientists figured out why adding charged metal atoms to tunnel structures within batteries improves their performance.
Rechargeable lithium batteries have helped power the 'portable revolution' in mobile phones, laptops and tablet computers, and new generations of lithium batteries are being developed for electric vehicles and to store energy from wind and solar power.
Now the research groups of Professor Saiful Islam of the Department of Chemistry at the University of Bath, and Professor Reza Shahbazian-Yassar at the University of Illinois at Chicago, have gained important insights to help improve the performance of lithium batteries, published in the leading journal Nature Communications.
Storing electrical energy more quickly than current electrodes is important for future applications in portable electronics and electric vehicles.
It was recently discovered that that large metal ions such as potassium can improve charge storage in batteries, but it wasn't understood why this was the case.
The research teams used a powerful combination of structural experiments and computer simulations to unravel for the first time why adding charged potassium into tunnel-like structures of low-cost manganese oxide has a strong beneficial effect on the battery performance.
They discovered that adding positively charged ions increased how fast lithium moves within the tunnel structures, which is crucial to improving the charging of batteries.
Professor Islam said: "Understanding these processes is important for the future design and development of battery materials, and could lead to faster charging batteries that will benefit consumers and industry.
"Developing new materials holds the key to lighter, cheaper and safer batteries, including for electric vehicles which will help cut carbon emissions."
###
The research is funded by a £3.9 million Engineering and Physical Sciences Research Council (EPSRC) SUPERGEN grant.
The University of Bath is a major centre for sustainable energy and chemical research. This includes the Centre for Sustainable Chemical Technologies and the Institute for Sustainable Energy and the Environment.
For further information, please contact Chris Melvin in the University of Bath Press Office on +44 (0)1225 386 319 or c.m.melvin@bath.ac.uk
Notes to editors:
Prof Saiful Islam: http://people.bath.ac.uk/msi20/
"The influence of large cations on the electrochemical properties of tunnel-structured metal oxides" is published in Nature Communications
The University of Bath celebrates its 50th anniversary this year as one of the UK's leading universities both in terms of research and our reputation for excellence in teaching, learning and graduate prospects.
In the REF 2014 research assessment 87 per cent of our research was defined as 'world-leading' or 'internationally excellent'. From making aircraft more fuel efficient, to identifying infectious diseases more quickly, or cutting carbon emissions through innovative building solutions, research from Bath is making a difference around the world. Find out more: http://www.bath.ac.uk/research/
Well established as a nurturing environment for enterprising minds, Bath is ranked highly in all national league tables. We were chosen as the UK's top university in the Times Higher Education Student Experience Survey 2015.
---
Journal
Nature Communications