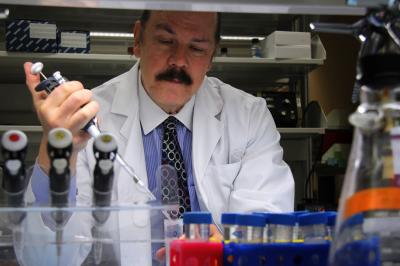 Richmond, Va. (November 13, 2012) – In laboratory experiments, scientists have eliminated metastasis, the spread of cancer from the original tumor to other parts of the body, in melanoma by inhibiting a protein known as melanoma differentiation associated gene-9 (mda-9)/syntenin. More than 1 million cases of skin cancer are diagnosed each year in the U.S., and melanoma is the deadliest form. With further research, the approach used by the scientists could lead to targeted therapies that stop metastasis in melanoma and potentially a broad range of additional cancers.
The study published online in the journal Cancer Research was led by Paul B. Fisher, M.Ph., Ph.D., Thelma Newmeyer Corman Endowed Chair in Cancer Research and program co-leader of Cancer Molecular Genetics at Virginia Commonwealth University Massey Cancer Center, chairman of VCU's Department of Human and Molecular Genetics and director of the VCU Institute of Molecular Medicine. Fisher and his colleagues found that Raf kinase inhibitor protein (RKIP) interacted with and suppressed mda-9/syntenin. Mda-9/syntenin was originally cloned in Fisher's laboratory, and was shown in previous studies to interact with another protein, c-Src, to start a series of chemical reactions that lead to increased metastasis.
"Prior research suggests that RKIP plays a seminal role in inhibiting cancer metastasis, but, until now, the mechanisms underlying this activity were not clear," says Fisher. "In addition to providing a new target for future therapies, there is potential for using these two genes as biomarkers for monitoring melanoma development and progression."
Through their experiments, the scientists discovered that RKIP physically binds with mda-9/syntenin, and this physical interaction inhibits mda-9/syntenin expression. This finding opens the possibility of developing small molecules that mimic RKIP to be used as drugs to treat metastasis in melanoma and other cancers.
Additionally, the team found that levels of mda-9/syntenin were higher than levels of RKIP in malignant and metastatic melanoma cells while levels of RKIP were higher than levels of mda-9/syntenin in healthy melanocytes, which are the cells that produce pigment in the skin, eyes and hair. The inverse relationship between the two proteins suggests that changes in their levels of expression could be used as a diagnostic tool, enabling clinicians to track the development of the disease or gauge a patient's response to treatments.
"Our findings represent a major breakthrough in understanding the genetic mechanisms that lead to metastasis in melanoma. Prior studies have shown that levels of mda-9/syntenin are elevated in a majority of cancers, including melanoma, suggesting that our findings could be applicable for a wide range of diseases," says Fisher.
Now that the researchers have demonstrated the ability of RKIP to inhibit mda-9/syntenin-mediated metastasis, they are focusing their attention on developing small molecules imitating RKIP that could be used as new treatments for melanoma.
###
Fisher collaborated on this study with Devanand Sarkar, M.B.B.S., Ph.D., Harrison Scholar at VCU Massey Cancer Center, Blick Scholar and assistant professor in the Department of Human and Molecular Genetics at VCU School of Medicine and member of the VCU Institute of Molecular Medicine; Swadesh K. Das, Ph.D., instructor in the Department of Human and Molecular Genetics at VCU School of Medicine and VCU Institute of Molecular Medicine; Sujit K. Bhutia, Ph.D., Upneet K. Sokhi, Ph.D. graduate student, Belal Azab, Ph.D., and Zhao-zhong Su, Ph.D., all from the Department of Human and Molecular Genetics at VCU School of Medicine; Talha Anwar, Ph.D., Erika L. Moen, Ph.D., and Devasis Chatterjee, Ph.D., all from the Department of Medicine at Rhode Island Hospital; and Maurizio Pellecchia, Ph.D., from the Sanford-Burnham Medical Research Institute in La Jolla, CA.
Funding for this study was supported in part by National Institutes of Health grants 1R01 CA097318, P01 CA104177 and P20 RR17695; the National Foundation for Cancer Research; the Goldhirsh Foundation for Brain Tumor Research; the Dana Foundation; the American Cancer Society; and the Samuel Waxman Cancer Research Foundation.
The full manuscript of this study is available online at: http://cancerres.aacrjournals.org/content/early/2012/10/11/0008-5472.CAN-12-0402.abstract?sid=6fae281f-1cec-4331-b5bd-6019f04ac54b
News directors: Broadcast access to VCU Massey Cancer Center experts is available through VideoLink ReadyCam. ReadyCam transmits video and audio via fiber optics through a system that is routed to your newsroom. To schedule a live or taped interview, contact John Wallace, (804) 628-1550.
About VCU Massey Cancer Center
VCU Massey Cancer Center is one of only 67 National Cancer Institute-designated institutions in the country that leads and shapes America's cancer research efforts. Working with all kinds of cancers, the Center conducts basic, translational and clinical cancer research, provides state-of-the-art treatments and clinical trials, and promotes cancer prevention and education. Since 1974, Massey has served as an internationally recognized center of excellence. It has one of the largest offerings of clinical trials in Virginia and serves patients in Richmond and in four satellite locations. Its 1,000 researchers, clinicians and staff members are dedicated to improving the quality of human life by developing and delivering effective means to prevent, control and ultimately to cure cancer. Visit Massey online at www.massey.vcu.edu or call 877-4-MASSEY for more information.
About VCU and the VCU Medical Center
Virginia Commonwealth University is a major, urban public research university with national and international rankings in sponsored research. Located in downtown Richmond, VCU enrolls more than 31,000 students in 222 degree and certificate programs in the arts, sciences and humanities. Sixty-six of the programs are unique in Virginia, many of them crossing the disciplines of VCU's 13 schools and one college. MCV Hospitals and the health sciences schools of Virginia Commonwealth University compose the VCU Medical Center, one of the nation's leading academic medical centers. For more, see www.vcu.edu.
---