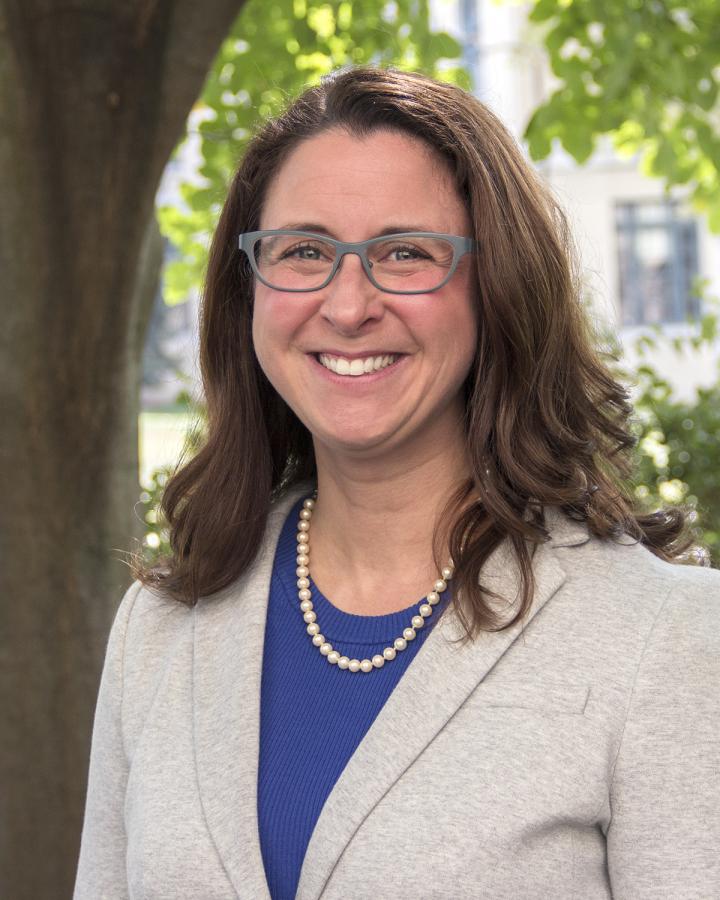 Kathryn Whitehead, assistant professor of chemical engineering at Carnegie Mellon University, has been awarded a 2018 National Institutes of Health (NIH) Director's New Innovator Award for her project titled "Fate, Function, and Genetic Engineering of Breast Milk Cells for Infant Therapy." NIH Director's Awards are prestigious awards given to exceptionally creative scientists proposing high-risk, high-impact research.
With this award, Whitehead, who has a courtesy appointment in biomedical engineering, will genetically engineer the human cells in breast milk for infant disease therapy--something no one has ever done before.
"This idea came about after I gave birth to my daughter," says Whitehead. "I had a lot of time while breastfeeding her to think about what I was doing, and I realized that I didn't really know very much about breast milk or why it was so good for my baby. When I turned to the scientific literature to try to find answers, I realized that very few answers were out there."
Whitehead found that there are many living human cells in breast milk--on the order of a million human cells per milliliter of breast milk. When infants drink breast milk, they consume their mothers' human cells with it.
These cells have a remarkable property: they can get out of the gastrointestinal tract and functionally integrate into the infant's tissue. The mother's cells might enter the liver, for example, attaching there and growing amongst the baby's own liver cells. These cells can live in the baby long into adulthood.
"This is an absolutely amazing phenomenon, in my opinion," says Whitehead. "As drug delivery scientists, we spend a lot of time in my research group trying to think about how to transport proteins and other therapeutic molecules out of the gastrointestinal tract. Living human cells are an order of magnitude bigger than that, and yet, they have the remarkable ability to get out of the GI tract and into the infant's body. This is amazing--and nobody understands how or why it's happening."
In addition to oral drug delivery, Whitehead's lab also works on RNA delivery and gene therapy. Whitehead believes that, if her lab can figure out how these cells are achieving this transport through the body, they might be able to use the cells as drug delivery vehicles for some therapeutic purpose that has never been seen before.
Whitehead's long-term vision is to isolate the cells from mother's pumped milk and genetically engineer them in a dish. From there, the lab would put the genetically engineered cells back into the milk for the baby to consume. By taking the cells in the mother's milk and isolating them, Whitehead's lab could genetically engineer the cells to perform non-invasive therapeutic functions to treat sick babies.
For example, Whitehead's lab might be able to task immune cells to help deliver oral vaccinations for babies, instead of taking the babies for shots every few months. Other examples may include tolerizing infants to allergens, such as peanuts, or treating babies with spina bifida, enterocolitis, or other types of genetic disorders.
"This idea is an example of why diversity in science and engineering is important. It was only having gone through the specific experience of childbirth and breastfeeding that allowed me to identify this underdeveloped area," says Whitehead. "Our approach will be non-invasive both for the mother and the baby, and with this project we might be able to treat babies in ways we've only really dreamed of before."
###
The NIH Director's New Innovator Award, established in 2007, supports unusually innovative research from early career investigators who are within 10 years of their final degree or clinical residency and have not yet received a research project grant or equivalent NIH grant.
---