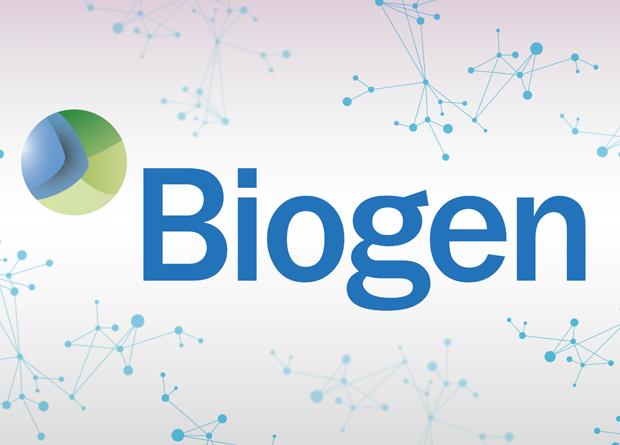 Cambridge, US and Cambridge, UK, Feb. 8, 2016 - Biogen (NASDAQ: BIIB) has joined the Centre for Therapeutic Target Validation (CTTV), the pioneering public-private collaboration to improve the success rate for discovering new medicines. Originally formed by GSK, the Wellcome Trust Sanger Institute and the European Bioinformatics Institute (EMBL-EBI), the CTTV fosters deep, ongoing interactions between academic and industry members for the purpose of developing open, transformative approaches to selecting and validating novel targets in drug development.
The CTTV uses advances in genetic research and computational biology to help scientists with the crucial first step in exploring new medicines: finding where to start. Target validation, an exercise that clearly defines the role that a biological process plays in a disease, is a key initial phase of drug discovery. Currently, an estimated 90 percent of compounds entering clinical trials fail to demonstrate the necessary efficacy and safety requirements, never reaching patients as medicines. This is often because the biological target chosen is not well understood.
"We are committed to advancing evidence-based target discovery and opening up the field for researchers to create innovative methods and tools to accelerate the development of new medicines," says Sally John, vice president, Computational Biology & Genomics at Biogen. "Being part of the CTTV helps us realise this vision and provides a practical, harmonised way to share data with the scientific community."
Biogen's new membership follows the launch of the new CTTV Target Validation Platform, which helps researchers identify therapeutic targets for new medicines. Underscoring its utility for drug discovery, the platform has had over 9000 visits since its launch in December 2015.
Philip Ma, vice president, Digital Health Technology & Data Sciences at Biogen, adds: "The importance of accessing and managing searchable, structured data is critical to sharing knowledge on target validation. We look forward to combining our expertise in data sciences with the leading capabilities of GSK, the Sanger Institute and EMBL-EBI."
"The CTTV is proud to announce the addition of Biogen to our collaboration to improve the process of identifying and validating targets," elaborates Jeffrey Barrett, CTTV Director. "The pre-competitive nature of CTTV is critical: the collaboration of our members allows us to make the most of commercial R&D practice while making the data and information available to everyone. It is truly exciting to apply so many different areas of expertise, from cell biology to large scale genome analysis, to the challenge of creating better medicines."
The CTTV covers all aspects of human health and disease. The cornerstone of the collaboration is an agreement that experimental data and information gathered within the CTTV will be shared to benefit the broader scientific community, after basic quality control checks to ensure consistency with the data-sharing guidelines of both institutes. The CTTV welcomes new interest from companies and academic institutions that wish to accelerate the discovery of drug targets through open innovation.
About the Centre for Therapeutic Target Validation
The CTTV is a unique, pre-competitive, open-innovation consortium that aims to provide evidence on the biological validity of therapeutic targets through genome-scale experiments and computational analysis. In addition to its web-based platform, the CTTV provides an R&D framework that applies to all aspects of human disease. It combines expertise from Biogen, GSK, EMBL-EBI and the Wellcome Trust Sanger Institute, and is committed to sharing its data openly with the scientific community. It is located on the Wellcome Genome Campus in the UK, which is home to some of the world's most advanced institutes working at the interface of genomics and computational biology. http://www.targetvalidation.org.
About Biogen
Through cutting-edge science and medicine, Biogen discovers, develops and delivers to patients worldwide innovative therapies for the treatment of neurodegenerative diseases, hematologic conditions and autoimmune disorders. Founded in 1978, Biogen is one of the world's oldest independent biotechnology companies and patients worldwide benefit from its leading multiple sclerosis and innovative hemophilia therapies. For product labeling, press releases and additional information about the company, please visit http://www.biogen.com.
###
About EMBL-EBI
The European Bioinformatics Institute is part of EMBL, and is a global leader in the storage, analysis and dissemination of large biological datasets. EMBL-EBI helps scientists realize the potential of 'big data' by enhancing their ability to exploit complex information to make discoveries that benefit mankind. It is a non-profit, intergovernmental organization funded by EMBL's 21 member states and two associate member states. Its 570 staff hail from 57 countries, and work with a regular stream of visiting scientists throughout the year. EMBL-EBI is located on the Wellcome Genome Campus in Hinxton, Cambridge in the United Kingdom. http://www.ebi.ac.uk
About GSK
GSK, one of the world's leading research-based pharmaceutical and healthcare companies, is committed to improving the quality of human life by enabling people to do more, feel better and live longer. http://www.gsk.com.
About the Wellcome Trust Sanger Institute
The Wellcome Trust Sanger Institute is one of the world's leading genome centers. Through its ability to conduct research at scale, it is able to engage in bold and long-term exploratory projects that are designed to influence and empower medical science globally. Institute research findings, generated through its own research programs and through its leading role in international consortia, are being used to develop new diagnostics and treatments for human disease. http://www.sanger.ac.uk
About the Wellcome Trust
The Wellcome Trust is a global charitable foundation dedicated to achieving extraordinary improvements in human and animal health. We support the brightest minds in biomedical research and the medical humanities. Our breadth of support includes public engagement, education and the application of research to improve health. We are independent of both political and commercial interests. http://www.wellcome.ac.uk
---