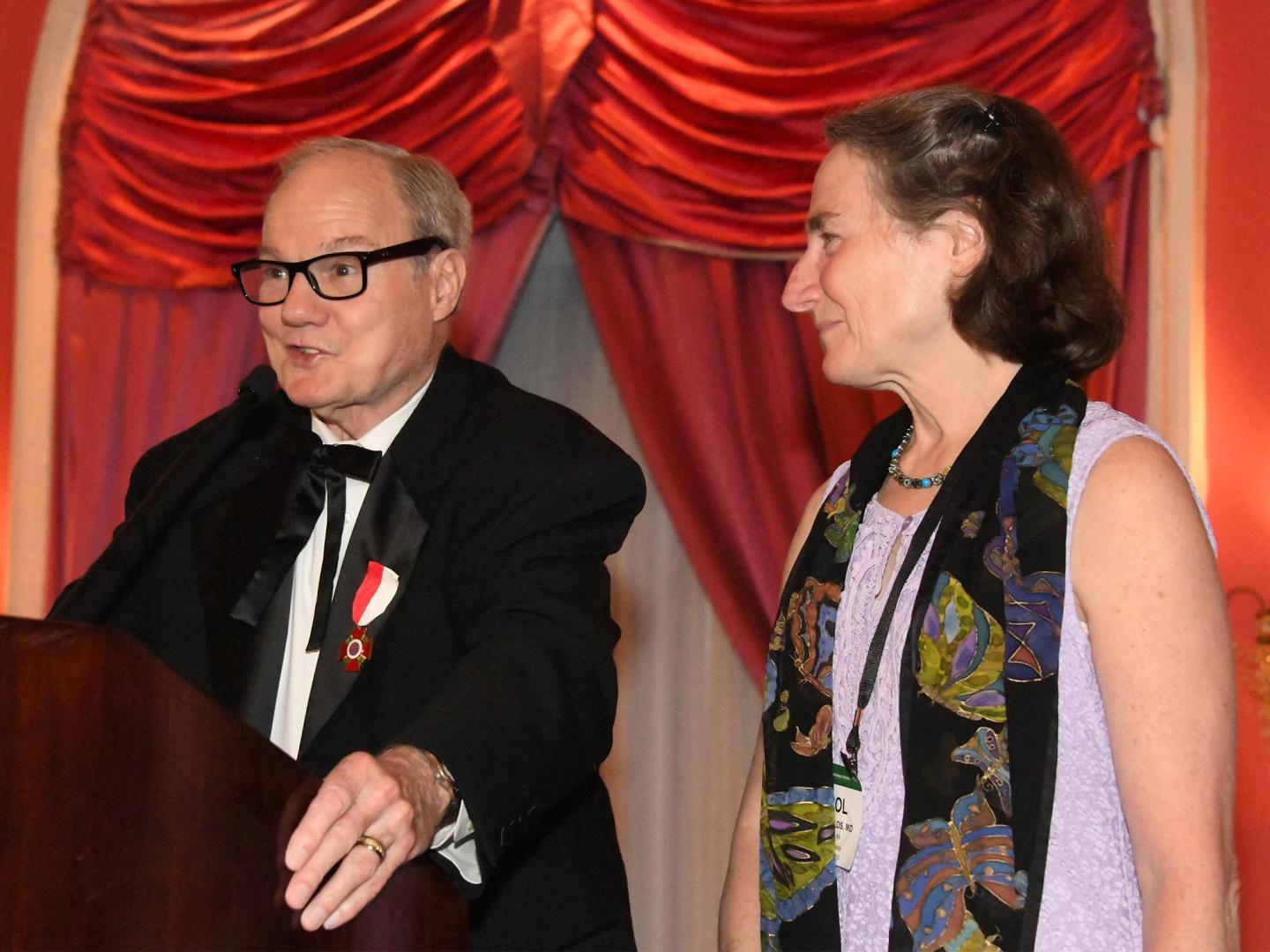 Philadelphia, PA- Director Emeritus and Founder of the Wills Eye Ocular Oncology Department, Jerry A. Shields, MD, Professor of Ophthalmology and recipient of The Brady Shields Endowed Chair, is the 2019 Honoree of the Lucien Howe Medal from the American Ophthalmological Society. Dr. Shields received the award for his distinguished service throughout his career to the fields of ocular oncology and ophthalmology. Dr. Shields received the Howe Medal at this year's AOS Meeting in White Sulphur Springs, Virginia May 16-19.
Dr. Shields is Founder and Director Emeritus of the Wills Eye Hospital Ocular Oncology Service and Professor of Ophthalmology at the Sidney Kimmel Medical College at Thomas Jefferson University in Philadelphia. Dr. Shields has been a leader for more than 50 years in the care and management of patients around the world with ocular tumors and eye disease. He has authored or co-authored over 1800 scientific publications, close to 20 major textbooks, has presented 1500 national and international scientific lectures including 70 named lectures. He has trained more than 120 fellows who have gone onto the practice of ocular oncology and who have themselves ascended to leadership positions throughout the world. He has received numerous professional awards including The American Academy of Ophthalmology's highest honor, The Laureate Award, The National Physician of the Year Award for Clinical Excellence from Castle Connelly Medical Ltd, and is consistently named a Top Doctor by Philadelphia Magazine. Dr. Shields has diagnosed and treated countless patients with tumors of the eyelids, conjunctiva, intraocular structures, and orbit - helping them to become "cancer-free." His work has helped save lives, save eyes, and preserve vision.
First awarded in 1922, the Howe Medal is international in scope and has recognized some of the most lauded and influential ophthalmologists in history. Previous Wills Eye physician leaders to receive the Howe Medal include, George Spaeth, MD, William Tasman, MD, and Thomas Duane, MD.
"We congratulate Jerry Shields for this immense honor and wholeheartedly applaud the American Ophthalmological Society's naming Dr. Shields as this year's Howe Medal awardee. Jerry has been a revered leader in the field of ocular oncology and ophthalmology. His contributions are legion. He has taught and trained generations of clinicians, been at the forefront of life saving treatments and cures in eye cancer, and has led research efforts that have defined new options in care and best practices in oncology. We are so very proud that, together with his partner and wife, Carol L. Shields, MD, and the Wills Eye team, they have called Wills Eye "Home"- achieving a positive global impact on health and vision," said, Julia A. Haller, MD, Ophthalmologist-in-Chief, Wills Eye Hospital and William Tasman, MD, Endowed Chair.
"Dr. Jerry Shields truly exemplifies our motto, "skill with compassion." As a physician, Jerry has been at the forefront of innovative eye cancer therapies for adults and children around the world. We treasure Jerry," said, Joseph P. Bilson, Chief Executive Officer, Wills Eye Hospital.
###
Media Contact
Cathy Moss 917-301-6773
cmoss@willseye.org
---