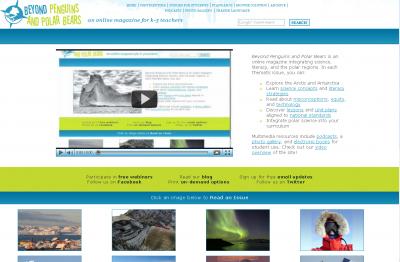 The considerable appeal of the animals that live in the polar regions is just one of the reasons that a Web site called Beyond Penguins and Polar Bears is so successful at bringing science into elementary school classrooms—which has led to its being awarded the Science Prize for Online Resources in Education (SPORE).
"The content is compelling," says science educator Kimberly Lightle, who created the site with education resource specialist Jessica Fries-Gaither. "It's a topic that we knew would appeal to elementary teachers—and elementary students. Those animals are very big in our popular culture."
The polar region–focused Web site is geared toward teachers but is also utilized by teachers-in-training, home-school families, and students. Because of its value as a science teaching tool, it has been selected to win a SPORE award.
Science magazine developed the Science Prize for Online Resources in Education (SPORE) to spotlight the best online materials in science education. The acronym SPORE suggests a reproductive element adapted to develop, often in less-than-ideal conditions, into something new—indicating that these winning projects may be the seed of significant progress in science education, despite considerable challenges to educational innovation. Science publishes an article by each recipient of the award, which explains the winning project. The article about Beyond Penguins and Polar Bears will be published on January 28.
"Improving science education is an important goal for all of us at Science," says Bruce Alberts, editor-in-chief. "We hope to help those innovators who have developed outstanding online resources reach a wider audience. Each winning Web site will be featured in an article in Science that is aimed at guiding science educators from around the world to valuable free online resources."
Beyond Penguins grew out of Lightle's effort to provide resources to elementary school teachers, who research showed spent as little as one hour per week on science instruction, with some devoting no time at all to the subject. A zoology and chemistry major in college, Lightle had planned on being a researcher. But she fell in love with teaching and earned a PhD in science education. When she heard about funding that was available for public education about the polar regions, she saw her areas of interest starting to piece together beautifully.
Fries-Gaither studied biology and anthropology in college, and then earned a master's in education. She taught elementary and middle school, and worked as a school math and science specialist. By the time Lightle decided to develop a teaching resource focused on the polar regions, Fries-Gaither had the experience of teaching elementary and middle school, and she had been living in Anchorage, Alaska. Although Anchorage is well below the Arctic Circle, living there brought Fries-Gaither closer to some of the themes that went into the two women's project.
Realizing that teachers feel time-pressured to meet state and federal education standards, Lightle and Fries-Gaither knew they needed more than cute and quirky penguins and polar bears to lure teachers to their Web site. They employed a strategy that would allow teachers to teach the literacy skills that were required of their students while using the materials provided by Beyond Penguins.
"With the goal of helping teachers teach science, we added a literacy focus," Fries-Gaither says. "We wanted to provide resources that said, okay, you can teach a literacy skill while teaching science."
Providing all the materials to teach a science unit—including original stories about the polar regions that can be printed out as books or read in electronic versions with a soundtrack narration—helped teachers who didn't feel comfortable teaching science on their own. As Fries-Gaither points out, many primary school teachers take just one science class in college.
"Integrating science and literacy is a 'Trojan Horse' approach," says Melissa McCartney, editorial fellow at Science, "that uses the reading and writing that elementary teachers are comfortable with as a vehicle for increased science instruction."
As it has turned out, the science-literacy integration works two ways: In addition to sneaking science instruction into the classroom, the compelling subject matter gives students an authentic purpose for reading and writing, benefiting the students' reading engagement, comprehension, and writing and speaking abilities.
The science themes presented by Beyond Penguins, which were chosen because they conform to science standards that are tested on toward the end of elementary school, have been given a "polar spin," Fries-Gaither says. Looking at a unit on states of matter, for example, the polar regions provide an ideal context. The Arctic Ocean provides examples of water vapor, water in its liquid form, and ice—all in interaction.
"Using the Arctic Ocean makes the study of the states of matter a little more concrete, especially for kids in warmer climates," Fries-Gaither says. "It also sets them up to think about climate change. How might that ice and snow be affected as temperatures rise?"
Testing the impact of the Web site on students has yielded very encouraging results. Teachers said the site made them more confident about teaching science, and more willing to provide opportunities to their students to read about science and to write to communicate scientific results. Third-graders who used the site's materials were significantly less likely to agree with the statements that "science was mostly memorizing facts" and that "science is more for boys than girls." They were also more likely to agree that writing is important to science.
Each month, the Beyond Penguins and Polar Bears site registers between 20,000 and 30,000. In recent months, that number has gone up. Fries-Gaither says she hopes the SPORE award and the essay that will be published in the journal Science will bring more attention to the Web site.
"I hope that after the article about Beyond Penguins gets published, we'll continue to grow."
###
To visit the Beyond Penguins and Polar Bears Web site, go to http://beyondpenguins.nsdl.org.
The American Association for the Advancement of Science (AAAS) is the world's largest general scientific society, and publisher of the journal, Science (www.sciencemag.org) as well as Science Translational Medicine (www.sciencetranslationalmedicine.org) and Science Signaling (www.sciencesignaling.org). AAAS was founded in 1848, and includes some 262 affiliated societies and academies of science, serving 10 million individuals. Science has the largest paid circulation of any peer-reviewed general science journal in the world, with an estimated total readership of 1 million. The non-profit AAAS (www.aaas.org) is open to all and fulfills its mission to "advance science and serve society" through initiatives in science policy; international programs; science education; and more. For the latest research news, log onto EurekAlert!, www.eurekalert.org, the premier science-news Web site, a service of AAAS.
---