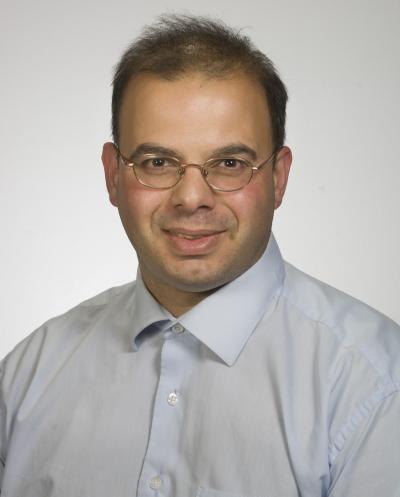 RUSTON, La. – Dr. Erez Allouche, associate professor of civil engineering and director of the Trenchless Technology Center at Louisiana Tech University, has been honored by the Louisiana Technology Council with the 2012 Louisiana Technology Product of the Year award for his innovative "green" geopolymer concrete technology.
The award was presented to Allouche as part of the Governor's 9th Annual Technology Awards event held in Baton Rouge. The Governor's Technology Awards is designed to recognize and celebrate the accomplishments of companies and individuals' innovation and progress over the past year.
"This award is a great honor," says Allouche. "I view it as recognition of the value and commercial potential of the technology by Louisiana's business community, and a strong affirmation that our technology development efforts are on the right track.
"This recognition provides regional and national exposure to our geopolymer technology program, making it easier for us to assure funding agencies in its commercial potential. It also makes potential industry partners and investors aware of the advanced state of development of this technology, creating new opportunities for collaboration and commercialization."
In May, Allouche received the "eWARD" for his geopolymer concrete technology for the Shreveport/Bossier City Northern Louisiana region from the Louisiana Technology Council and the North Louisiana Economic Partnership. He joined eWARD winners from the Lafayette, Baton Rouge, and New Orleans regions in Baton Rouge to compete for the Governor's Technology Award.
"Dr. Allouche has received strong support for his novel geopolymer research from utility companies, product manufacturers, contractors and government agencies," said Dr. Les Guice, executive vice president and vice president for research and development at Louisiana Tech. "His innovations are already attracting global commercial interests."
Over the past few years, Allouche has led a team of researchers at Louisiana Tech to develop patented geopolymer binder technology with recent emphasis on commercialization in the field of high-end refractory materials. The unique process uses a sodium silicate based polymer to convert a waste by-product, specifically fly ash from coal-fired power plants, into a high performance refractory and corrosion resistant material.
Compared to Portland cement, which is an industry standard in concrete construction, geopolymer technology reduces the "carbon-footprint" by 90 percent and energy consumption by 85 percent. This "green" technology saves landfill space and reduces risk of contamination of aquifers and bodies of surface water.
Allouche has also developed methods for dry casting, extruding, and spraying geopolymer concrete to create a variety of products ranging from precast pipes to manhole coatings. One of the most notable products is a high-temperature product known as HTGeopolymerTM that can be used in refractory products or used as a corrosion resistant material.
"Dr. Allouche is one of the most creative engineers in Louisiana, whose basic science and excellent training of students often lead to new solutions for industrial and infrastructure problems," said Dr. Stan Napper, dean of Louisiana Tech's College of Engineering and Science. "We are very proud and pleased that the Council has recognized the value of Dr. Allouche's work."
Allouche focuses his research on the development of new construction technologies, materials and design methods for underground utilities. He is the recipient of several prestigious awards including the Ontario Premier Research Excellence Award (2001), University Research Award (2005 and 2008), the Engineering and Science Foundation's Award (2006), and the Louisiana Engineering Foundation Professional Award (2010).
"This award is yet another indication of our ability to convert cutting edge research to commercially viable products that support economic development activities in the State of Louisiana," Allouche said. "The Trenchless Technology Center alone will be launching five new technologies into the marketplace over the next 12 months in collaboration with regional and international industry partners."
###
---