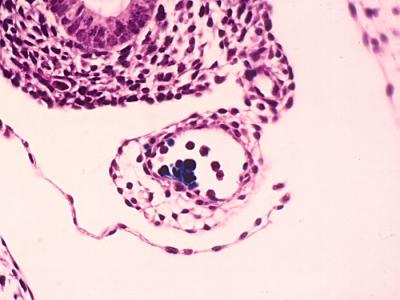 April 23, 2014 – Genetic mutations are commonly studied because of links to diseases such as cancer; however, little is known about mutations occurring in healthy individuals. In a study published online in Genome Research, researchers detected over 400 mutations in healthy blood cells of a 115-year-old woman, suggesting that lesions at these sites are largely harmless over the course of a lifetime.
Our blood is continually replenished by hematopoietic stem cells that reside in the bone marrow and divide to generate different types of blood cells, including white blood cells. Cell division, however, is error-prone, and more frequently dividing cells, including the blood, are more likely to accumulate genetic mutations. Hundreds of mutations have been found in patients with blood cancers such as acute myeloid leukemia (AML), but it is unclear whether healthy white blood cells also harbor mutations.
In this new study, the authors used whole genome sequencing of white blood cells from a supercentenarian woman to determine if, over a long lifetime, mutations accumulate in healthy white blood cells. The scientists identified over 400 mutations in the white blood cells that were not found in her brain, which rarely undergoes cell division after birth. These mutations, known as somatic mutations because they are not passed on to offspring, appear to be tolerated by the body and do not lead to disease. The mutations reside primarily in non-coding regions of the genome not previously associated with disease, and include sites that are especially mutation-prone such as methylated cytosine DNA bases and solvent-accessible stretches of DNA.
By examining the fraction of the white blood cells containing the mutations, the authors made a major discovery that may hint at the limits of human longevity. "To our great surprise we found that, at the time of her death, the peripheral blood was derived from only two active hematopoietic stem cells (in contrast to an estimated 1,300 simultaneously active stem cells), which were related to each other," said lead author of the study, Dr. Henne Holstege.
The authors also examined the length of the telomeres, or repetitive sequences at the ends of chromosomes that protects them from degradation. After birth, telomeres progressively shorten with each cell division. The white blood cell telomeres were extremely short 󈝽 times shorter than telomeres in the brain. "Because these blood cells had extremely short telomeres, we speculate that most hematopoietic stem cells may have died from 'stem cell exhaustion,' reaching the upper limit of stem cell divisions," said Holstege. Whether stem cell exhaustion is likely to be a cause of death at extreme ages needs to be determined in future studies.
The white blood cells in this study were donated by a supercentenarian woman, who at the time of her death in 2005, was the oldest person in the world, and likely the oldest person ever to donate her body to science.
###
Scientists from VU University Medical Center, Delft University of Technology, Scripps Translational Science Institute, Life Technologies, University of California San Francisco, Leiden University, and University of Queensland contributed to this study.
This work was supported by funding from the National Institutes of Health, Life Technologies, and a Scripps Health Dickinson fellowship.
Media contacts:
The authors are available for more information by contacting:
Dr. Caroline Arps, Science Press Officer, VU University Medical Center (c.arps@vumc.nl, +31-020-444-3444)
Prior to the embargo, interested reporters may obtain copies of the manuscript via email from Peggy Calicchia, Administrative Assistant, Genome Research (calicchi@cshl.edu, +1-516-422-4012). After the embargo, it will be available at: http://www.genome.org/cgi/content/abstract/gr.162131.113
About the article:
The manuscript will be published online ahead of print on 23 April 2014. Its full citation is as follows: Holstege H, Pfeiffer W, Sie D, Hulsman M, Nicholas TJ, Lee CC, Ross T, Lin J, Miller MA, Ylstra B, Meijers-Heijboer H, Brugman MH, Staal FJT, Holstege G, Reinders MJT, Harkins TT, Levy S, Sistermans EA. 2014. Somatic mutations found in the healthy blood compartment of a 115-year-old woman demonstrate oligoclonal hematopoiesis. Genome Res doi: 10.1101/gr.162131.113
About Genome Research:
Launched in 1995, Genome Research is an international, continuously published, peer-reviewed journal that focuses on research that provides novel insights into the genome biology of all organisms, including advances in genomic medicine. Among the topics considered by the journal are genome structure and function, comparative genomics, molecular evolution, genome-scale quantitative and population genetics, proteomics, epigenomics, and systems biology. The journal also features exciting gene discoveries and reports of cutting-edge computational biology and high-throughput methodologies.
About Cold Spring Harbor Laboratory Press:
Cold Spring Harbor Laboratory is a private, nonprofit institution in New York that conducts research in cancer and other life sciences and has a variety of educational programs. Its Press, originating in 1933, is the largest of the Laboratory's five education divisions and is a publisher of books, journals, and electronic media for scientists, students, and the general public.
Genome Research issues press releases to highlight significant research studies that are published in the journal.
---