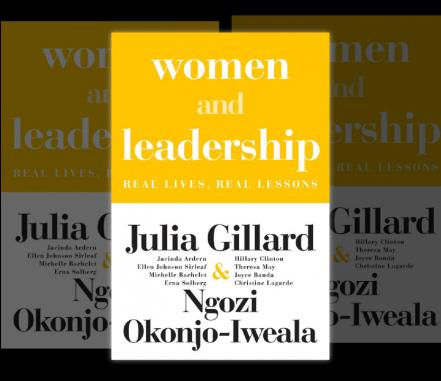 Women make up fewer than ten percent of national leaders worldwide, and behind this eye-opening statistic lies a pattern of unequal access to power. Through conversations with some of the world's most powerful and interesting women--including Jacinda Ardern, Hillary Rodham Clinton, Christine Lagarde, Michelle Bachelet, and Theresa May--"Women and Leadership: Real Lives, Real Lessons" (on sale February 2nd, 2021 from The MIT PRESS), explores gender bias and asks why there aren't more women in leadership roles.
Speaking honestly and freely, these women talk about having their ideas stolen by male colleagues, what it's like to be called fat or a slut in the media, and what things they wish they had done differently. The stories they tell reveal vividly how gender and sexism affect perceptions of women as leaders. Using current research as a starting point, Julia Gillard and Ngozi Okonjo-Iweala--both political leaders in their own countries--analyze the lived experiences of these women leaders. The result is a rare insight into life as a leader and a powerful call to arms for women everywhere.
Some of the powerful quotes from the women profiled in the book include the following:
Jacinda Ardern says, "I don't think I particularly balance anything. I just make it work. I'm really religious about this; I don't think women should feel as if they have to do it all and make it look easy, because it's not easy and we shouldn't have to try to do everything, and I don't. We must not pretend we're superhuman, because that sets a false expectation and it also leaves the impression that we shouldn't need support."
Hillary Clinton says, "I'm proud of the campaign I ran but I wish I had known then what I know now. I went where nobody else has ever gone and it was really, really hard. But it opened doors. It has motivated people and encouraged people, and that's all to the good."
Joyce Banda says, "In Malawi, there is a saying that a bull goes to the farm to pull a cart, a cow is kept at home for milk. So, people in the opposition said, "How unlucky are we to end up with a cow pulling our cart?" It was vicious and cruel and could only be used because the person at the end of the insult is a woman."
Michelle Bachelet, says, "One female journalist asked me how I was going to cope without a husband. In response, I asked her, "Excuse me, would you have asked a question like this of a male candidate?" And then she immediately realized what she had done. But it was very strange that, being a woman, she thought, in a very sexist way, I wouldn't cope if I didn't have a shoulder to cry on at home."
Theresa May says, "A few years ago, I was in a lift in the House of Commons and there was a young woman, and I commented that she had a nice pair of shoes on, and she said, "Your shoes got me into politics." She saw somebody, me, who she viewed as human, because I am known to like shoes. And that's what got her watching politics. And there she was working in the House of Commons."
The book has received incredible early reviews including:
"Much-needed, frank talk from exceptional female leaders about how they've dealt with sexism in the line of duty."
--Kirkus Reviews, Kirkus Star
"The ultimate lesson learned is that there is no "right way" to be a woman leader; all situations are unique and there are no specific set of rules for balancing work and personal endeavors...A thought-provoking study of women and leadership and an outstanding contribution to this topic."
--Library Journal, STARRED REVIEW
"Full of practical advice and insights into the careers of a diverse and impressive array of women, this is a valuable handbook for putting more women in positions of power."
--Publishers Weekly
"For women leaders, the path to power is never smooth nor does it follow a straight line...The renown all have achieved leads to much introspection and learning, resulting in hypotheses about their collective lives that ring all too true. The takeaways are simple yet complex, and bathed in contradictions: Is it possible to call out sexism as a female? How to balance mother guilt with work? What's the right way to be a woman leader? (There isn't just one.) Snapshots of the pathways to power."
--Booklist
"The authors leverage their positions for unprecedented access to powerful women, and they offer their own stories with humility and clear eyes. Their posture in the book is the perfect portrayal of women eschewing competition to support other women--one of the most vital themes examined in the book. Every page brims with admiration and respect for women in leadership, the difficulties they face, and the diverse gifts they offer. Despite the grim statistics about how few world leaders are women, the book is hopeful and encouraging. It showcases the resilience and determination of women leaders and the impact they have, bringing wisdom from a variety of disciplines, including neuroscience, psychology, and economics, to bear. Its ending calls out specific lessons for men, too, calling them to a supportive role for women leaders."
--ForeWord Review
###
About the Authors:
Julia Gillard was the 27th Prime Minister of Australia, serving from 2010 to 2013. She currently serves as the Chair of Beyond Blue, one of Australia's leading mental health awareness bodies; is Chair of the global funding body for education in developing countries, the Global Partnership for Education; and is the inaugural Chair of the Global Institute for Women's Leadership at Kings College London, which through research, practice and advocacy, is addressing women's under-representation in leadership.
Ngozi Okonjo-Iweala was Nigeria's Minister of Finance from 2003 to 2006 and from 2011 to 2015, and Foreign Minister in 2006. She was Managing Director of the World Bank from 2007 to 2011, overseeing South Asia, Europe, Central Asia, and Africa, and is currently Board Chair of Gavi, the Vaccine Alliance, and Chair of the African Risk Capacity (ARC). She is the author of Reforming the Unreformable and Fighting Corruption Is Dangerous (both published by the MIT Press).
---