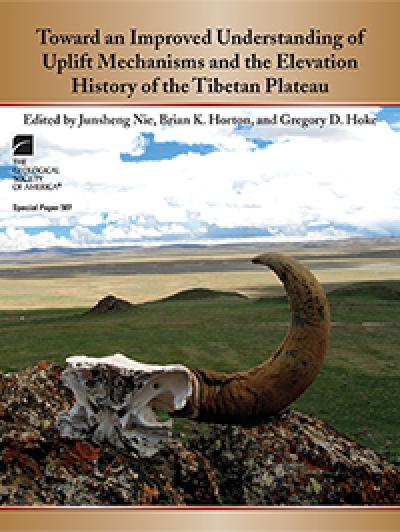 Boulder, CO, USA - Defining the elevation history and mechanisms of uplift for the Tibetan Plateau has challenged geoscientists for decades. It is known from deformation histories, sediment accumulation records, and thermochronology results that construction of the plateau is likely the result of an extended history of compressional deformation beginning before and continuing throughout the Cenozoic India-Asia collision. However, key questions about the nature of the plateau remain.
These questions include the following:
What were the relative importance and magnitudes of pre-Cenozoic, Paleogene, and Neogene shortening?
Has elevation gain in Tibet been punctuated or continuous?
Did the Tibetan Plateau experience a shift in deformation kinematics during the Cenozoic and, if so, what were the driving mechanisms?
How have tectonics and climate interacted during construction of the Tibetan Plateau?
Edited by Junsheng Nie of Lanzhou University, China; Brian K. Horton of The University of Texas at Austin, USA; and Gregory D. Hoke of Syracuse University, USA, this new Special Paper from The Geological Society of America addresses these questions. The book includes seven chapters arranged into three study regions: southern Tibet, central Tibet, and northeastern Tibet. Three chapters focus on critical data reviews and the others provide new datasets and insights into the history and potential mechanisms of surface uplift for the Tibetan Plateau.
###
Individual copies of the volume may be purchased through The Geological Society of America online store, http://rock.geosociety.org/Store/detail.aspx?id=spe507, or by contacting GSA Sales and Service, gsaservice@geosociety.org.
Book editors of earth science journals/publications may request a review copy by contacting April Leo, aleo@geosociety.org.
Toward an Improved Understanding of Uplift Mechanisms and the Elevation History of the Tibetan Plateau
Junsheng Nie, Brian K. Horton, and Gregory D. Hoke (editors)
Geological Society of America Special Paper 507
SPE507, 154 p., $55.00; Member price $38.00
ISBN 978-0-8137-2507-9
Read the table of contents at http://rock.geosociety.org/store/TOC/SPE507.pdf.
Contact: Kea Giles
+1-303-357-1057
kgiles@geosociety.org
---