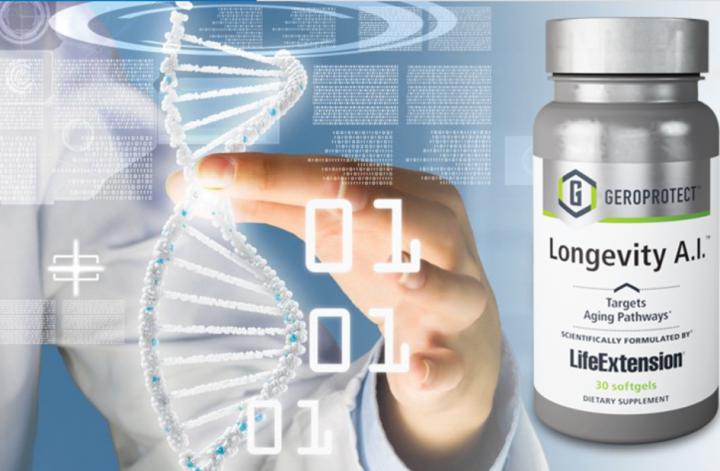 Wednesday, Oct. 25, 2017, Baltimore, Md. - Life Extension, in collaboration with Insilico Medicine, have employed artificial intelligence to develop a novel dietary supplement of plant extracts that can activate the body's own anti-aging path ways.
Insilico, a next-generation artificial intelligence company specializing in the application of deep learning proprietary technology for biomarker development and aging research, used pioneering high-performance computer simulations to probe of the effect of extracts on anti-aging pathways. The resulting formulation, called Longevity A.I, is an innovative combination of three natural nutrients that mimic known metabolic regulators of the same anti-aging pathways targeted by calorie restriction mimetics, which have long been associated with increased life expectancy.
The active ingredients, Withaferin A, Ginsenoside Rg3 and Gamma linolenic acid, shown by recent scientific studies to increase longevity, were identified from combinations of thousands of other candidates using deep-learning technology which calculated the precise formula for maximum activation of the anti-aging pathways.
"GEROPROTECTTM Longevity A.I. is the only formation to combine these three potential life-prolonging ingredients into a single supplement," says Andrew G. Swick, Ph.D., senior vice president, product development and scientific affairs at Fort Lauderdale, Fla.-based Life Extension. "This unique formulation based on proprietary artificial intelligence technology contains these geroprotector ingredients in concentrations several magnitudes higher than conventional dietary supplements. We suggest that this novel formulation should be a keystone product all life extensionists' supplement regimens." Suggested retail price for 30 softgels of GEROPROTECTTM Longevity A.I is $56. For special pricing call 800-540-4440 or visit http://www.lifeextension.com.
###
About Insilico Medicine, Inc
Insilico Medicine, Inc. is an artificial intelligence company located at the Emerging Technology Centers at the Johns Hopkins University Eastern campus in Baltimore, with R&D resources in Belgium, Russia, and the UK sourced through hackathons and competitions. The company utilizes advances in genomics, big-data analysis, and deep learning for in silico drug discovery and drug repurposing for aging and age-related diseases. The company is pursuing internal drug discovery programs in cancer, Parkinson's Disease, Alzheimer's Disease, ALS, diabetes, sarcopenia, and aging.
Through its Pharma.AI division, Insilico provides advanced machine learning services to biotechnology, pharmaceutical, and skin care companies, foundations and national governments globally. In 2017, NVIDIA selected Insilico Medicine as one of the Top 5 AI companies in its potential for social impact. http://www.insilico.com
About Life Extension
For over 37 years, Life Extension has been a pioneer in funding and reporting the latest anti-aging research and integrative health regimens while offering superior-quality dietary supplements. Life Extension develops and manufactures more than 350 science-based formulations that set the standard for quality, purity, and potency. A trailblazer in the $37 billion U.S. dietary supplements industry, Life Extension has a long history of offering prescient health guidance to American consumers, often years ahead of the mainstream medical establishment. Life Extension is an organization dedicated to finding new scientific methods to enhance and expand the healthy human life span. It funds research programs aimed at developing new anti-aging regimens and has donated more than $175 million to anti-aging research.
These statements have not been evaluated by the Food and Drug Administration. This product is not intended to diagnose, treat, cure, or prevent any disease.
For further information, images or interviews, please contact:
Contact: Qingsong Zhu, PhD - zhu@pharma.ai
Website: http://www.Insilico.com
---