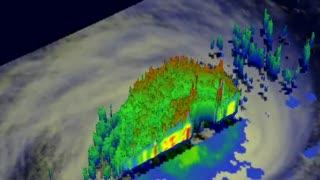 Tropical Cyclone Narelle "opened" its eye while moving along the coast of Western Australia and NASA's Terra satellite captured a clear image of the well-formed storm center. Narelle is now a major cyclone on the Saffir-Simpson Scale.
NASA's Terra Satellite Gets an Eyeful
When Terra passed over Narelle on Jan. 11 at 0245 UTC the Moderate Resolution Imaging Spectroradiometer (MODIS) instrument captured a visible image of the storm that clearly showed an eye had formed. Satellite imagery indicated that Narelle's eye was approximately 15 nautical miles (17.2 miles/27.8 km) wide. Satellite imagery also showed that Narelle had become more symmetrical and bands of thunderstorms had become more tightly wrapped into the center since Jan. 10.
Narelle Now a Major Cyclone
On Jan. 11 at 1500 UTC (10 a.m. EST), Tropical Cyclone Narelle's maximum sustained winds had increased to 115 knots (132.3 mph/213 kph), just as predicted by the Joint Typhoon Warning Center (JTWC). Narelle is now a major cyclone and a Category 4 hurricane on the Saffir-Simpson Scale. JTWC forecasters expect Narelle has now reached peak intensity and will begin to weaken hereafter as it moves parallel to the coast of Western Australia.
Narelle was located about 255 nautical miles (293.4 miles/472.3 km) north-northwest of Learmonth, Australia, near 18.3 south latitude and 112.6 east longitude. Narelle was moving to the southwest at 8 knots (9.2 mph/14.8 kph). Narelle is moving along the northwestern edge of a sub-tropical ridge (elongated area) of high pressure that is centered over Western Australia. The JTWC forecast noted that Narelle is expected to round the western edge of this ridge over the next three days before it recurves southeastward. By Jan. 14, the JTWC expects the system will become a cold core low pressure system as it moves over cooler waters and encounters increasing vertical wind shear.
NASA Satellite Sees Narelle's Heavy Rainfall
NASA's Tropical Rainfall Measuring Mission (TRMM) satellite captured rainfall rates in Major Cyclone Narelle on Jan. 11 at 0654 UTC (1:54 a.m. EST). The heaviest rainfall was occurring at a rate of 2 inches (50 mm) per hour and stretched from north to west of the center of circulation.
Warnings and Watches Posted
Until that time, however, warnings and watches are posted along the coastal areas of Western Australia. On Jan. 11, a Cyclone Warning was in effect for coastal areas from Mardie to Cape Cuvier. A Cyclone Watch is in effect for coastal areas from Cape Cuvier to Denham. A Blue Alert is effect for coastal and island communities from Mardie to Coral Bay including Onslow, Exmouth.
At 11 a.m. EST (1600 UTC) on Jan. 11, Onslow was reporting thunderstorms and sustained winds from the east-northeast. Onslow is a coastal town in the Pilbara region of Western Australia, located 1,386 kilometers (861 miles) north of Perth. Thunderstorms are expected to continue in the Pilbara region through Sunday, Jan. 13 as Narelle's center passes by while staying off shore. Onslow, Exmouth and other towns and cities in the Pilbara region are expected to clear by Monday, Jan. 14 as Narelle moves away.
For updates on warnings and watches, visit the Australian Bureau of Meteorology website: http://www.bom.gov.au/. The latest forecast from the JTWC (as of Jan. 11) keeps the center of Narelle over open water and never making landfall in any part of Western Australia. Narelle is expected to pass the southwestern tip of Australia sometime on Jan. 16 and move in a southeasterly direction over the Southern Indian Ocean where it will dissipate.
###
---