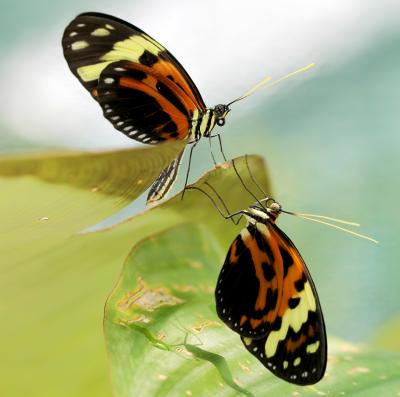 The mystery of how a butterfly has changed its wing patterns to mimic neighbouring species and avoid being eaten by birds has been solved by a team of European scientists. The study is published today (14 August 2011) in the journal Nature.
The greatest evolutionary thinkers, including Wallace, Bates and Darwin, have all wondered how butterflies that taste bad to birds have evolved the same patterns of warning colouration. Now for the first time, researchers led by the CNRS (Muséum National d'Histoire Naturelle, Paris) and the University of Exeter (UK) have shown how butterflies perform this amazing trick, known as 'Müllerian mimicry'.
Funded by the Biotechnology and Biological Sciences Research Council (BBSRC), the study focused on the Amazonian species Heliconius numata, which mimics several other butterfly species at a single site in the rainforest. One population of Heliconius numata can therefore feature many distinct wing colour patterns resembling those of other butterflies, such as the Monarch's relatives Melinaea, which are unpalatable to birds. This acts as a disguise, protecting them against predators.
The researchers located and sequenced the chromosomal region responsible for the wing patterns in H. numata. The butterfly's wing-pattern variation is controlled by a single region on a single chromosome, containing several genes which control the different elements of the pattern. Known as a 'supergene', this clustering allows genetic combinations that are favoured for their mimetic resemblance to be maintained, while preventing combinations that produce non-mimetic patterns from arising. Supergenes are responsible for a wide range of what we see in nature: from the shape of primrose flowers to the colour and pattern of snail shells.
The researchers found that three versions of the same chromosome coexist in this species, each version controlling distinct wing-pattern forms. This has resulted in butterflies that look completely different from one another, despite having the same DNA.
"We were blown away by what we found," said Dr Mathieu Joron of the Muséum National d'Histoire Naturelle, who led the research. "These butterflies are the 'transformers' of the insect world. But instead of being able to turn from a car into a robot with the flick of switch, a single genetic switch allows these insects to morph into several different mimetic forms – it is amazing and the stuff of science fiction. Now we are starting to understand how this switch can have such a pervasive effect."
Professor Richard ffrench-Constant of the University of Exeter added: "This phenomenon has puzzled scientists for centuries – including Darwin himself. Indeed, it was the original observations of mimicry that helped frame the concept of natural selection. Now that we have the right tools we are able to understand the reason for this amazing transformation: by changing just one gene, the butterfly is able to fool its predators by mimicking a range of different butterflies that taste bad."
This single supergene also appears important in melanism in other species, including moths. In April 2011, a team led by Liverpool University explained in the journal Science how the Peppered Moth developed its black wings in nineteenth-century Britain's sooty industrial environment.
"This supergene region not only allows insects to mimic each other, as in Heliconius, but also to mimic the soot blackened background of the industrial revolution – it's a gene that really packs an evolutionary punch," added Professor Richard ffrench-Constant.
###
Chromosomal rearrangements maintain a polymorphic supergene controlling butterfly mimicry is published in Nature (copies available on request).
The authors are: Mathieu Joron1,2,3*, Lise Frézal1$, Robert T. Jones4$, Nicola L. Chamberlain4, Siu F. Lee5, Christoph R. Haag6, Annabel Whibley1, Michel Becuwe2, Simon W. Baxter7, Laura Ferguson7, Paul A. Wilkinson4, Camilo Salazar8, Claire Davidson9, Richard Clark9, Michael A. Quail9, Helen Beasley9, Rebecca Glithero9, Christine Lloyd9, Sarah Sims9, Matthew C. Jones9, Jane Rogers9, Chris D. Jiggins7, Richard H. ffrench-Constant4.
1- CNRS UMR 7205, Muséum National d'Histoire Naturelle, Paris, France
2 - Institute of Evolutionary Biology, University of Edinburgh, UK
3 - Institute of Biology, Leiden University, The Netherlands
4 - Biosciences, University of Exeter, Penryn, UK.
5 - Department of Genetics, Bio21 Institute, University of Melbourne, Australia
6 - Department of Biology, University of Fribourg, Switzerland
7 - Department of Zoology, University of Cambridge, UK
8 - Smithsonian Tropical Research Institute, República de Panamá
9 - The Wellcome Trust Sanger Institute, Cambridge, UK
$ These authors contributed equally to this work.
For further information:
For further information:
Sarah Hoyle
Media Relations Manager
University of Exeter
+44 (0)1392 722062 / +44 (0)7827 309332
s.hoyle@exeter.ac.uk
Sophie Rio
Muséum National d'Histoire Naturelle
01 40 79 81 36
presse@mnhn.fr
About the University of Exeter
The University of Exeter is a leading UK university and in the top one percent of institutions globally. It combines world-class research with very high levels of student satisfaction. Exeter is ranked 10th in the UK in The Times Good University Guide 2012 and 11th in the Guardian University Guide 2012. In the 2008 Research Assessment Exercise (RAE) 90% of the University's research was rated as being at internationally recognised levels and 16 of its 31 subjects are ranked in the top 10, with 27 subjects ranked in the top 20.
The University has over 17,000 students and is developing its campuses in Exeter and Cornwall with almost £350 million worth of new facilities due for completion by 2012.
About the Muséum National d'Histoire Naturelle
The Museum National d'Histoire Naturelle has been an exceptional scientific establishment for over 300 years and is a worldwide specialist in biodiversity and naturalist and environmental issues.
Created in 1635, originally as the Royal Garden, and responsible for major scientific discoveries in the field of Natural Sciences, today the Museum is a public cultural, scientific and professional institution, under the joint authority of the Ministry of Higher Education and Research and the Ministry of Ecology, Energy, Sustainable Development and Spatial Planning.
At the crossroads between Earth, Life and Human sciences, the Museum exercises its vocation through five fundamental objectives: fundamental and applied research, the conservation and enrichment of collections from natural and cultural heritage, teaching, expertise and the dissemination of knowledge.
Strengthened by its history, the Museum has become a benchmark centre for the study and preservation of biodiversity. A prestigious research establishment, it relies as much on field studies as on laboratories, as well as great interdisciplinarity, exceptional collections – one of the three greatest in the world – and unique expertise. It can therefore, through various dissemination activities and its teaching activity, inform and raise awareness in many public areas about protecting our planet.
A few key figures:
1880 people, including 500 researchers
68 million specimens in the natural history collections
350 students (masters and doctoral school)
13 sites in Paris and the regions
2 million visitors a year
About BBSRC
BBSRC is the UK funding agency for research in the life sciences and the largest single public funder of agriculture and food-related research.
Sponsored by Government, BBSRC's budget for 2011-12 is around £445M which it is investing in a wide range of research that makes a significant contribution to the quality of life in the UK and beyond and supports a number of important industrial stakeholders, including the agriculture, food, chemical, healthcare and pharmaceutical sectors.
BBSRC provides institute strategic research grants to the following:
The Babraham Institute, Institute for Animal Health, Institute for Biological, Environmental and Rural Sciences (Aberystwyth University), Institute of Food Research, John Innes Centre, The Genome Analysis Centre, The Roslin Institute (University of Edinburgh) and Rothamsted Research.
The Institutes conduct long-term, mission-oriented research using specialist facilities. They have strong interactions with industry, Government departments and other end-users of their research.
---