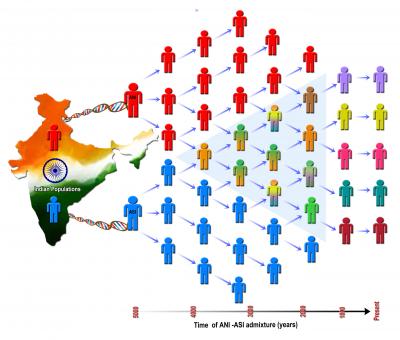 India experienced a demographic transformation several thousand years ago, from a region in which mixture between highly different populations was common to one in which mixture even between closely related groups became rare. The finding, which will be published online on August 8, 2013 in the American Journal of Human Genetics, published by Cell Press, provides new information about the peopling of India and improves our understanding of the changes that led to the present-day structure of Indian populations.
"Prior to the population mixture and as recently as a few thousand years ago, the population structure of India was profoundly different from what it is today," says co–senior author Dr. David Reich, of Harvard Medical School in Boston.
Genetic evidence indicates that most people in India descend from a mixture of two ancestral populations: Ancestral North Indians (ANI) related to Central Asians, Middle Easterners, Caucasians, and Europeans; and Ancestral South Indians (ASI) not closely related to groups outside the subcontinent.
Determining the date of mixture between these groups provides insights into Indian history. For this study, an international collaboration between Dr. Reich's team and investigators at the CSIR Centre for Cellular and Molecular Biology in Hyderabad, India performed genetic analyses of 73 groups from the Indian subcontinent. Applying novel methods, they inferred that major ANI-ASI mixture occurred about 1,900-4,200 years ago.
This mixture left its mark on nearly every group in India, according to co–first author Priya Moorjani, a graduate student at Harvard Medical School in Boston. "The most remarkable aspect of the ANI-ASI mixture is how pervasive it was: it affected not just traditionally upper-caste groups, but also traditionally lower-caste and isolated tribal groups, all of whom are united in their history of mixture in the past few thousand years," she said.
"The fact that every population in India evolved from randomly mixed populations suggests that social classifications like the caste system are not likely to have existed in the same way before the mixture," adds co-senior author Dr. Lalji Singh, currently of Banaras Hindu University, in Varanasi, India, and formerly of the CSIR Centre for Cellular and Molecular Biology. "Thus, the present-day structure of the caste system came into being only relatively recently in Indian history."
The shift from a region where major mixture between groups was common to a region in which mixture became rare occurred because people took on the custom (called endogamy) of marrying only within the limits of their local community. "An important consequence of these results is that the high incidence of genetic and population-specific diseases characteristic of present-day India is likely to have increased only in the last few thousand years when groups in India started following strict endogamous marriage," says co-first author Dr. Kumarasamy Thangaraj, of the CSIR Centre for Cellular and Molecular Biology.
###
American Journal of Human Genetics, Moorjani et al.: "Genetic evidence for recent population mixture in India."
---
Journal
American Journal of Human Genetics