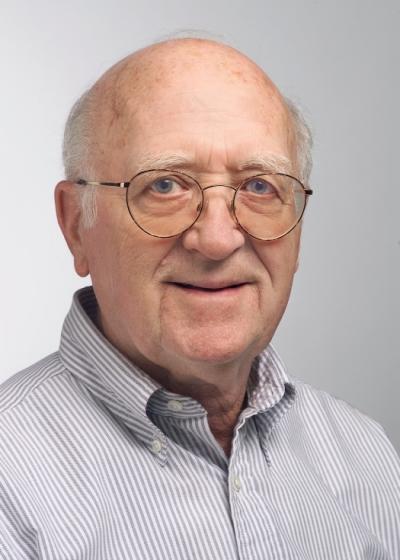 RIVERSIDE, Calif. – Charles W. Coggins, a UC Riverside plant physiologist whose research on citrus considerably extended the fruits' fresh market season, has been honored by California Citrus Mutual with the establishment of a scholarship named after him. Each year, the California Citrus Mutual Scholarship Foundation will award the $2000 scholarship to an upper division student in agriculture.
California Citrus Mutual, a trade organization, announced the Charles W. Coggins Scholarship at its March 6, 2008, luncheon meeting in Visalia, Calif., which was attended by nearly 600 people.
During the late 1950s, Coggins found that when gibberellic acid was applied to citrus it delayed senescence – the growth phase from full maturity to death – of the rind. Under field conditions, Coggins transformed this knowledge into sound recommendations that are now standard horticultural practices used not only on oranges and lemons in California, but also in most other citrus-producing countries of the world, including Israel, Spain, South Africa, Australia, Morocco, Turkey and Cuba.
"Charlie is one of few scientists who have done groundbreaking research that has been applicable to a remarkable degree to both fundamental science and practical crop production," said Donald Cooksey, the interim dean of the College of Natural and Agricultural Sciences. "The use of gibberellic acid in citrus culture that Charlie pioneered and developed stands out as one of the major applications of plant growth regulators to a crop of worldwide importance."
Before Coggins's discovery, the citrus industry's calendar year was divided approximately into thirds: a Valencia season, a navel season, and four months without fruit. But Coggins's recommendation of using gibberellic acid extended the growing seasons of navel and Valencia oranges from about nine months to twelve months, providing year-round employment for pickers and packing house workers, and permitting marketing organizations to maintain continuity with their customers.
"Dr. Coggins is one of the most influential modern researchers in citrus culture in the world, and always on the leading edge of plant management systems to improve citrus," said Ted Batkin, president of the California Citrus Research Board. "The impact of his work has been incredibly significant, helping the citrus industry in California be successful for the past 40 years. No dollar value could be put on the benefits his research has brought to the state."
Coggins is also credited with making significant contributions to both basic physiology and applied horticultural practices that are important to solving the problems of alternate bearing, rind staining, creasing, and small fruit size of the Valencia orange.
He also made a major contribution to research on naphthaleneacetic acid that resulted in its acceptance as a fruit-thinning agent for citrus. In addition, his research led to a better understanding of the maturation of dates and the development of a new avocado fruit maturity standard for California.
A professor emeritus of plant physiology in the Department of Botany and Plant Sciences, Coggins joined UCR in 1957 and retired in 1994. He is a fellow of the American Society for Horticultural Sciences and has authored approximately 100 technical publications, several of which have won awards. His nearly 50 semi-technical publications have imparted practical information to citrus growers around the world.
In January 2008, he resigned as chair of the board of directors of the California Citrus Quality Council, a position he held for 14 years. For his effective leadership and productive academic career, the council paid Coggins a rich tribute on Jan. 18, during its annual meeting in Visalia, Calif.
###
The University of California, Riverside is a doctoral research university, a living laboratory for groundbreaking exploration of issues critical to Inland Southern California, the state and communities around the world. Reflecting California's diverse culture, UCR's enrollment of about 17,000 is projected to grow to 21,000 students by 2010. The campus is planning a medical school and already has reached the heart of the Coachella Valley by way of the UCR Palm Desert Graduate Center. With an annual statewide economic impact of nearly $1 billion, UCR is actively shaping the region's future. To learn more, visit www.ucr.edu or call (951) UCR-NEWS.
---