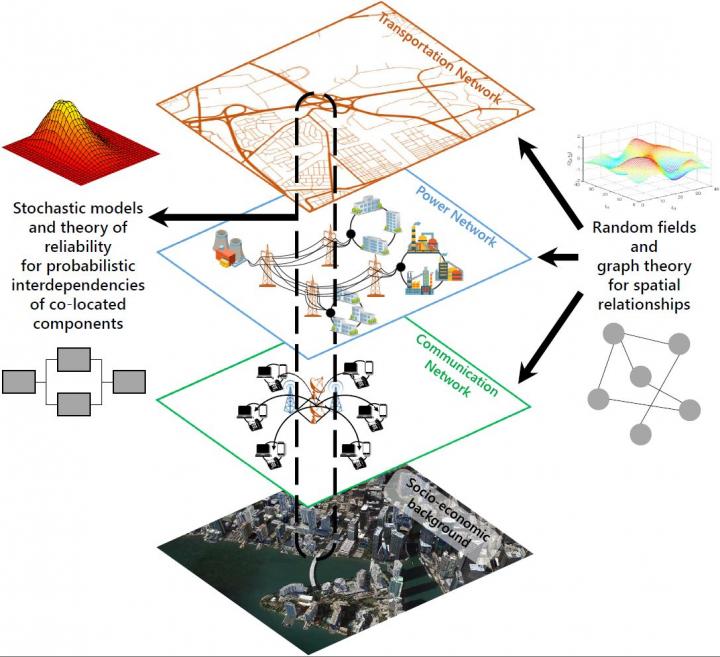 Bethlehem, PA (September 14, 2015)--Lehigh University is proud to announce that an interdisciplinary team with specialties in civil engineering, systems engineering, computer science and economics has been awarded a grant in the amount of $2.2 million from the National Science Foundation (NSF).
The grant is one of 12 announced today by NSF as part of its $20 million investment in new fundamental research to transform infrastructure, from physical structures to responsive systems designed "to address our nation's critical need for more resilient infrastructure and enhanced services." It is part of the Obama administration's new "Smart Cities" initiative to help communities tackle local challenges and improve city services.
The project at Lehigh is part of the first new round of activities known as CRISP: Critical Resilient Interdependent Infrastructure Systems and Processes. These three- and four-year projects, each with funding up to $2.5 million, are part of NSF's multiyear initiative on risk and resilience.
NSF's fiscal year 2015 investment in CRISP is a multidisciplinary collaboration between the Directorates for Engineering, Computer and Information Science and Engineering (CISE), and Social, Behavioral and Economic Sciences (SBE).
"Building a more resilient society requires making sound research investments not only in understanding the technology that supports critical infrastructure but also in understanding the human behaviors that determine how technology is put to use," said Fay Cook, NSF assistant director for SBE in today's NSF press announcement. "Multidisciplinary, cooperative research efforts like CRISP are essential for understanding how behavior and technology intersect."
The grant awarded to the Lehigh team—which includes Paolo Bocchini, assistant professor of civil and environmental engineering; Alberto Lamadrid, assistant professor of economics; Richard Sause, professor of structural engineering and Director, ATLSS Engineering Research Center; Lawrence Snyder, associate professor of industrial and systems engineering and Brian Davison, associate professor of computer science and engineering—is titled Collaborative Research: Probabilistic Resilience Assessment of Interdependent Systems (PRAISys).
"The goal of the project is to study, understand, and model the complex and highly uncertain interdependencies among the critical infrastructure systems and their recovery process after natural disasters," says Bocchini. "We aim at finding ways to mitigate the consequences of extreme events and rapidly restore the normal life of our communities in the time when they are most vulnerable and distressed.
He adds: "Lehigh University has led a truly interdisciplinary national network of research institutions, utility companies, and local government partners and we are proud to have gained this recognition of the work that we are doing is this field."
According to the abstract:
"This collaborative project brings together scholars in Civil Engineering, Systems Engineering, Computer Science, Economics, Urban Planning, and Policy Making. Its purpose is to establish and demonstrate a comprehensive framework that combines models of individual infrastructure systems with models of their interdependencies for the assessment of interdependent infrastructure system resilience for extreme events under uncertainty. The 'PRAISys' platform (Probabilistic Resilience Assessment of Interdependent Systems) will emphasize a probabilistic approach that permeates all aspects of the models, including the interdependencies. Some types of uncertainties that were not considered before (e.g., the possibility of using contingency plans that provide services without functioning infrastructure) will be classified; while mathematical and computational tools will be devised to capture their characteristics. PRAISys will enable better management and design of next generation infrastructure, more resilient to extreme events and to component failures under normal conditions. This will reduce the likelihood of extreme events becoming catastrophic in terms of casualties and injuries, long-lasting socio-economic losses, and environmental impact. The results of the research will be disseminated to the public in various forms: through series of seminars for professionals and administrators; by participating in Lehigh University's STAR academy program for disadvantaged middle and high school students; through scientific publications and presentation; and by curriculum development."
The Lehigh team--awarded $1.9 million--is joined by faculty members at Florida Atlantic University and Georgia State University--award $300,000--who are experts in urban planning, policy making, and models of social behavior.
If this research activity interests you, please click here to learn about Lehigh's new Data X initiative, which focuses on strengthening Lehigh's research and teaching capacity in computer and data science across multiple disciplines.
###
---