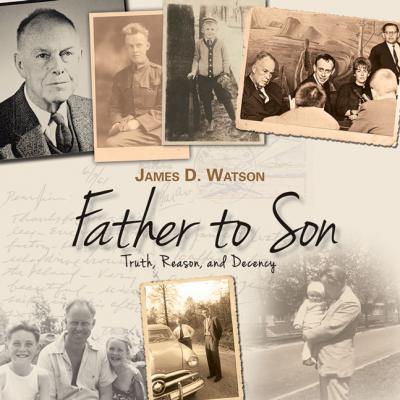 NEW YORK – JUNE 5, 2014 – Cold Spring Harbor Laboratory Press is pleased to announce the publication of Father to Son: Truth, Reason, and Decency by James D. Watson. The book is an engaging work that chronicles Watson's lineage through thought-provoking reflections, memorabilia, and imagery.
Many of us wonder how our heritage has influenced who we are and what we have become. The renowned scientist and author James D. Watson has more to reflect upon than most. A Radio Quiz Kid at 12 and a University of Chicago student at 15, Watson at 24 had a scientific discovery to his credit—the structure of DNA—that would win a Nobel Prize and forever change our understanding of genes and inheritance. Now, after a lifetime of accomplishment in research, writing, education, and science advocacy, Watson has delved for the first time publicly into his own lineage.
Father To Son was first intended as a small, privately published collection of the writings of his father, James D. Watson, Sr. But when Jim Watson, Jr. began investigating his family history, what emerged was a more complex story—the chronicle of an archetypical American family from before the Civil War to Vietnam. In this book, Jim Watson portrays these lives in a fascinating narrative, illustrated with previously unpublished photographs and period documents, that ends with an affectionate tribute to his father, a man of principle, decency, intelligence, and reason, from whom Jim Jr. learned liberal politics and incisive writing.
There has been warm early praise for Father to Son. "In this poignant book, Dr. Watson savors the evidence he finds about his father's life and values. It's a perfect book for anyone who has ever learned something from a father," says Walter Isaacson, author of Einstein: His Life and Universe and Steve Jobs. Hannah Holburn Gray, President Emerita at University of Chicago, commented "This is a charming and vivid book, one that adds to our understanding of the author, the towering scientist and always distinctive personality." Anthony Badger, Mellon Professor of History at Cambridge University, states that "This memoir of his father [and forebears] ... is crucial to understanding the form of scientist that Jim Watson has become. At a time when American politics is wracked by a seemingly remorseless anti-intellectual fundamentalism, the appeal to reason of Watson, father and son, should be cherished".
Always iconoclastic, in both science and literature, Watson has written his autobiography in installments, beginning with the now classic The Double Helix, followed by Genes, Girls, and Gamow and Avoid Boring People. With its portraits of many memorable characters, illustrated with previously unpublished photographs and period documents, Father To Son brilliantly illuminates the fundamental truth that who we become as individuals is determined by both our genetic and cultural heritage.
###
For more information visit http://www.fathertosonbook.org
About the Author:
James Dewey Watson, a son of Chicago, is the author of numerous books, including The Double Helix, named by the Modern Library to its list of "100 Best Non-Fiction Books of the Twentieth Century" and by the Library of Congress to its list of "88 Books That Shaped America." He is Chancellor Emeritus of Cold Spring Harbor Laboratory, in New York.
About Cold Spring Harbor Laboratory Press:
Cold Spring Harbor Laboratory Press is an internationally renowned publisher of books, journals, and electronic media, located on Long Island, New York. Since 1933, it has furthered the advance and spread of scientific knowledge in all areas of genetics and molecular biology, including cancer biology, plant science, bioinformatics, and neurobiology. It is a division of Cold Spring Harbor Laboratory, an innovator in life science research and the education of scientists, students, and the public.
---