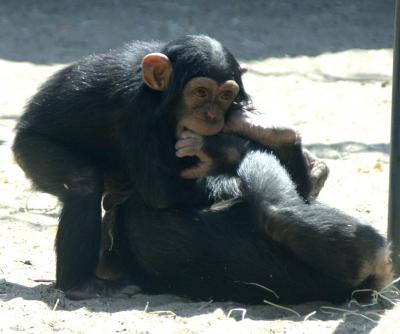 Playful behavior is widespread in mammals, and has important developmental consequences. A recent study of young chimpanzees shows that these animals play and develop much the same way as human children. The work, to be published in the Nov. 16 issue of the online journal PLoS ONE, can therefore also shed light on the role of human play behavior.
The authors of the study, Elisabetta Palagi and Giada Cordoni, of the University of Pisa in Italy, found that chimpanzee solitary play peaks in infancy, while the time spent in social play was relatively constant between infants and juveniles. However, the type of social play changed quite a bit as the animals grew up, in terms of measures like complexity and playmate choice. In comparing these behaviors to previous work conducted with humans, they found that both species show significant quantitative and qualitative development in play behavior from infancy to juvenility. Moreover, both chimps and humans consistently use playful facial expressions to communicate and build social networks.
They also analyzed playmate choice and found that both humans and chimps prefer peers for play partners. Dr. Palagi explains that this is the first research comparing the ontogeny of play behavior in chimpanzees with that of humans, in a standardized way. It is important, because this kind of human data often comes from psychological research, not from ethological research.
###
Citation: Cordoni G, Palagi E (2011) Ontogenetic Trajectories of Chimpanzee Social Play: Similarities with Humans. PLoS ONE 6(11): e27344. doi:10.1371/journal.pone.0027344
Financial Disclosure: The authors would like to thank University of Pisa, which hosts the research (computer use and permitting an employer, the corresponding author, to perform the research). ZooParc de Beauval and Dierenpark Amersfoort offered some free meals to the observers and a car from the B&B to the zoo and vice versa. The funders had no role in study design, data collection and analysis, decision to publish, or preparation of the manuscript.
Competing Interest Statement: ZooParc de Beauval and Dierenpark Amersfoort were funders of this study. This does not alter the authors' adherence to all the PLoS ONE policies on sharing data and materials.
PLEASE LINK TO THE SCIENTIFIC ARTICLE IN ONLINE VERSIONS OF YOUR REPORT (URL goes live after the embargo ends): http://dx.plos.org/10.1371/journal.pone.0027344
Disclaimer: This press release refers to upcoming articles in PLoS ONE. The releases have been provided by the article authors and/or journal staff. Any opinions expressed in these are the personal views of the contributors, and do not necessarily represent the views or policies of PLoS. PLoS expressly disclaims any and all warranties and liability in connection with the information found in the release and article and your use of such information.
About PLoS ONE
PLoS ONE is the first journal of primary research from all areas of science to employ a combination of peer review and post-publication rating and commenting, to maximize the impact of every report it publishes. PLoS ONE is published by the Public Library of Science (PLoS), the open-access publisher whose goal is to make the world's scientific and medical literature a public resource.
All works published in PLoS ONE are Open Access. Everything is immediately available—to read, download, redistribute, include in databases and otherwise use—without cost to anyone, anywhere, subject only to the condition that the original authors and source are properly attributed. For more information about PLoS ONE relevant to journalists, bloggers and press officers, including details of our press release process and our embargo policy, see the EveryONE blog at http://everyone.plos.org/media.
---