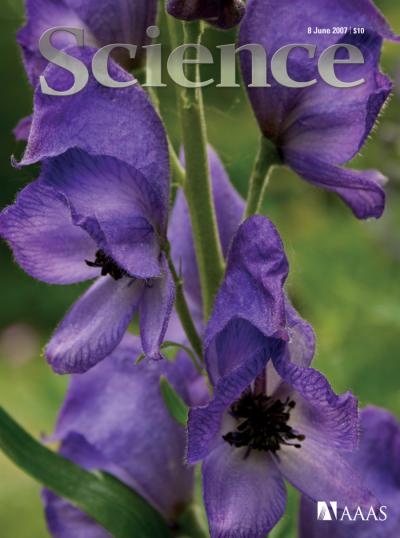 The journal Science was named 4 July to receive one of the world's most prestigious awards from Spain's Crown Prince, recognizing excellence in science communications.
The Prince of Asturias Foundation, formed in 1980 under the presidency of His Royal Highness, heir to the throne of Spain, honors scientific, technical, cultural, social and humanitarian work carried out internationally by individuals, groups or organizations, across eight categories. (See www.fpa.es.)
Science was jointly selected, along with the journal Nature, to receive this year's Communication and Humanities Award from the foundation. Spain's Crown Prince will bestow the award during a ceremony set to take place in Spain later this year in October.
Previous Communication Award winners have included Umberto Eco, George Steiner, Jean Daniel, Václav Havel, Ryszar Kapuscinski, Universidad Centroamericana José Simeón Cañas, The British Council, and the National Geographic Society.
Within other award categories, previous winners have included Nelson Mandela, Mikhail Gorvachev, Yitzhak Rabin, Yasser Arafat, Mario Soares, Joan Massague, Robert Gallo, Luc Montagnier, Simone Veil, Woody Allen, Placido Domingo, Maya Plisetskaya, Sebastiao Salgado, Susan Sontag, John Glenn, and others.
"Authoritative, objective scientific communications across borders is essential as science and technology are becoming increasingly integral to global prosperity, yet also increasingly politicized in certain regions," said Science Editor-in-Chief Dr. Donald Kennedy. "We are delighted and deeply honored that our journal's contributions to public discourse on science and technology have been recognized by Spain's Crown Prince Foundation."
The award consists of a certificate, a sculpture especially designed for the Foundation by Joan Miró, and 50,000 Euros.
Founded in 1880 by Thomas A. Edison, Science has been the official journal of the American Association for the Advancement of Science (AAAS) since 1900. Many of the world's top science stories first appeared in Science. Landmark genomics research, the discovery of a relationship between AIDS and the human immunodeficiency virus, and evidence that an extraterrestrial impact killed the dinosaurs are among the historic advances that debuted on the journal's pages.
Today, Science is a global weekly, with offices in Washington, D.C., and Cambridge, U.K., and news reporters located worldwide, from Germany to Japan. Science has the largest paid circulation of any peer-reviewed, general science journal in the world, with an estimated total readership of one million. And it continues to publish premier scientific research. Science's rigorous peer-review process defines the journal as a prestigious and trusted source of new scientific information.
Science Facts
Science is an editorially independent, weekly general science journal whose articles consistently rank among the world's most often cited research reports, as monitored by the Institute for Scientific Information.
Almost 12,000 research papers were submitted to Science in 2005. Approximately 7 percent were accepted. The number of submissions to Science continues to increase.
The journal's Board of Reviewing Editors, which consists of more than 100 of the world's top scientists, scrutinizes the scientific significance and credibility of most of these papers. About one quarter of submissions go on for further peer review.
Although Science draws about half of its materials from the biological sciences and half from the physical sciences, the journal increasingly publishes interdisciplinary research.
Approximately 35 to 40 percent of the research papers published in Science feature corresponding authors from outside the United States.
Science currently has 120 editorial and production staff, including 26 Ph.D. editors, working in Washington, D.C., Cambridge, U.K., and elsewhere.
###
The American Association for the Advancement of Science (AAAS) is the world's largest general scientific society, and publisher of the journal, Science (www.sciencemag.org). AAAS was founded in 1848, and includes some 262 affiliated societies and academies of science, serving 10 million individuals. Science has the largest paid circulation of any peer-reviewed general science journal in the world, with an estimated total readership of one million. The non-profit AAAS (www.aaas.org) is open to all and fulfills its mission to "advance science and serve society" through initiatives in science policy; international programs; science education; and more. For the latest research news, log onto EurekAlert!, www.eurekalert.org, the premier science-news Web site, a service of AAAS.
---