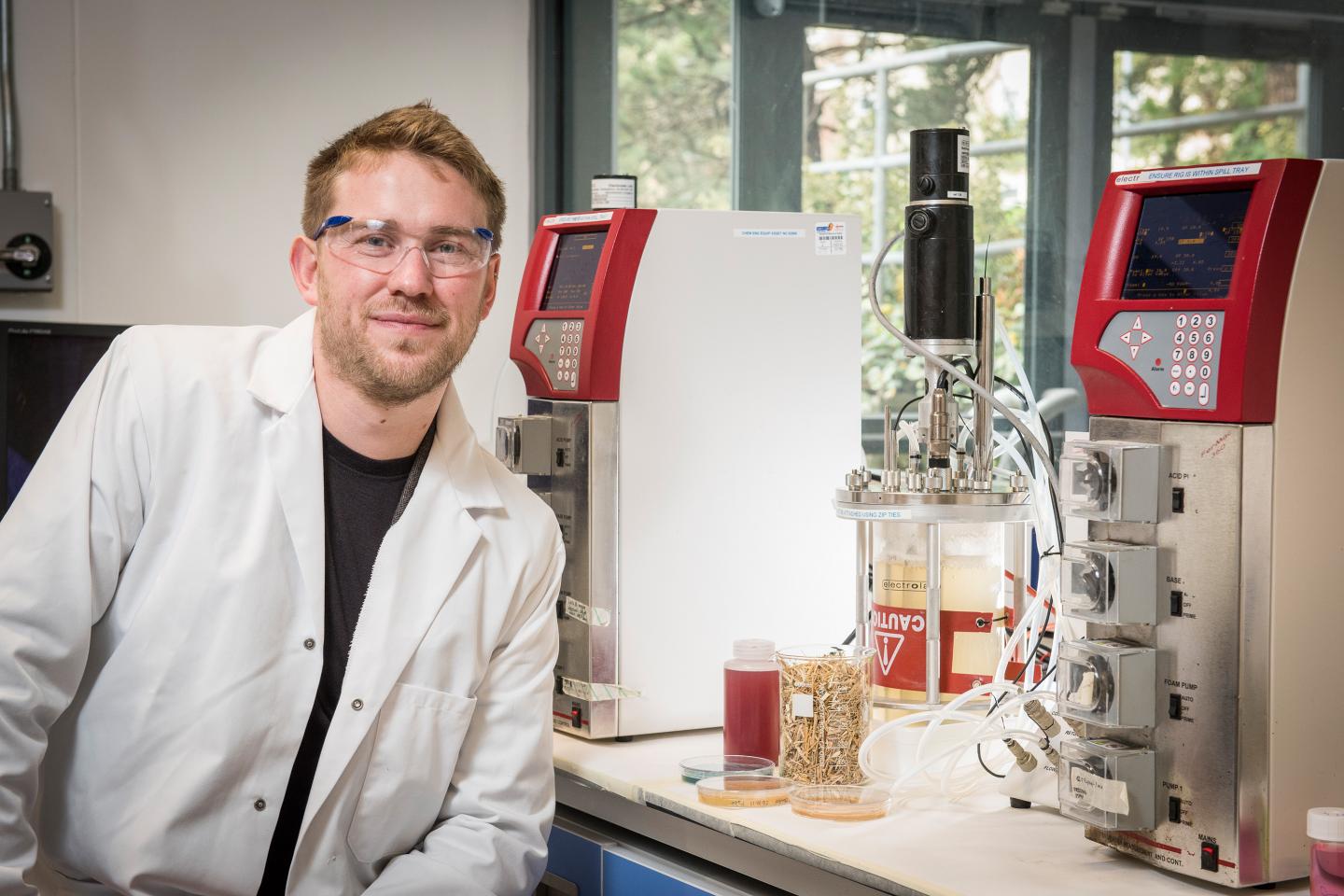 A multi-disciplinary team of engineers and scientists from the University of Bath and the University of York are aiming to produce the first ever yeast-derived alternative to palm oil on an industrial scale.
The Bath research team, which includes experts from the University's Departments of Chemical Engineering, Mechanical Engineering and Biology & Biochemistry, has teamed up with the Green Chemistry Centre of Excellence at the University of York and industry partners Croda, C-TECH and AB Agri, to develop a substitute for palm oil based on a novel yeast grown on an industrial scale using sustainably-sourced waste feedstocks.
Palm oil is an edible vegetable oil, high in saturated fats, derived from the fruit of oil palms, mostly the species Elaeis guineensis. Approximately 60m tonnes of palm oil are produced each year globally with over 40m tonnes exported to more than 70 countries worldwide.
Due to relatively low production costs linked to its high melting point and high levels of saturated fat, palm oil is an important source of biofuels, a common ingredient in food such as cakes, biscuits and instant noodles and in cosmetic products ranging from lipstick to shampoo.
However, the high demand for products containing palm oil has caused the rapid expansion of palm plantations in South East Asia. This has been linked to widespread and severe deforestation, water pollution, increased greenhouse gas emissions and heavy smog pollution across South East Asia.
Previous work at Bath found that the yeast Metschnikowia pulcherrima can be grown under non-sterile conditions on a variety of agricultural and food wastes, and with slight changes to the growth conditions, the yeast can be made to produce a thick oil. Some of this preliminary work was funded as a "proof of concept" project by the P2P Network in Biotechnology and Bioenergy which is coordinated by the University of Bath.
The oil produced by Metschnikowia pulcherrima has nearly identical qualities to palm oil and the researchers are confident that it could lead to a home-grown direct replacement, mitigating the environmental issues associated with palm oil production.
The team has been awarded a grant of £4.4m to allow them to build upon their earlier lab-based findings and look at ways of producing this palm oil alternative on an industrial scale.
To achieve this, the researchers will apply an innovative method of depolymerizing waste feedstocks using efficient large-scale microwave heating at the University of York. At the University of Bath, the team will improve the genetic understanding and control of this novel yeast, scale the fermentation up to an industrial scale and assess the total environmental impact across the life cycle.
Dr Chris Chuck, lead researcher, Whorrod Research Fellow in the Centre for Sustainable Chemical Technologies (CSCT) and Lecturer in the Department of Chemical Engineering said: "This project is an exciting opportunity for us to develop a renewable alternative to palm oil, while developing further sustainable technologies that could have a significant impact on many other UK sectors."
Professor James Clark from the University of York commented: "This is a great opportunity for an outstanding multidisciplinary team to integrate cutting edge bio- and chem-technologies to tackle a major global resources challenge."
Head of the University's Department of Chemical Engineering and Co-Director of the CSCT Dr Tim Mays added: "Chris Chuck has assembled a fantastic multi-disciplinary team of academic and industrial partners to develop an alternative to palm oil. The work will have significant positive impact in sustainable energy, food and personal care technologies."
This four year project has been jointly funded by BBSRC, EPSRC and Innovate UK as part of the IB Catalyst Programme, aimed at supporting the development and commercialisation of innovative Industrial Biotechnology processes.
Research carried out by the University of Bath's Department of Chemical Engineering was recently ranked sixth nationally for impact by the 2014 Research Excellence Framework, an independent assessment of UK university research activity.
###
---