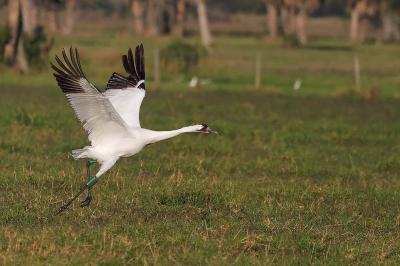 Wind energy helps alleviate some of the environmental concerns about burning fossil fuels, but wind farms also introduce their own problems related to wildlife conservation, including habitat loss and mortality to birds and bats. With proper planning and design, though, wind energy production can address ecological concerns and still achieve development goals, according to a study published in the Oct. 26 issue of the online journal PLoS ONE.
The work, led by The Nature Conservancy's Kansas chapter, reports an analysis of wildlife sensitivities in Kansas, describing how wind development could proceed while still meeting conservation goals for no-net-loss of wildlife.
The researchers identified areas that should be avoided to protect unique habitats and wildlife populations (such as prairie-chickens and the whooping crane), and quantified the level of "offset projects" that would be required to make up for any ecological effects of development in the remaining area. The resulting proposal suggests that approximately 10 million hectares (about 50% of the state) could be developed for wind energy, potentially producing up to 478 gigawatts of energy, while still meeting conservation goals.
According to the authors, "wind energy can be developed in a way that is compatible with wildlife. Even after avoiding critical habitats, there are tens of millions of acres in Kansas suitable for wind energy". Such wildlife-friendly wind development could produce enough energy to far exceed the goal of producing 20% of the United States' energy from wind power by 2030.
###
Citation: Obermeyer B, Manes R, Kiesecker J, Fargione J, Sochi K (2011) Development by Design: Mitigating Wind Development's Impacts on Wildlife in Kansas. PLoS ONE 6(10): e26698. doi:10.1371/journal.pone.0026698
Financial Disclosure: Partial funding was provided by the U.S. Department of Energy and the Robertson Foundation. No additional external funding was received for this project. The funders had no role in study design, data collection and analysis, decision to publish, or preparation of the manuscript.
Competing Interest: The authors have declared that no competing interests exist.
Disclaimer: This press release refers to upcoming articles in PLoS ONE. The releases have been provided by the article authors and/or journal staff. Any opinions expressed in these are the personal views of the contributors, and do not necessarily represent the views or policies of PLoS. PLoS expressly disclaims any and all warranties and liability in connection with the information found in the release and article and your use of such information.
About PLoS ONE
PLoS ONE is the first journal of primary research from all areas of science to employ a combination of peer review and post-publication rating and commenting, to maximize the impact of every report it publishes. PLoS ONE is published by the Public Library of Science (PLoS), the open-access publisher whose goal is to make the world's scientific and medical literature a public resource.
All works published in PLoS ONE are Open Access. Everything is immediately available—to read, download, redistribute, include in databases and otherwise use—without cost to anyone, anywhere, subject only to the condition that the original authors and source are properly attributed. For more information about PLoS ONE relevant to journalists, bloggers and press officers, including details of our press release process and our embargo policy, see the everyONE blog at http://everyone.plos.org/media.
---