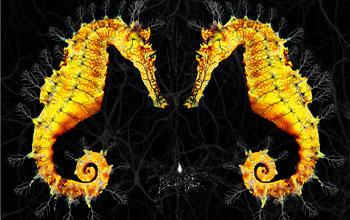 Today the National Science Foundation (NSF) and Popular Science magazine announced the winners of The Vizzies.
The awards mark completion of the first NSF and Popular Science challenge collaboration that celebrates the use of visual media to clearly and accessibly communicate scientific data and research. NSF has led the competition for more than a decade under a different name: the International Science & Engineering Visualization Challenge.
This year's Vizzies continue the tradition of honoring work that visually and successfully communicate science and engineering research and phenomena. The Vizzies recognize the finest illustrations, photographs, videos, graphics and apps, whether produced by academic researchers, artists or hobbyists.
"We couldn't be more pleased with this year's submissions," said Dana Topousis, NSF's acting director of Legislative and Public Affairs. "These visualizations are able to bring people a new level of scientific understanding in impactful and imaginative ways."
"The best visualizations communicate complex subjects with evocative images, enlightening illustrations and engrossing interactive media--all things we value tremendously at Popular Science," said Editor-in-Chief Cliff Ransom. "This year's winners elegantly and approachably combine art and science."
During two rounds of judging, science and visualization experts at NSF and Popular Science winnowed more than 300 entries, from more than 12 countries, down to 50 finalists, 10 in each category. To arrive at the Experts' Choice, a panel of final-round judges rated the visualizations on their artistic merit and communication excellence. Readers voted online for the People's Choice.
The winners are from China, Great Britain, Utah, New York and California.
Without further ado, here are the honorees (please visit nsf.gov or PopSci.com for the full package):
Photography
Experts' Choice:
Ted Kinsman
False-Color X-Ray of a Snapping Turtle
People's Choice:
Elizabeth Marchionado and Andrew Gillis
Alcian Blue and Alizarin Red Chameleon
Illustration
People's Choice and Experts' Choice:
Matteo Farinella
Neuroforest
Video
Experts' Choice:
Yan Liang, Xiangang Tao, Wei Huang, Edison (Qi) Zheng and Jiyuan Liu
Beautiful Chemistry
People's Choice, Best Overall:
Larry Howell, Julie Walker, Robert Lang, Spencer Magleby and Brian Wilcox
How Origami Is Inspiring Scientific Creativity
Posters and Graphics
Experts' Choice:
Robert Clark
Hippocampal Neurons
People's Choice:
Kristin Timm, Shad O'Neal, Allison Bidlack and Eran Hood
From Icefield to Ocean
Games and Apps
Experts' Choice:
Roger Anguera-Singla, Adam Gazzaley, Rajat Jain, Tim Mullen, Christian Kothe, John Fesenko, Oleg Konings, Matt Omernickand David Ziegler
Glassbrain
People's Choice:
Goddard Space Flight Center's NASA Viz Group; Helen-Nicole Kostis, project manager
NASA Visualization Explorer
###
-NSF-
---