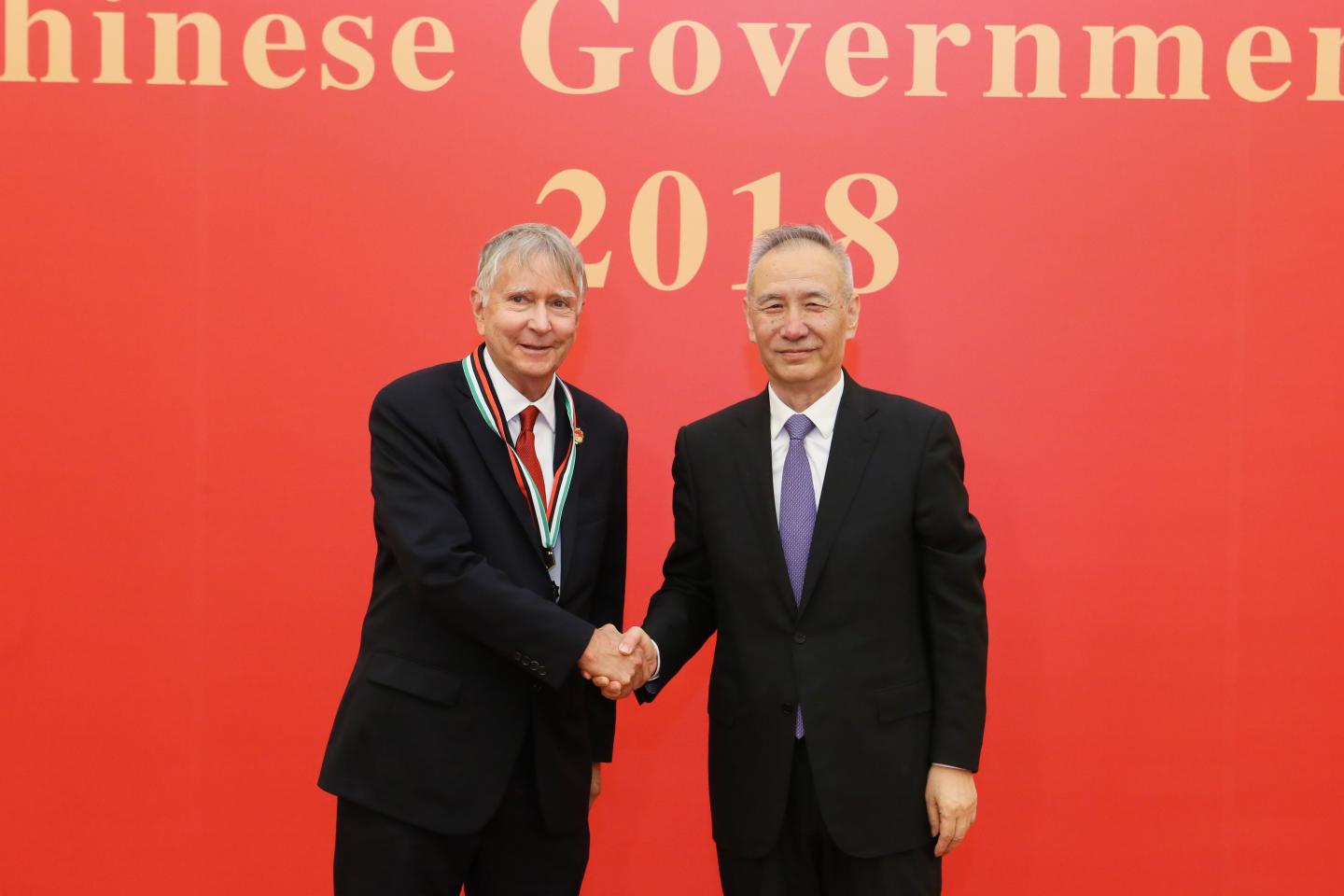 With deltas around the world experiencing similar challenges as those of the Mississippi River Delta, international collaboration plays a critical role in research at LSU's College of the Coast & Environment, or CC&E. For the last decade, Ed Laws, CC&E professor of environmental sciences and former dean, has been traveling to China, mostly to Qingdao and Xiamen, to further his collaborative endeavors in coastal wetland research. On September 29, Laws was awarded the Friendship Award from the People's Republic of China for his efforts. He accepted his award from the vice premier of China, Liu He, at a ceremony in Beijing. This is the highest honor bestowed by the Chinese government upon non-Chinese experts who have made outstanding contributions to China's economic and social progress.
"We are so proud of Dr. Laws and his research on coastal wetlands. This recognition is a testimony to the outstanding faculty and research from our university," said Chris D'Elia, professor and dean of CC&E.
Laws was not the only Louisianan to receive a Friendship Award this year. During the ceremony, Barry Cathey of Monroe received a Friendship Award for helping the Chinese aviation industry.
And, Laws is not the first LSU faculty member to receive an award from the Chinese government. In 2017, China's President Jinping Xi presented the International Science and Technology Cooperation Award to Earl Ward Plummer, professor of physics and astronomy, for his contribution to the development of science and technology in China.
"It's a tremendous honor for [Laws], and LSU. I, personally, believe we need to really enhance our interactions with China in the future, and both of these awards really open the doors to move forward," Plummer said.
"The broad range and complexity of challenges with wetland ecosystem protection and restoration, require CC&E's scientists to address problems from multiple perspectives. These perspectives are gained from working with partners around the world," D'Elia said.
LSU CC&E has partnership agreements with the Chinese Academy of Sciences as well as several Chinese universities, and the college's faculty and students conduct environmental research in China on a regular basis.
,p>Laws has fostered CC&E's collaboration with China through his close ties with the Qingdao Institute of Marine Geology, or QIMG, an alliance he forged in the late 2000s, and Xiamen University. As part of that partnership, he has been visiting Qingdao and Xiamen for two to three months every summer for the past several years. According to Nengyou Wu, Director General of QIMG, Laws introduced innovative methods for measuring primary productivity of wetland ecosystems by using the carbon-14 method. This introduction brought an innovative impetus to the biogeochemical research of QIMG and helped to establish a key coastal wetland biogeosciences laboratory within the China Geological Survey.
Also, Laws proposed wetland vegetation as a renewable resource, "creating great economic value for the reed paper industry in the region of the Liaohe River Delta in northeast China," Wu said.
His book, "Aquatic Pollution," is "not only a classic textbook for both undergraduate and graduate students in many American universities, but also a significant reference for environmental researchers and oceanographers all over the world. This book has been translated into Chinese and Japanese and published in numerous countries. Its Chinese version, translated by Tsinghua University, attracts great interest of Chinese students and scholars and has become popular at China Geological Survey and China's top universities," Wu said.
Previously, Laws won the Qingdao Award in 2012 and the Qingdao Special Contribution Award in 2015 from the Qingdao municipal government.
Laws is an example of world-renowned CC&E faculty members who perform exceptional research on every continent.
###
Additional Information:
LSU CC&E works with Xiamen University, in Xiamen; East China Normal University, in Shanghai; the Chinese Academy of Sciences, in Changchun; Yantai Institute of Coastal Zone Research, in Yantai; China Geological Survey, and Qingdao Institute of Marine Geology, in Qingdao, among others.
Additional Link:
LSU College of the Coast & Environment: lsu.edu/cce/.
---