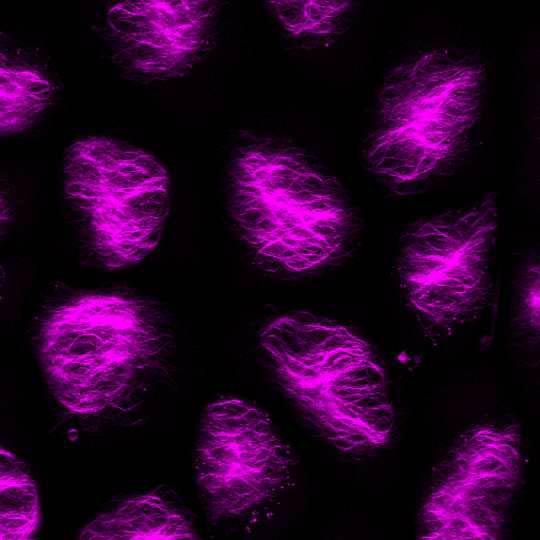 Research led by scientists at the John Innes Centre has solved a long-standing mystery by deducing how and why strange yet colourful structures called 'anthocyanic vacuolar inclusions' occur in some plants.
Pansy petals, blueberries and autumn leaves all have something in common - their characteristic purple, blue and orange-red colours are all caused by the accumulation of pigment molecules called anthocyanins.
As well as contributing to a wide range of plant colours, the patterns and shading caused by anthocyanins can help to guide pollinators towards flowers, or animals towards fruits for seed dispersal. Anthocyanins also help to protect plants against the destructive photo-oxidative damage that can be caused by various stresses including high levels of ultraviolet light.
It has been known for some time that anthocyanins accumulate in the vacuoles of plant cells and, being soluble, they are usually uniformly distributed throughout the vacuole. However, previous research has also noted that, in some plants, distinct, densely coloured clusters of anthocyanins can form within the vacuoles.
Until now, it was not known how these unusual 'anthocyanic vacuolar inclusions' (AVIs) formed - or indeed why. However, a study led by the John Innes Centre's Professor Cathie Martin and published in the journal Current Biology, reveals new understanding of the molecular mechanisms underpinning the formation of AVIs.
Several other John Innes Centre researchers were also involved in the research, along with international collaborators from China, New Zealand and Norway.
The tobacco plant (Nicotiana tabacum), which is commonly used as a model organism in plant research, does not normally produce high levels of anthocyanins. However, by genetically modifying tobacco plants to produce proteins from the magenta-coloured snapdragon flower, the team observed the formation of the vacuole-soluble form of anthocyanins.
The study's first author, Dr Kalyani Kallam of the John Innes Centre, said:
"By crossing our soluble anthocyanin-producing tobacco plants with genetically modified lines expressing proteins from plants that modify anthocyanins we generated progeny tobacco plants that formed AVIs. By experimenting with different genes and conditions, we could work out the chemical steps involved in forming AVIs. Furthermore, we deduced that AVIs are not bound by a membrane, they are formed when anthocyanins precipitate out of solution in the vacuole, and this is dependent upon pH."
Professor Cathie Martin said:
"In many plants, the formation of AVIs is most likely an unavoidable chemical behaviour of specific anthocyanins under certain conditions. However, in some plants - like Lisianthus (also known as Prarie Gentian), which has a very darkly pigmented central region in its flower petals - AVIs may help to increase the intensity of pigmentation to help attract pollinators or seed dispersers."
###
This research was supported by the European Union FP6 FLORA project, the European Union FP7 ATHENA collaborative project, the ERA-NET Industrial Biotechnology project, a Dorothy Hodgkin fellowship and the Institute Strategic funding from the BBSRC.
Notes to editors
1. The paper 'Aromatic decoration determines the formation of anthocyanic vacuolar inclusions' is published in the journal Current Biology on Thursday 16 March.
2. If you would like to interview Professor Cathie Martin please contact:
Geraldine Platten, Acting Head of External Relations, the John Innes Centre
E: Geraldine.platten@jic.ac.uk
3. About the John Innes Centre
The John Innes Centre is an independent, international centre of excellence in plant science and microbiology.
Our mission is to generate knowledge of plants and microbes through innovative research, to train scientists for the future, to apply our knowledge of nature's diversity to benefit agriculture, the environment, human health and wellbeing, and engage with policy makers and the public.
To achieve these goals we establish pioneering long-term research objectives in plant and microbial science, with a focus on genetics. These objectives include promoting the translation of research through partnerships to develop improved crops and to make new products from microbes and plants for human health and other applications. We also create new approaches, technologies and resources that enable research advances and help industry to make new products. The knowledge, resources and trained researchers we generate help global societies address important challenges including providing sufficient and affordable food, making new products for human health and industrial applications, and developing sustainable bio-based manufacturing.
This provides a fertile environment for training the next generation of plant and microbial scientists, many of whom go on to careers in industry and academia, around the world.
The John Innes Centre is strategically funded by the Biotechnology and Biological Sciences Research Council (BBSRC). In 2015-2016 the John Innes Centre received a total of £30.1 million from the BBSRC.
The John Innes Centre is also supported by the John Innes Foundation through provision of research accommodation and long term support of the Rotation PhD programme.
The John Innes Centre is the winner of the BBSRC's 2013 - 2016 Excellence With Impact award.
4. About the BBSRC
The Biotechnology and Biological Sciences Research Council (BBSRC) invests in world-class bioscience research and training on behalf of the UK public. Our aim is to further scientific knowledge, to promote economic growth, wealth and job creation and to improve quality of life in the UK and beyond.
Funded by Government, BBSRC invested over £473M in world-class bioscience in 2015-16. We support research and training in universities and strategically funded institutes. BBSRC research and the people we fund are helping society to meet major challenges, including food security, green energy and healthier, longer lives. Our investments underpin important UK economic sectors, such as farming, food, industrial biotechnology and pharmaceuticals.
For more information about BBSRC, our science and our impact see: http://www.bbsrc.ac.uk
For more information about BBSRC strategically funded institutes see: http://www.bbsrc.ac.uk/institutes
---