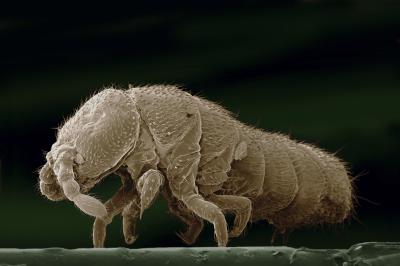 Springtails, mites, worms and plant life could help solve the mystery of Antarctica's glacial history according to new research published in the journal Science this week.
Scientists from British Antarctic Survey (BAS) and Massey University New Zealand report that of the evolutionary history of Antarctica's terrestrial plant and animal life does not reconcile with current reconstructions of past glacial ice extent going back more than 23 million years.
In today's warm period less than 1 percent of Antarctica is ice-free. It has been assumed that during ice ages there was insufficient ice-free land for Antarctic plant and animal species to survive and evolve. However scientists report that an exceptional long-term evolutionary persistence, isolation, and a striking capability to survive global climate change, appear to be the 'norm' rather than the exception for the terrestrial world.
Pete Convey of BAS said,
'Because these groups of invertebrates, plants and microbes occupy such a tiny part of a huge continent climate scientists have tended to ignore them. But recent advances in molecular biology and biogeography show us that they are indeed significant when you are trying to reconstruct a picture of the Earth's glacial history. It is important now for us to work together with scientists from all disciplines to integrate this new biological evidence in glaciological and climate models. It will help answer the big global questions about past and future climate change and be a valuable contribution to International Polar Year 2007-2008.'
###
Issued by the British Antarctic Survey Press Office.
Linda Capper
tel: 44-1223-221448
mob: 07714-233744
email: l.capper@bas.ac.uk
Athena Dinar
tel: 44-1223-221414
mob: 07740-822229
email: a.dinar@bas.ac.uk
Author contacts:
Pete Convey, British Antarctic Survey
Tel: 01223-221588
email: p.convey@bas.ac.uk
Pete Convey is also Co-Chair of the Scientific Committee on Antarctic Research (SCAR) Evolution and Biodiversity in Antarctica international research programme.
Mark I. Stevens, The Allan Wilson Centre for Molecular Ecology and Evolution, Massey University New Zealand.
Tel 64-6-350 5515 ext 7697/5412 (office/lab)
Mob: 64-0212135761
Email: m.i.stevens@massey.ac.nz
Notes for Editors
Stills and Broadcast quality footage of Antarctic ice sheets, mites and other invertebrates are available from the BAS Press Office.
British Antarctic Survey is a world leader in research into global issues in an Antarctic context. It is the UK's national operator and is a component of the Natural Environment Research Council. It has an annual budget of around £40 million, runs nine scientific programmes and operates five research stations, two Royal Research Ships and five aircraft in and around Antarctica. More information about the work of the Survey can be found at: www.antarctica.ac.uk
Co-author institute details
The Allan Wilson Centre for Molecular Ecology and Evolution is one of five New Zealand government-funded centres of research excellence (http://awcmee.massey.ac.nz/). Initially funded in 2002 for six years, the Centre has recently been awarded a further six years of funding. The Allan Wilson Centre is an interdisciplinary research centre capitalizing on the integration of mathematics and modern molecular biology for the benefit of New Zealand and wider scientific community and offers researchers the state of the art facilities to study all aspects of molecular evolution. Mark's research on Antarctic invertebrates is carried out in collaboration with colleagues at Waikato University, and is supported by research programs with Antarctica New Zealand (www.antarcticanz.govt.nz/) and the Australian Antarctic Division (www.aad.gov.au/). Mark also holds an honorary associate position in the School of Biological Sciences at Monash University, Australia.
PR contact:
Susan Adams
Tel: 64-6-350-5448
Mobile: 64-021-379-427
email s.i.adams@massey.ac.nz
---