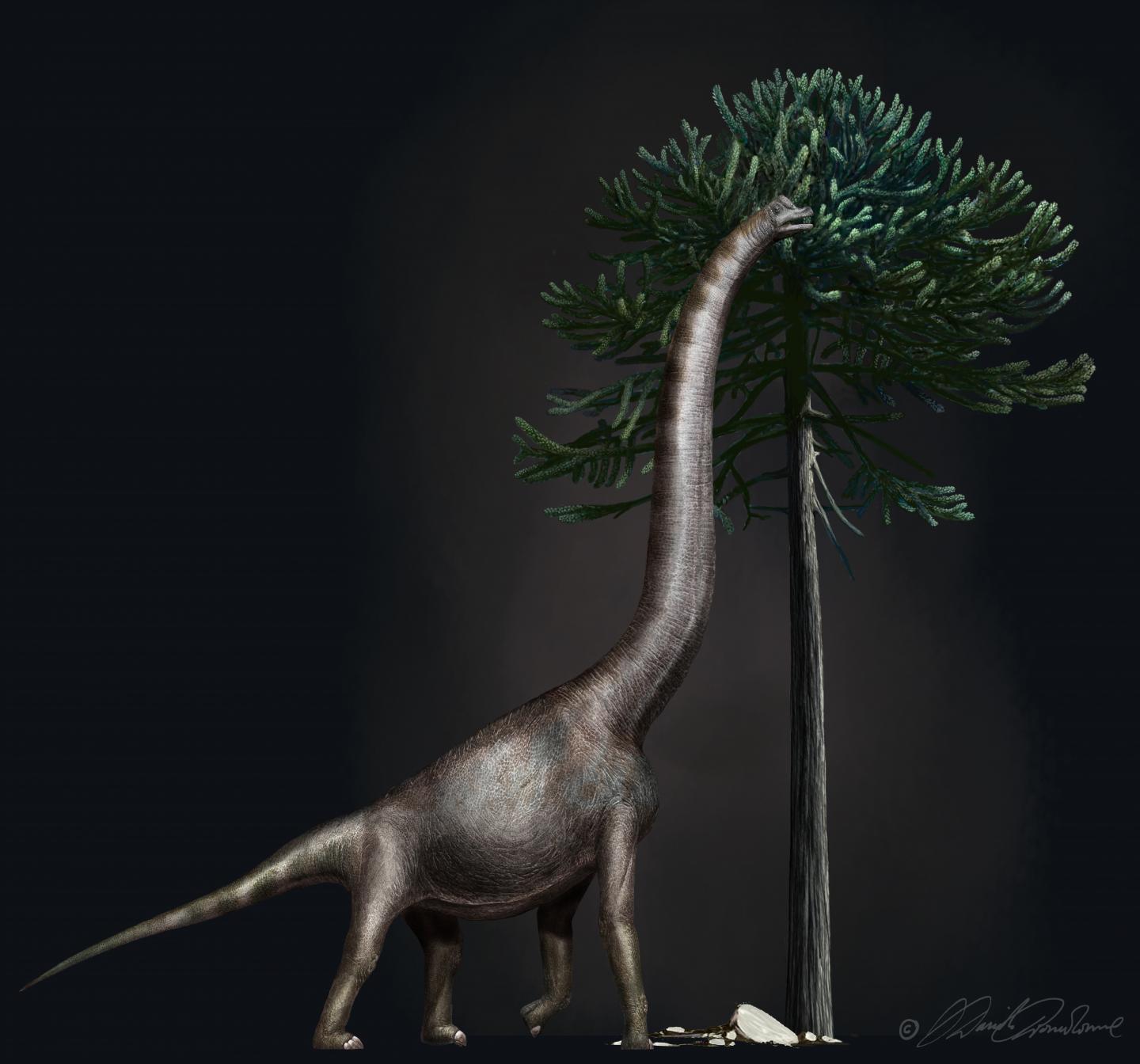 As it turns out, "Bigfoot" was a dinosaur--a giant, plant-eating one. A new study based on fossils excavated in Wyoming reveals the largest dinosaur foot ever found and identifies it as a brachiosaur, a type of sauropod dinosaur that was among the largest land animals on Earth. The work, published today in the journal PeerJ, also confirms that 150 million years ago brachiosaurs called a huge swath of North America home.
"There are tracks and other incomplete skeletons from Australia and Argentina that seem to be from even bigger animals, but those gigantic skeletons were found without the feet. This beast was clearly one of the biggest that ever walked in North America," said co-author Emanuel Tschopp, a Theodore Roosevelt Richard Gilder Graduate School postdoctoral fellow in the American Museum of Natural History's Division of Paleontology and author on the new PeerJ study.
The foot was excavated in 1998 by an expedition team from the University of Kansas which included Anthony Maltese, now at the Rocky Mountain Dinosaur Resource Center in Woodland Park, Colorado.
"It was immediately apparent that the foot, nearly a meter wide, was from an extremely large animal, so the specimen was nicknamed 'Bigfoot,'" said Maltese, lead author of the study.
Now, after thorough preparation and examination, Maltese, Tschopp, and collaborators have identified the foot as belonging to an animal very closely related to the long-necked, long-tailed sauropod Brachiosaurus, best known as the sauropod featured in the movie Jurassic Park. The researchers used 3D scanning and detailed measurements to compare the specimen to feet from numerous dinosaur species. Their research confirms that this foot is the largest dinosaur foot discovered to date.
The study also shows that brachiosaurs inhabited a huge area from eastern Utah to northwestern Wyoming.
"This is surprising," Tschopp said. "Many other sauropod dinosaurs seem to have inhabited smaller areas during that time."
The rock outcrops that produced this fossil--the Black Hills region of Wyoming, famous today for tourist attractions like Deadwood and Mount Rushmore--hold many more fantastic dinosaur skeletons, says Maltese. The research team hopes to continue their studies on fossils from the Black Hills region.
###
Other authors on the study include Femke Holwerda, a Ph.D.-degree candidate at the Ludwig Maximilians University of Munich, Germany, and David Burnham, a researcher at the University of Kansas.
Funding was provided through the Europasaurus-Projekt by the Volkswagen Foundation and the American Museum of Natural History's Theodore Roosevelt Memorial Fund and Richard Gilder Graduate School.
AMERICAN MUSEUM OF NATURAL HISTORY (AMNH.ORG)
The American Museum of Natural History, founded in 1869, is one of the world's preeminent scientific, educational, and cultural institutions. The Museum encompasses 45 permanent exhibition halls, including those in the Rose Center for Earth and Space and the Hayden Planetarium, as well as galleries for temporary exhibitions. It is home to the Theodore Roosevelt Memorial, New York State's official memorial to its 33rd governor and the nation's 26th president, and a tribute to Roosevelt's enduring legacy of conservation. The Museum's five active research divisions and three cross-disciplinary centers support approximately 200 scientists, whose work draws on a world-class permanent collection of more than 34 million specimens and artifacts, as well as specialized collections for frozen tissue and genomic and astrophysical data, and one of the largest natural history libraries in the world. Through its Richard Gilder Graduate School, it is the only American museum authorized to grant the Ph.D. degree. Beginning in 2015, the Richard Gilder Graduate School also began granting the Master of Arts in Teaching (MAT) degree, the only such freestanding museum program. Annual visitation has grown to approximately 5 million, and the Museum's exhibitions and Space Shows are seen by millions more in venues on six continents. The Museum's website, mobile apps, and MOOCs (massive open online courses) extend its scientific research and collections, exhibitions, and educational programs to additional audiences around the globe. Visit amnh.org for more information.
Follow
Become a fan of the Museum on Facebook at facebook.com/naturalhistory, follow us on Twitter at @AMNH, on Instagram at @AMNH, and on Tumblr at amnhnyc.
---