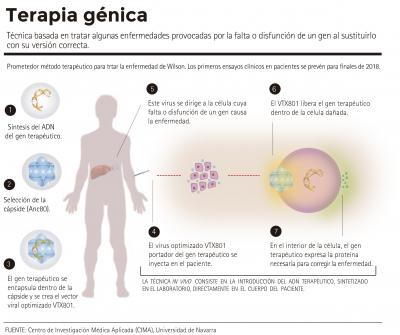 Scientists at CIMA at the University of Navarra expect to begin the first clinical trials on patients in 2018 with the new VTX801 treatment which corrects an advanced stage of this rare disease in animals
The Massachusetts Eye and Ear Infirmary, associated with Harvard University, has participated in its development
This Spanish research project has attracted leading international investors in biotechnology by forming Vivet Therapeutics, an emerging company which has raised €37.5 million in its Series A financing round
Pamplona (Spain), May 16. Scientists at the Center for Applied Medical Research (CIMA) at the University of Navarra (Spain) have designed a promising gene therapy method to treat Wilson's disease, a rare pathology caused by the lack of or malfunction of a gene. The gene therapy consists in introducing the correct version of the gene into the damaged cells by means of vehicles or vectors, generally viruses which have been modified in the laboratory to eliminate their capacity to cause disease but maintain their ability to penetrate the cells.
With this promising method Dr. Gloria González Aseguinolaza, director of the Gene Therapy Program at CIMA, and her team have designed VTX801, a viral vector that corrects an advanced stage of Wilson's disease in animals. The Massachusetts Eye and Ear (MEE), a hospital associated with Harvard University, has participated in the development process of her innovative therapeutic strategy by contributing an advanced viral capsid (Anc80), the coating of the genetic material of the modified virus.
This advance has been possible thanks to the CIMA agreement and exclusive license, through its foundation for applied medical research (FIMA) with the emerging French bio-technical company Vivet Therapeutics (Vivet). This company, which develops new treatments based on gene therapy for hereditary metabolic rare diseases, has raised €37.5 million in its Series A financing round from a consortium of investors led by Novartis Venture Fund and Columbus Venture Partners and including Roche Venture Fund, HealthCap, Kurma Partners and Ysios Capital. Outstanding is the fact that a project from a Spanish academic institution research center should attract so many international investors in the biotechnology sector.

An injection with beneficial effects that continue for years
Wilson's disease is caused by a mutation of the ATP7B gene, which is responsible for metabolizing copper. It causes this metal to accumulate in the liver and other tissues and produces hepatic and neurologic damage and potentially death. It affects one in 30,000 people worldwide.
The current treatment attempts to mitigate the progress of the disease and consists of taking several pills daily for life, with great discomfort for the patient and a chronicity which implies high health care costs at a global level. "Our strategy goes to the root of the disease and tries to correct it", stated Dr. Gloria González Aseguinozala. And, "it consists in applying a single injection whose effects may last up to seven years, which is, up to now, the follow-up time of a patient treated with gene therapy".
According to the researcher, the successful results in mice at an advanced stage of the disease together with the agreement with Vivet "have allowed us to optimize the VTX801 vector and its production system in order to obtain large clinical grade quantities". Once the CIMA researchers have tested the safety and effectiveness of the new drug, Vivet expects to begin the first clinical trials with VTX801 towards the end of 2018.

Hope for other congenital diseases
González Aseguinozala points out that her research "has focused on Wilson's disease because it is the first for which we have satisfactory data and the possibilities of being of benefit to patients are more immediate. However, the potential of this therapeutic strategy opens the doors to other treatments with gene therapy, as, by changing the defective gene, we may be able to address diseases with a similar cause".
###
Video Link: https://www.youtube.com/watch?v=Y6FmZY6wqz4
Caption: CIMA researchers on the Vivet project. In the center, Gloria González Aseguinolaza and on the far right Jesús Hernández, a representative of FIMA and previous director general of CIMA.
---