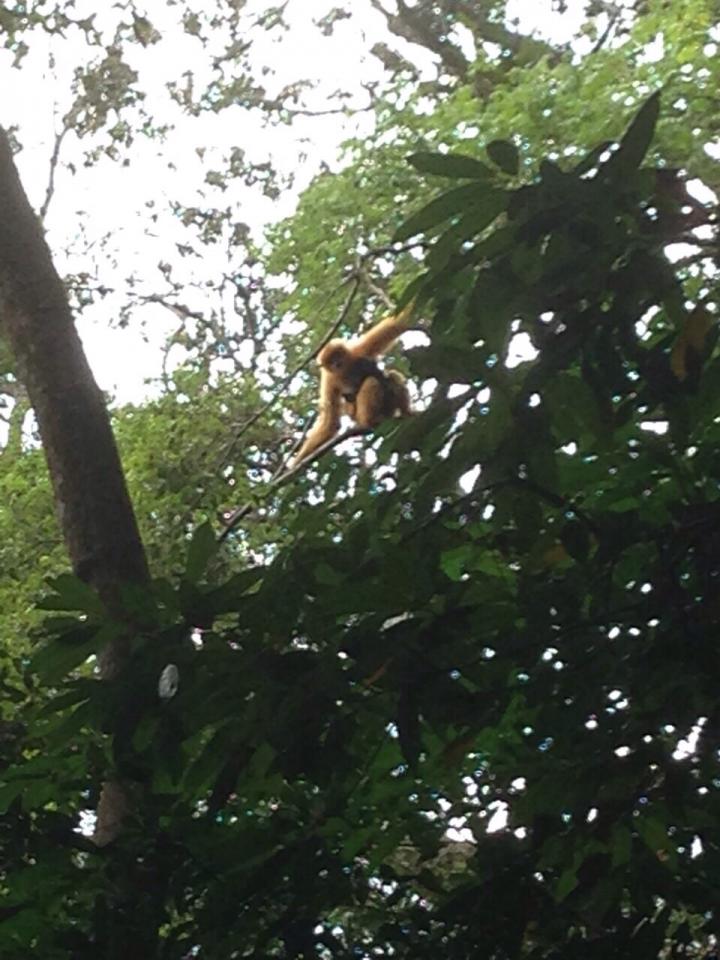 The world's rarest ape has an increased chance of survival after a team led by international conservation charity the Zoological Society of London (ZSL) found a new family group of Hainan gibbons (Nomascus hainanus).
Until last month, it was thought that there were just 25 Hainan gibbons living in three social groups on an island off the Chinese mainland.
The discovery of a new fourth group, a mating pair with a young baby, sighted within Bawangling National Nature Reserve, Hainan Province, increases the known population by almost 12%.
The discovery of this fourth breeding group increases reproductive potential of the population, which could be vital for the long term survival of the Critically Endangered gibbons.
ZSL researcher Dr Jessica Bryant, who led the expedition that made the discovery, said: "Finding a new Hainan gibbon group is a fantastic boost for the population. We had hoped to locate at least one or two solitary gibbons, but discovering a whole new family group complete with a baby is beyond our wildest dreams."
The new social group brings the estimate of the total population of Hainan gibbons to around 28 individuals.
The ZSL-led project team, including international gibbon experts along with staff from Bawangling National Nature Reserve Management Office, set out to try and find any surviving lone gibbons in the reserve to gain a greater understanding of the total number of Hainan gibbons that remain.
Gibbons are typically located by the sound of their daily song. Due to the low population density of the Hainan gibbon, they are less likely to sing as there are few other gibbons to advertise their territory to, making detection of solitary individuals or groups extremely challenging. By utilising new acoustic techniques that prompt gibbons to investigate and call, the team were able to locate this new group.
Dr Bryant added: "The success of our discovery is really encouraging. We now want to learn more about this new group, and also hope to extend the investigation to perhaps even find additional solitary gibbons or other groups. Today is a great day for Hainan gibbon conservation."
###
Editor's Notes
Use of ZSL images and video
Photographs, video or graphics distributed by the Zoological Society of London (ZSL) to support this media release may only be used for editorial reporting purposes for the contemporaneous illustration of events, things or the persons in the image or facts mentioned in the media release or image caption. Reuse of the picture or video requires further permission from the press office of the ZSL.
ZSL
Founded in 1826, the Zoological Society of London (ZSL) is an international scientific, conservation and educational charity whose mission is to promote and achieve the worldwide conservation of animals and their habitats. Our mission is realised through our ground-breaking science, our active conservation projects in more than 50 countries and our two Zoos, ZSL London Zoo and ZSL Whipsnade Zoo. For more information visit http://www.zsl.org
ZSL's conservation work with Hainan gibbons
Numbering around 2,000 individuals in the 1950s, the Hainan gibbon (Nomascus hainanus) underwent a severe decline in the late 20th century due to habitat loss and hunting, and is now one of the most threatened species in the world. Listed as Critically Endangered on the IUCN Red List, a population of just 28 Hainan gibbons remain. With funding from the Arcus Foundation, ZSL is helping to develop a more secure future for the species; our work aims to help ensure the continued effective protection of gibbon habitat and enhanced forest connectivity, while utilising optimal monitoring methods in order to understand gibbon habitat requirements and dispersal; in addition to encouraging new gibbon group formation and expansion into good-quality habitat across the wider Bawangling landscape.
---