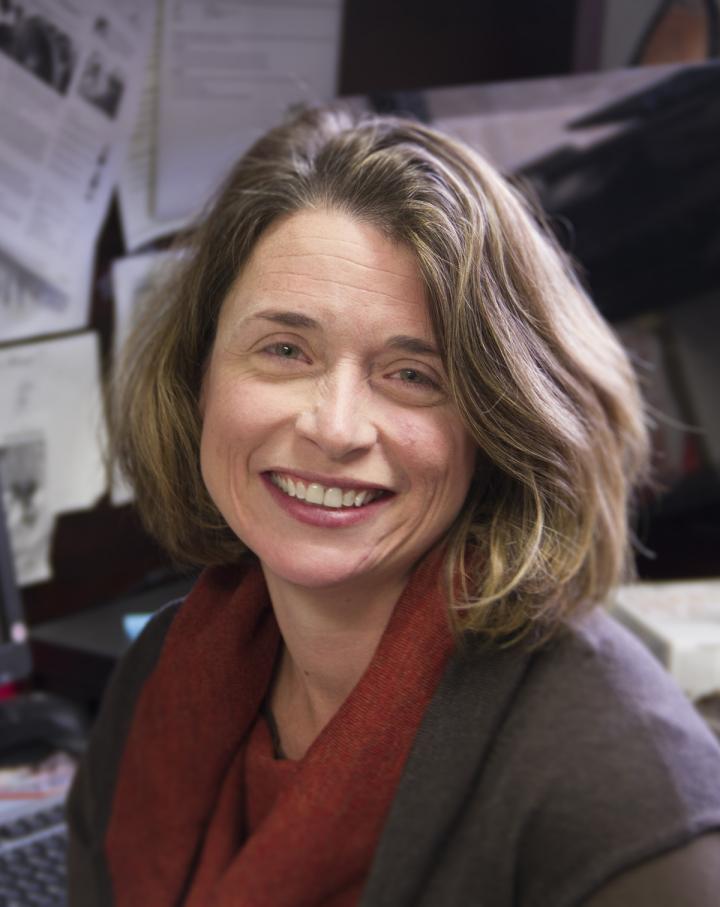 West Orange, NJ. September 26, 2014. Nancy (Donofrio) Chiaravalloti, PhD, of Kessler Foundation received the Alumni Achievement in Science award from her alma mater, Muhlenberg College at the Alumni Association luncheon on September 13th. The award recognizes alumni with distinguished and exceptional attainment in a specific scientific field. Dr. Chiaravalloti, a neuropsychologist, graduated cum laude in 1994. She is director of Neuropsychology, Neuroscience and Traumatic Brain Injury (TBI) Research at Kessler Foundation, project director of the federally funded Northern NJ TBI System, and professor of Physical Medicine & Rehabilitation at Rutgers-New Jersey Medical School.
"I owe so much to Muhlenberg College where I was inspired to begin my career in neuropsychology," said Dr. Chiaravalloti. "My undergraduate education is fundamental to what I have been able to achieve as a clinician and a researcher. I am honored to be among the alumni recognized by Muhlenberg's Alumni Association."
Dr. Chiaravalloti is a widely published expert in the field of cognitive rehabilitation research in multiple sclerosis (MS), TBI and other neurological disorders. Her research has been funded by grants from the National MS Society, National Stroke Association, National Institutes of Health, National Institute on Disability and Rehabilitation Research, the New Jersey Commission on Brain Injury Research, the New Jersey Commission on Spinal Cord Injury Research, Craig H. Neilsen Foundation and the International Progressive MS Alliance. Dr. Chiaravalloti has been the recipient of the National Academy of Neuropsychology's Early Career Award for Contributions to Clinical Neuropsychology, the Early Career Award from Division 40 of the American Psychological Association for contributions to Clinical Neuropsycholoy and the Rosenthal Early Career Award for significant contribution to research in Rehabilitation Psychology from the American Psychological Association, Division 22. She earned her masters and doctoral degrees at Hahnemann University and completed a clinical internship at Brown University. She did her postdoctoral fellowship at Kessler Foundation through the University of Medicine & Dentistry of New Jersey.
###
About Kessler Foundation
Kessler Foundation, a major nonprofit organization in the field of disability, is a global leader in rehabilitation research that seeks to improve cognition, mobility and long-term outcomes, including employment, for people with neurological disabilities caused by diseases and injuries of the brain and spinal cord. Kessler Foundation leads the nation in funding innovative programs that expand opportunities for employment for people with disabilities. For more information, visit KesslerFoundation.org.
facebook.com/KesslerFoundation
http://twitter.com/KesslerFdn
Carolann Murphy, PA; 973.324.8382; CMurphy@KesslerFoundation.org
Lauren Scrivo, 973.324.8384/973.768.6583 (cell); LScrivo@KesslerFoundation.org
---