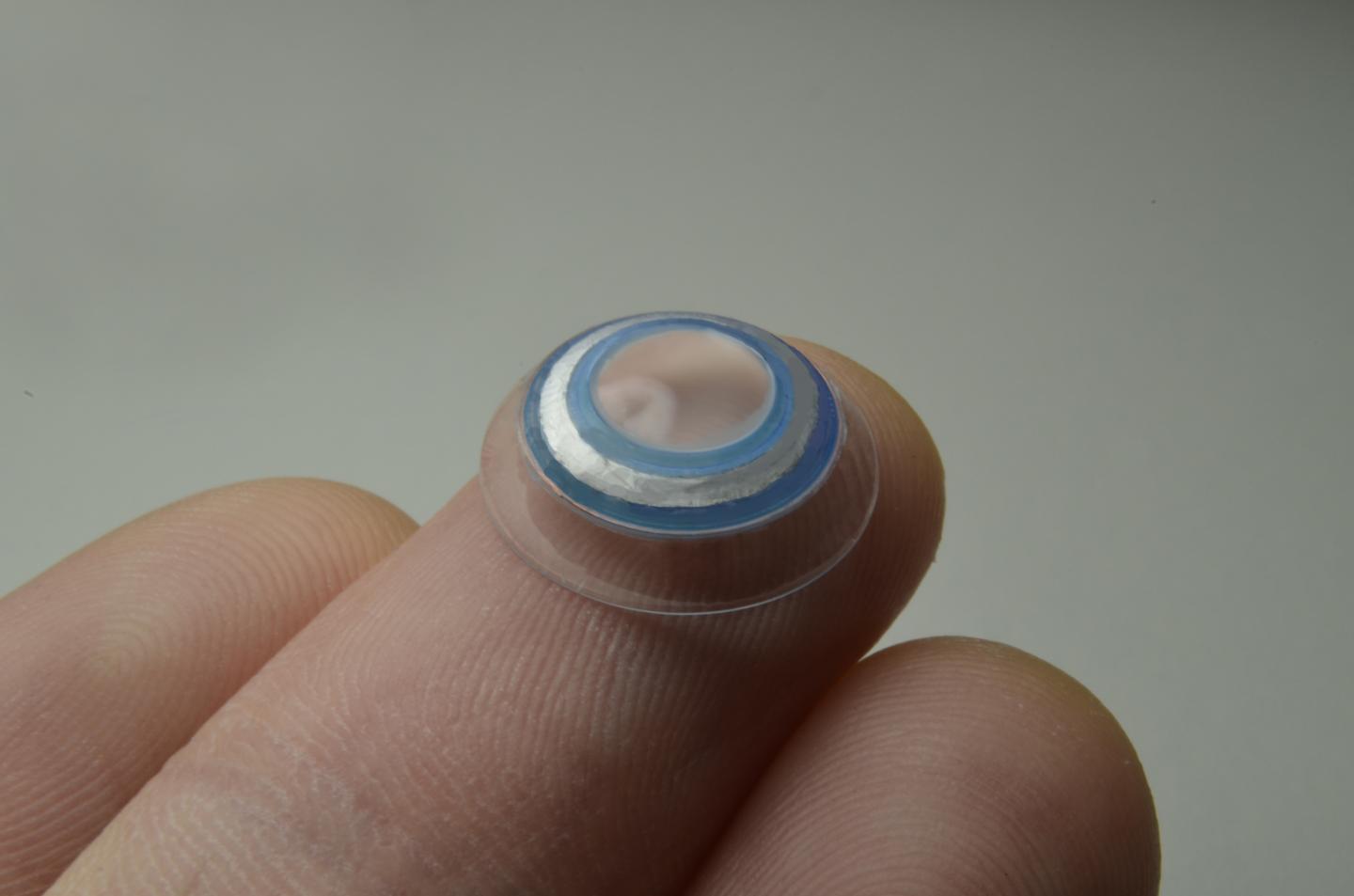 A novel contact lens device developed by University of Liverpool engineers to improve the treatment of glaucoma has been found to reliably track pressure changes in the eye and be wearable by people who took part in its first clinical study.
The contact lens device is able to continuously measure fluid pressure in the eye - known as intraocular pressure (IOP) - the elevation of which is a cause of glaucoma and if not managed can lead to loss of vision. Currently IOP is measured in glaucoma patients during clinic visits which are usually twice a year, but this characterisation of IOP is unreliable as IOP is dynamic and easily affected by psychological and environmental factors - such as stress or sleeping.
The device, which is made of a soft silicone hydrogel material to ensure it is comfortable to wear, contains a pressure sensor which detects changes in IOP continuously over a period of up to 24 hours. These changes are then transmitted wirelessly to an easily portable external controller (the size of a mobile phone) which collects the data and provides clinicians with much needed, but currently unavailable, data to assist with glaucoma treatment.
A small scale, first in man, clinical study of the novel device involved 12 volunteers who wore the new contact lens device for more than an hour while under constant clinical observation has been completed at St. Paul's Eye Unit in the Royal Liverpool University Hospital and at Moorfields Eye Hospital in London.
Results from the study found the device was able to measure changes in the IOP, with minimal impact and little discomfort to the patient.
Glaucoma is a leading cause of irreversible blindness, affecting 0.5million people in the UK (67million worldwide) and costing the NHS more than £1billion a year. The aim of glaucoma treatment is to control IOP in order to minimise further damage, and avoid loss of vision.
The device has been developed by University biomedical engineers in conjunction with engineers from specialist contact lens manufacturer, Ultravision CLPL, St Pauls Eye Unit, Liverpool and Moorfields Eye Hospital, London. The development team is now looking to refine manufacturing techniques in order to take the device to the next step towards commercialisation.
Ahmed Elsheikh, Professor of Biomaterial Mechanics in the University's School of Engineering, said: "The results of this study are very positive and show that the device is comfortable for people to wear and gives good measurements of the IOP.
"This device has the potential to provide millions of sufferers of glaucoma with much needed information which will ensure that they are being treated correctly, and that their good vision can be maintained and damage kept to a minimum."
###
Funding to develop the device and to support the clinical study was provided by the National Institute for Health Research.
Notes to editors:
1. The University of Liverpool is one of the UK's leading research institutions with an annual turnover of £480 million, including £102 million for research. Liverpool is ranked in the top 1% of higher education institutions worldwide and is a member of the Russell Group. Visit http://www.liv.ac.uk or follow us on twitter at: http://www.twitter.com/livuninews.
2. Moorfields Eye Hospital NHS Foundation Trust is one of the leading providers of eye health services in the UK and a world class centre of excellence for ophthalmic research and education. We have provided excellence in eye care for more than 200 years and we continue to be at the forefront of new breakthroughs and developments. We are an integral part of one of the UK's first academic health science centres, UCL Partners, and now we are part of one of the first science health networks. For further information, please visit http://www.moorfields.nhs.uk
3. St Paul's Eye Unit at the Royal Liverpool University Hospital provides a world renowned ophthalmic service not only to the local community of Liverpool but also to regional, national and international referrals. The highly trained and internationally recognised team of specialist ophthalmologists have expertise in a wide variety of eye conditions including diabetic retinopathy, glaucoma, age related macular degeneration and ocular oncology.
4. The National Institute for Health Research (NIHR): improving the health and wealth of the nation through research. Established by the Department of Health, the NIHR:
funds high quality research to improve health
trains and supports health researchers
provides world-class research facilities
works with the life sciences industry and charities to benefit all
involves patients and the public at every step
For further information, visit the NIHR website http://www.nihr.ac.uk
5. The NIHR Biomedical Research Centre at Moorfields Eye Hospital and UCL Institute of Ophthalmology and the NIHR Moorfields Clinical Research Facility The NIHR Moorfields Biomedical Research Centre (BRC) was established in April 2007 and awarded a third five-year term by the NIHR from April 2017. Its purpose is to support translational research that is designed to take advances in medical research from the laboratory to early phase clinical studies, with the overarching aim of enabling patients to benefit more quickly from new scientific breakthroughs. Our BRC is currently one of 20 Biomedical Research Centres that were awarded to NHS/university partnerships with an outstanding international reputation for medical research and expertise, and experience of translating that research into the clinical setting. For further information, please visit http://www.brcophthalmology.org
The NIHR Moorfields Clinical Research Facility (CRF) for Experimental Medicine is where early phase research studies take place. Such studies aim to confirm the safety of new research in a small number of patient volunteers and therefore require specialist facilities, staff and equipment. In April 2017, our CRF began its second five-year term. Some of the projected studies will be using new technology or drugs for the first time in human beings. For further information please visit http://www.moorfields.nhs.uk/content/nihr-moorfields-clinical-research-facility
---