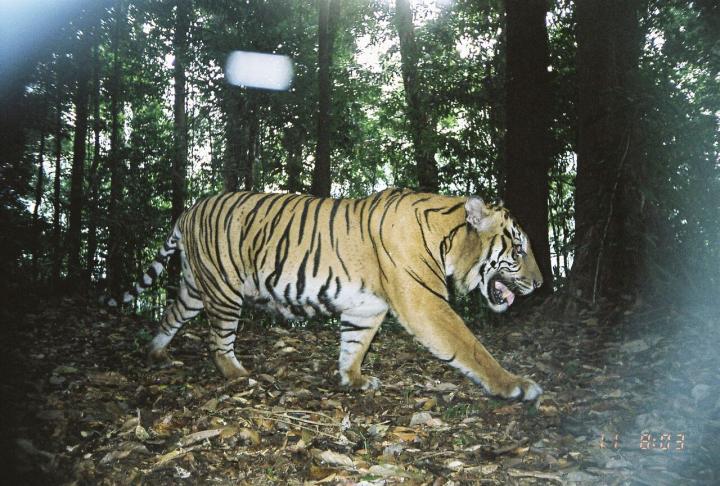 A geographic profiling tool used to catch serial criminals could help reduce the casualties of human-tiger conflict, according to scientists who collaborated on an innovative conservation research study.
The results of their research, published in Nature Communications, help explain how villagers in Sumatra coexist with tigers. If used pre-emptively it could have helped cut attacks by half, saving tigers from poaching and retaliation killings.
Dr Matthew Struebig at the University of Kent's Durrell Institute of Conservation and Ecology, in its School of Anthropology and Conservation and Dr Freya St. John at Bangor University, led a collaboration between spatial ecologists and social scientists to help predict where human-tiger conflict interventions could be most effective.
Tigers are on the brink of extinction due to deforestation and persecution. They are highly threatened and pose a public threat, but in Sumatra tigers continue to coexist with people, offering insights for managing dangerous wildlife elsewhere. Millions of conservation funds are spent each year trying to reduce people's risk of encountering harmful animals, and mitigating livestock losses of local farmers.
To reveal the drivers of human-tiger conflict the team coupled spatial analyses of tiger encounter risk with information from 2,386 Sumatrans who were asked about their tolerance of wildlife. To map risk, the study used 13 years of human-tiger encounter records to generate a geographic profile - a sophisticated statistical technique previously used throughout the world to predict the whereabouts of serial criminals based on where their crimes have been committed.
Although the risk of encountering a tiger was generally greater around populated villages near forest or rivers, the geographic profile revealed three places where risk was particularly high. At the same time questionnaires revealed that people's tolerance for tigers was related to their underlying attitudes, emotions, norms and spiritual beliefs.
By combining this information, the team was able to highlight villages where risk was adversely high, and tolerance was unusually low - valuable guidance for organisations such as Fauna & Flora International, an international conservation charity that supports the Indonesian authorities and other in-country partners in Sumatra, helping them to prioritise conflict interventions.
The techniques used in this study are highly significant and open up new possibilities for more targeted actions that will not only boost efficiency, but - more importantly - ensure that fewer people and tigers come to harm as a result of their interactions. This research has shown for example that, had this information been available at the time, pre-emptive interventions using these predictions could have averted up to 51% of attacks on livestock and people, potentially saving 15 tigers.
Dr Struebig said: 'Understanding people's tolerance is key to managing dangerous species and is particularly urgent for tigers. When combined with our maps of encounter risk, information on people's tolerance to wildlife helps us direct conservation resources to where they are needed most. This could amount to significant cost savings in terms of animals lost or funding spent, so could be very useful in conservation.'
###
The research published in Nature Communications, also provides further evidence of the benefits of interdisciplinary research on such conservation conflicts.
Addressing human-tiger conflict using socio-ecological information on tolerance and risk by Matthew Struebig, Nicolas Deere, and Jeanne McKay, all University of Kent; Matthew Linkie, Wildlife Conservation Society Indonesia; Betty Millyanawati, Fauna & Flora International Indonesia; Fachruddin Mangunjaya, Universitas Nasional Indonesia; Sally Faulkner and Steven Le Comber, Queen Mary University of London; Nigel Leader-Williams, University of Cambridge; and Freya St. John, University of Kent and Bangor University.
For further information or interview requests contact Sandy Fleming at the University of Kent Press Office.
Tel: 01227 823581
Email: S.Fleming@kent.ac.uk
News releases can also be found at http://www.kent.ac.uk/news
University of Kent on Twitter: http://twitter.com/UniKent
Established in 1965, the University of Kent - the UK's European university - now has almost 20,000 students across campuses or study centres at Canterbury, Medway, Tonbridge, Brussels, Paris, Athens and Rome.
It has been ranked 22nd in the Guardian University Guide 2018 and in June 2017 was awarded a gold rating, the highest, in the UK Government's Teaching Excellence Framework (TEF).
In the Times Higher Education (THE) World University Rankings 2015-16, it is in the top 10% of the world's leading universities for international outlook and 66th in its table of the most international universities in the world. The THE also ranked the University as 20th in its 'Table of Tables' 2016.
Kent is ranked 17th in the UK for research intensity (REF 2014). It has world-leading research in all subjects and 97% of its research is deemed by the REF to be of international quality.
In the National Student Survey 2016, Kent achieved the fourth highest score for overall student satisfaction, out of all publicly funded, multi-faculty universities.
Along with the universities of East Anglia and Essex, Kent is a member of the Eastern Arc Research Consortium (http://www.kent.ac.uk/about/partnerships/eastern-arc.html).
The University is worth £0.7 billion to the economy of the south east and supports more than 7,800 jobs in the region. Student off-campus spend contributes £293.3m and 2,532 full-time-equivalent jobs to those totals.
Kent has received two Queen's Anniversary prizes for Higher and Further Education.
FFI protects threatened species and ecosystems worldwide, choosing solutions that are sustainable, based on sound science and that take account of human needs. Operating in more than 40 countries worldwide, FFI saves species from extinction and habitats from destruction, while improving the livelihoods of local people. Founded in 1903, FFI is the world's longest established international wildlife conservation organisation and a registered charity.
---
Journal
Nature Communications