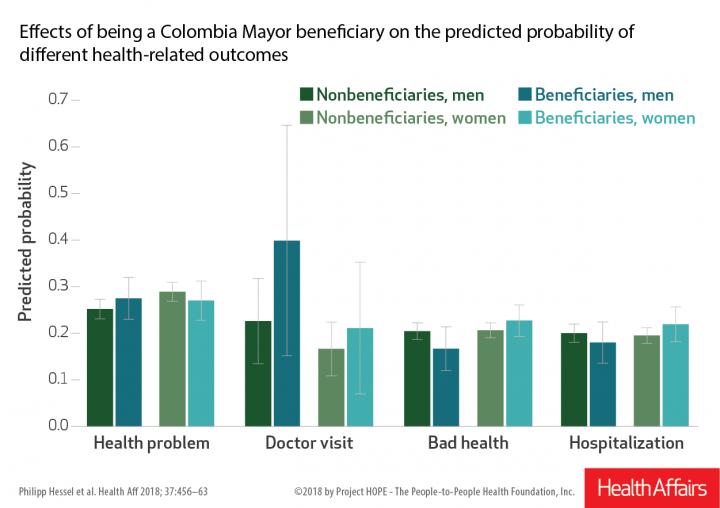 In a new study appearing in the March issue of Health Affairs, Philipp Hessel of the University of the Andes and coauthors assessed the effects of Colombia Mayor, a noncontributory pension program providing eligible low-income elderly Colombians with a small monthly cash transfer of US$16-34, on health and health care. The authors used data from a nationally representative household survey of older Colombians for the years 2010-13. Respondents reported their health status, any health problems, and doctor visits and hospitalizations. According to the study, male recipients of Colombia Mayor were 5.6 percent less likely to report bad health, and had a 5.4 percent reduced likelihood of being hospitalized. The authors found no significant effect among women or among men for other health and health care use outcomes (see the exhibit below). "Our results suggest that social policies that address poverty may be a useful part of a broader strategy to achieve healthy aging," the authors conclude. "The increasing burden of noncommunicable diseases among the lower socioeconomic groups makes this potential source of cost reduction even more important."
###
Also of interest in the March issue--two studies about aspects of Canadian health:
Accumulation Of Chronic Conditions At The Time Of Death Increased In Ontario From 1994 to 2013; Laura Rosella and coauthors at the University of Toronto and the Institute for Clinical Evaluative Sciences.
An Unconditional Prenatal Income Supplement Reduces Population Inequities In Birth Outcomes; Marni Brownell and coauthors at the University of Manitoba.
Health Affairs is the leading peer-reviewed journal at the intersection of health, health care, and policy. Published monthly by Project HOPE, the journal is available in print, online, and on mobile phones. Additional and late-breaking content is found at http://www.healthaffairs.org.
---