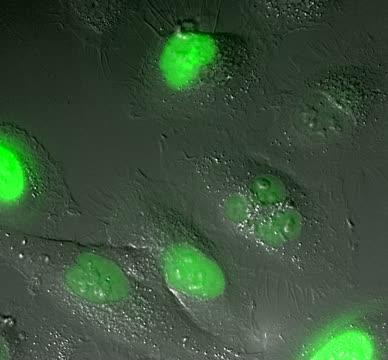 PITTSBURGH, May 14, 2019 - The same sources thought to inflict oxidative stress on cells--pollution, diesel exhaust, smoking and obesity--also are associated with shorter telomeres, the protective tips on the ends of the chromosomal shoelace.
A new study from the University of Pittsburgh, published today in Molecular Cell, provides the first smoking gun evidence that oxidative stress acts directly on telomeres to hasten cellular aging.
"Telomeres consist of hundreds of guanine bases, which are sinks for oxidation," said senior author Patricia Opresko, Ph.D., professor of environmental and occupational health at the Pitt Graduate School of Public Health and UPMC Hillman Cancer Center. "Is it just a coincidence? Or could it be true that oxidizing those guanines in the telomeres is really contributing to shortening?"
To find out for sure, Opresko needed some way to inflict oxidative stress on telomeres and nowhere else.
So, she enlisted the help of Marcel Bruchez, Ph.D., professor of biological sciences and chemistry and director of the Molecular Biosensors and Imaging Center at Carnegie Mellon University. Bruchez developed a method for zeroing in on the telomeres using a special light-activated molecule that latches onto the telomere and delivers localized free radicals--the molecular agent of oxidative stress--on command.
"One of the main challenges to targeting oxidative damage to specific loci in living cells has been achieving precise temporal and dose-control of this damage," Bruchez said. "By combining telomere targeting with our optochemogenetic generation of singlet oxygen, we are able to selectively control when and how hard the oxidative stress is applied specifically at the telomere sites."
The researchers repeatedly exposed cultured cancer cells to this targeted oxidation procedure, mimicking conditions of environmental oxidative stress and inflammation, and, indeed, they saw the telomeres break and shorten with each cell division, despite repair efforts by the telomere lengthening enzyme telomerase.
As the DNA repair machinery tried to fix the broken telomeres, the ends of the chromosomes often fused together, destabilizing the genome and preventing cells from dividing properly.
Whereas telomere shortening spells bad news for healthy cells, Opresko said, the flipside is that targeting telomeres might offer a way to fight cancer. With short enough telomeres, cancer cells would stop dividing.
"If we can understand what causes telomere shortening and how cells compensate for that," Opresko said, "then we'll be in a better position to design intervention strategies that protect telomeres in healthy cells and target telomeres in cancer cells."
###
Other authors on this study include Elise Fouquerel, Ph.D., Ryan Barnes, Ph.D., Shikhar Uttam, Ph.D., and Simon Watkins, Ph.D., all of Pitt.
This work was supported by grants from the National Institutes of Health (K99ES027028, R01ES022944, R01CA207342, R01ES02842, R21/R33ES025606 and R01EB017268).
To read this release online or share it, visit http://www.upmc.com/media/news/051419-opresko-ros.
About the University of Pittsburgh Schools of the Health Sciences
The University of Pittsburgh Schools of the Health Sciences include the schools of Medicine, Nursing, Dental Medicine, Pharmacy, Health and Rehabilitation Sciences and the Graduate School of Public Health. The schools serve as the academic partner to the UPMC (University of Pittsburgh Medical Center). Together, their combined mission is to train tomorrow's health care specialists and biomedical scientists, engage in groundbeaking research that will advance understanding of the causes and treatments of disease and participate in the delivery of outstanding patient care. Since 1998, Pitt and its affiliated university faculty have ranked among the top 10 educational institutions in grant support from the National Institutes of Health. For additional information about the Schools of the Health Sciences, please visit http://www.health.pitt.edu.
About UPMC
A $20 billion health care provider and insurer, Pittsburgh-based UPMC is inventing new models of patient-centered, cost-effective, accountable care. The largest nongovernmental employer in Pennsylvania, UPMC integrates 87,000 employees, 40 hospitals, 700 doctors' offices and outpatient sites, and a 3.5 million-member Insurance Services Division, the largest medical insurer in western Pennsylvania. In the most recent fiscal year, UPMC contributed $1.2 billion in benefits to its communities, including more care to the region's most vulnerable citizens than any other health care institution, and paid $587 million in federal, state and local taxes. Working in close collaboration with the University of Pittsburgh Schools of the Health Sciences, UPMC shares its clinical, managerial and technological skills worldwide through its innovation and commercialization arm, UPMC Enterprises, and through UPMC International. U.S. News & World Report consistently ranks UPMC Presbyterian Shadyside on its annual Honor Roll of America's Best Hospitals. For more information, go to UPMC.com.
Contact: Erin Hare
Office: 412-864-7194
Mobile: 412-738-1097
E-mail: HareE@upmc.edu
Contact: Cyndy Patton
Office: 412-586-9773
Mobile: 412-415-6085
E-mail: PattonC4@upmc.edu
---