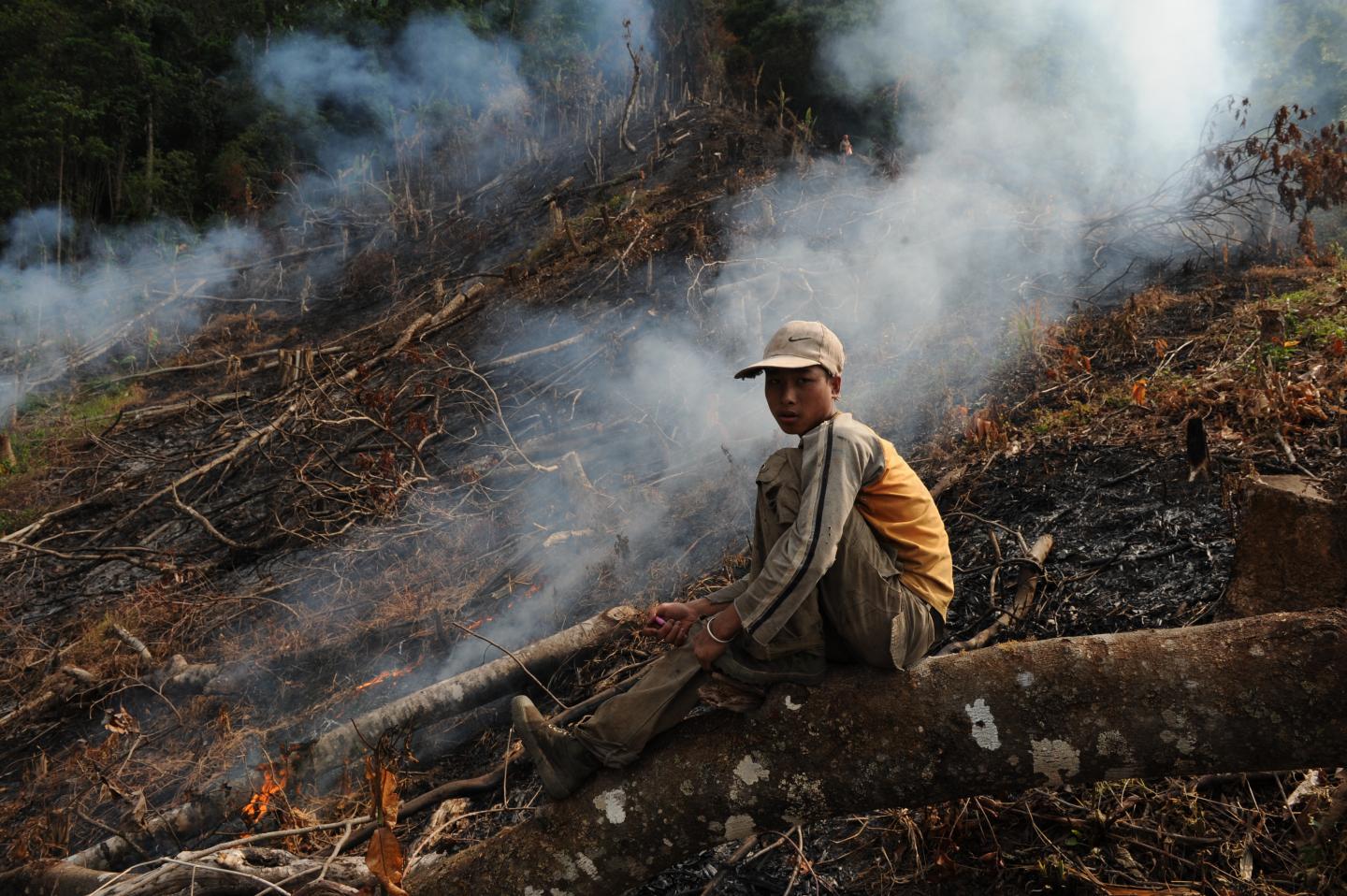 KUNMING, 7 July 2015 - Increasing amounts of environmentally valuable and protected land are being cleared for rubber plantations that are economically unsustainable, new research suggests. More widespread monitoring is vital to design policy that protects livelihoods and environments.
The research was recently published in Global Environmental Change and constitutes a joint effort by scientists at the World Agroforestry Centre (ICRAF) East and Central Asia office, the Chinese Academy of Sciences, the Royal Botanic Garden Edinburgh, the University of Singapore and the East-West Center.
Although global natural rubber prices have fluctuated strongly in the last fifteen years, they are likely to continue rising as synthetic alternatives are no match for natural latex. This financial incentive, as well as the expansion of oil palm, an even more lucrative rival, has caused rubber plantations to expand beyond their tropical comfort zone in Indonesia and into the margins of continental south-east Asia.
This has brought wealth to some, but not all, say the researchers. As marginal lands are often too dry, too slanted, too high, too wet, too cold, too windy, or a combination of the above, rubber plantations require increasing amounts of input in the form of fertilizer, pesticides, and labour in order to maintain yield levels - and even then may not be profitable.
The research also suggests that climate change will render 70% of current and another 55% of future plantation areas environmentally poorly suited for rubber. Smallholder farmers' livelihoods face additional threat from price fluctuations, loss of food security, and the narrowing of income sources.
The environment also suffers. The surge in rubber demand saw valuable and even protected lands being converted into rubber plantations, drastically reducing carbon stocks, soil productivity, water availability, and biodiversity. This is particularly tragic given the high chance of failure.
"There is clear potential for loss-loss scenarios when forest is being cleared for rubber plantations that are not economically sustainable, and that have negative impacts on soils and water balance," says lead researcher Antje Ahrends from the Royal Botanic Garden Edinburgh and the World Agroforestry Centre.
Widespread monitoring of rubber expansion and its economic sustainability will prove vital for land-use planning and policy interventions. The team argue that carefully formulated payment for ecosystem services programmes, and a certification scheme for "environmentally friendly rubber" have potential to reduce the environmental impact of rubber expansion while ensuring the supply.
"Oil palm has received much more global attention than rubber, but in fact environmental and social impacts are comparable and the dynamics of the two are related. It may be time for a roundtable on sustainable rubber where the private sector, public parties and scientists can try to bridge the various interests and agree on standards," says Meine Van Noordwijk, chief science advisor at the World Agroforestry Centre.
###
About
World Agroforestry Centre
The World Agroforestry Centre, previously the International Centre for Research in Agroforestry (ICRAF), is an autonomous, non-profit research organization whose vision is a rural transformation in the developing world as smallholder households increase their use of trees in agricultural landscapes to improve food security, nutrition, income, health, shelter, social cohesion, energy resources and environmental sustainability. The Centre generates science-based knowledge about the diverse roles that trees play in agricultural landscapes, and uses its research to advance policies and practices, and their implementation that benefit the poor and the environment. It aims to ensure that all this is achieved by enhancing the quality of its science work, increasing operational efficiency, building and maintaining strong partnerships, accelerating the use and impact of its research, and promoting greater cohesion, interdependence and alignment within the organization.
The Centre's East and Central Asia Regional office was founded in 2002 and is located in Kunming, Yunnan, China. Regional offices exist in Beijing and Bishkek, Kyrgyzstan.
Royal Botanic Garden Edinburgh
The Royal Botanic Garden Edinburgh (RBGE) is a leading international research organisation delivering knowledge, education and plant conservation action in more than 30 countries around the world. In Scotland its four Gardens at Edinburgh, Benmore, Dawyck and Logan attract nearly a million visitors each year. It operates as a Non Departmental Public Body established under the National Heritage (Scotland) Act 1985, principally funded by the Scottish Government. It is also a registered charity, managed by a Board of Trustees appointed by Ministers. Its mission is "To explore, conserve and explain the world of plants for a better future".
Chinese Academy of Sciences
The Chinese Academy of Sciences (CAS) is the linchpin of China's drive to explore and harness high technology and the natural sciences for the benefit of China and the world. Comprising a comprehensive research and development network, a merit-based learned society and a system of higher education, CAS brings together scientists and engineers from China and around the world to address both theoretical and applied problems using world-class scientific and management approaches. The Kunming Institute of Botany is one of the Academy's research institutes.
Contact
China:
Sander Van de Moortel
Communications
World Agroforestry Centre East and Central Asia
s.vandemoortel@cgiar.org
+86 186 8719 2010
http://www.worldagroforestry.org/eca
UK:
Shauna Hay
s.hay@rbge.org.uk
0131 248 2900
07824 529 028
Sandra Donnelly
s.donnelly@rbge.org.uk
0131 248 1037
---
Journal
Global Environmental Change