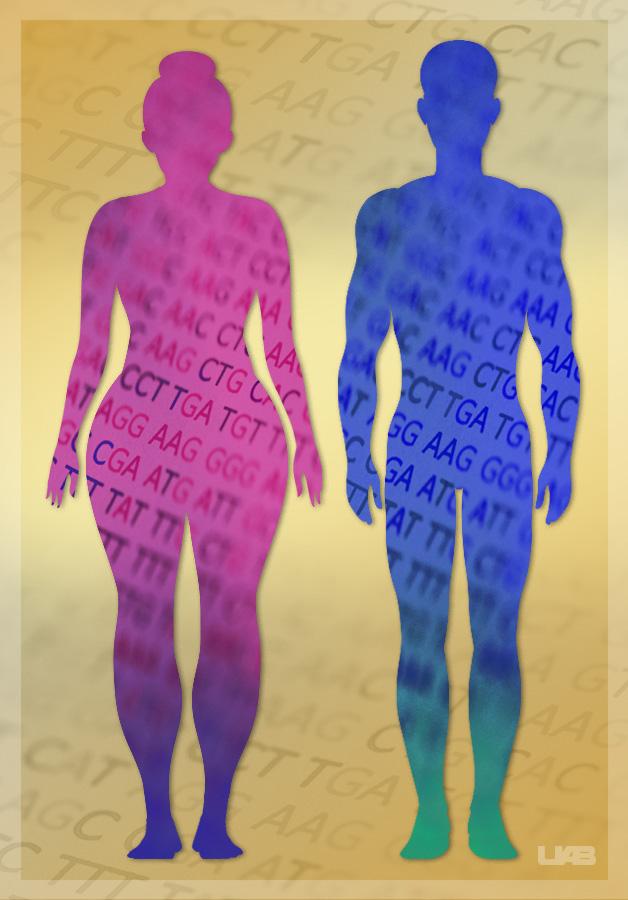 BIRMINGHAM, Ala. - Among black men, those with more genetic variants descended from West Africa may have a relatively lower risk of being overweight, obese and diabetic, according to a new study out of the University of Alabama at Birmingham and University of Arizona. Obesity affects women and men of every ethnic group in the United States with strong gender and racial disparities.
"We know that many factors, environmental, cultural and biological, can affect one's level of fatness," said David Allison, Ph.D., director of UAB's Nutrition Obesity Research Center and co-author of the study. "Researchers and pundits alike often consider one factor at a time, yet such explanations do not seem to account for the complex patterns of obesity risk we see -- such as the fact that black women have a much greater risk of obesity than do white women, yet black men and white men have rather similar rates of obesity."
Although socioeconomic factors, access to health care, healthy food and safe places to exercise have been associated with obesity and other racial disparities in health, black and white men do not have significantly different rates of obesity, according to the CDC.
Investigators from UAB and the University of Arizona analyzed genetic data from 4,425 healthy black men and women between the ages of 45 and 85. The data originated from two cohort studies sponsored by the National Heart Lung Blood Institute of the National Institutes of Health: the Atherosclerosis Risk in Communities Study and the Multi-Ethnic Study of Atherosclerosis.
Genetic ancestry, or the proportion of one's ancestors who hailed from one part of the world versus another, for each participant was estimated by looking at 3,000 variants or markers in the genome, which differ between people from West Africa and Europe. The fraction of one's ancestry from West Africa varies considerably among African-Americans due to genetic admixture from other ancestral populations, such as Europeans or Native Americans.
Black men with a high degree of West African genetic ancestry tended to have a lower waist circumference and waist-hip ratio, indicating they have less central adiposity or abdominal fat than did black men with a lower degree of West African genetic ancestry. In contrast, such associations were generally not observed among black women.
"The African-American gene pool may contain one or more gene variants, originally inherited from West African ancestors, that may give men partial protection against central adiposity," said Allison, Quetelet Endowed Professor of Public Health. "As we move forward in prevention and treatment of central obesity, it may be helpful to identify these gene variants and the mechanisms through which they operate."
Central adiposity, the buildup of excess fat on or in the trunk, is a strong risk factor for obesity and diabetes, high blood pressure, other diseases, and early death.
###
About UAB
Known for its innovative and interdisciplinary approach to education at both the graduate and undergraduate levels, the University of Alabama at Birmingham is the state of Alabama's largest employer and an internationally renowned research university and academic medical center; its professional schools and specialty patient-care programs are consistently ranked among the nation's top 50. UAB's Center for Clinical and Translational Science is advancing innovative discoveries for better health as a two-time recipient of the prestigious Center for Translational Science Award. Find more information at http://www.uab.edu and http://www.uabmedicine.org.
EDITOR'S NOTE: The University of Alabama at Birmingham is a separate, independent institution from the University of Alabama, which is located in Tuscaloosa. Please use University of Alabama at Birmingham on first reference and UAB on all subsequent references.
VIDEO: http://www.youtube.com/uabnews TEXT: http://www.uab.edu/news TWEETS: http://www.twitter.com/uabnews
http://www.uab.edu
http://www.soph.uab.edu/energetics/personnel/david_allison
http://www.norc.uab.edu/
http://www.cdc.gov/nchs/data/databriefs/db219.pdf
Read this story at http://www.uab.edu/news
The UAB News Studio is available for live or taped interviews with UAB experts.
---
Journal
Frontiers in Genetics