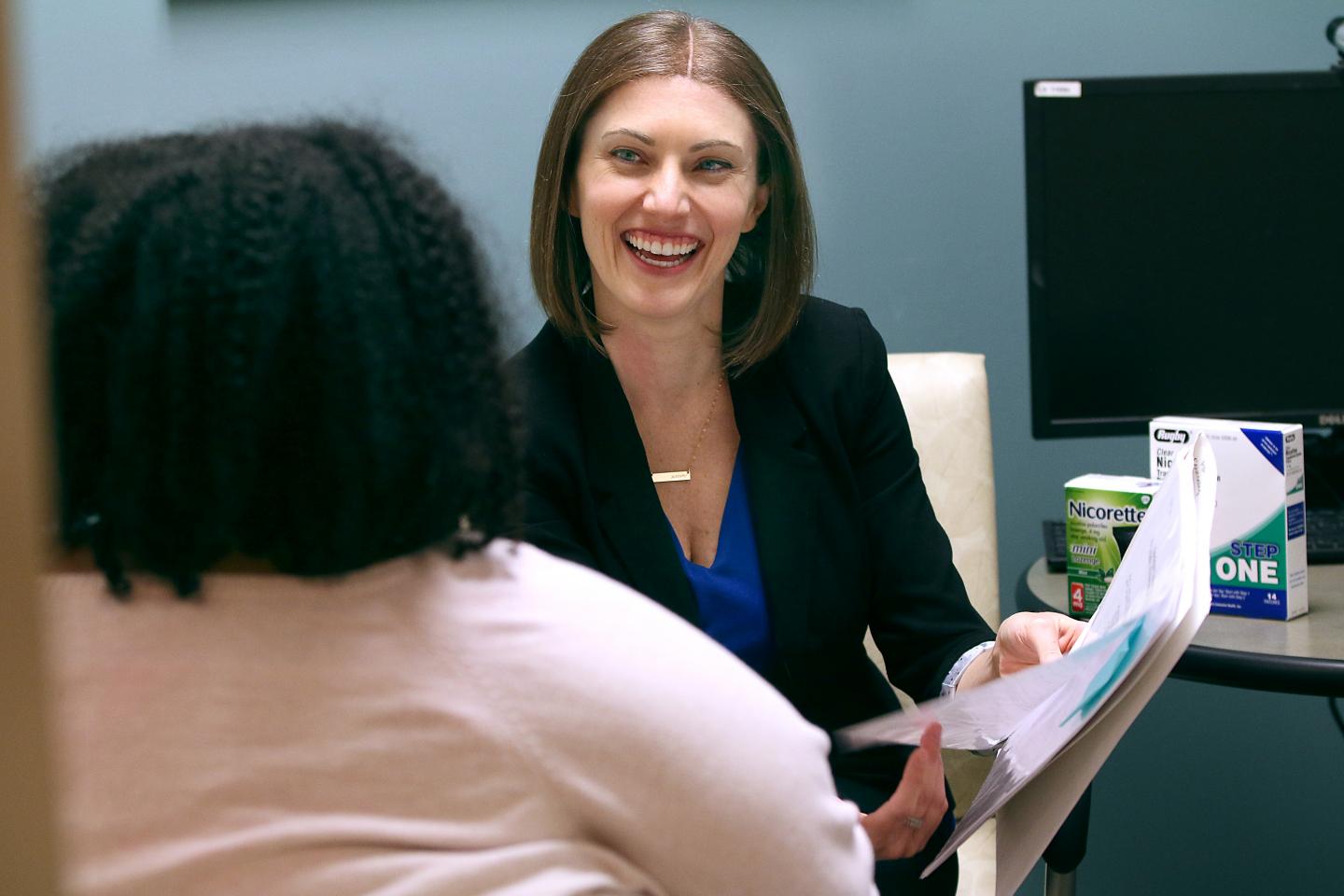 Alana Rojewski, Ph.D., was awarded a nearly $900,000 grant, Tobacco Treatment in the Context of Lung Cancer Screening, from the National Cancer Institute (NCI). The career development award will support Rojewski's clinical research exploring tobacco treatment in an oncology setting. Rojewski is an assistant professor in the Department of Public Health Sciences at the Medical University of South Carolina (MUSC).
Specifically, she'll be examining the benefits of a technology-based tobacco treatment intervention in a new clinical trial for smokers in the Lung Cancer Screening Program at the MUSC Hollings Cancer Center.
The Lung Cancer Screening Program helps diagnose patients at earlier, more treatable stages. Annual screening includes low-dose computed tomography, or LDCT, for eligible patients between the ages of 55 and 77 and who have a 30 pack-year smoking history. Rojewski's primary mentor, Benjamin Toll, Ph.D., serves as co-director of the program.
Traditional quit methods include counseling and/or nicotine replacement therapy (NRT), like gum and the patch. Rojewski will utilize a new tailored intervention for screening patients in an effort to minimize cancer occurrence and mortality rates for those at higher risk of developing lung cancer.
The study will have two arms, with one group receiving a brief counseling session at time of lung cancer screening, which is the standard intervention. In addition to counseling, the other group will receive NRT and "gain-framed" text messaging which emphasizes the benefits of quitting opposed to the harmful effects of smoking.
"Engaging high-risk individuals, like those in screening programs, with a tobacco expert and making cessation resources available after screening is crucial to the effectiveness of tobacco treatment," says Rojewski. Continued smoking, particularly for groups at higher risk of developing cancer, can cause worse clinical outcomes and lower survival rates.
Rojewksi hopes the study will identify which methods are most effective in supporting high-risk smokers who are trying to quit and to expand tobacco treatment services among screening programs.
Eventually, she wants to broaden the reach of her research even further, "Ideally, we would like to establish a treatment protocol for those at greater risk that can be implemented in cancer centers across the country," says Rojewski.
###
About Hollings Cancer Center
The Hollings Cancer Center at the Medical University of South Carolina is a National Cancer Institute-designated cancer center and the largest academic-based cancer research program in South Carolina. The cancer center is comprised of more than 120 faculty cancer scientists with a research funding portfolio of $44 million and a dedication to reducing the cancer burden in South Carolina. Hollings offers state-of-the-art diagnostic capabilities, therapies and surgical techniques within multidisciplinary clinics that include surgeons, medical oncologists, radiation therapists, radiologists, pathologists, psychologists and other specialists equipped for the full range of cancer care, including more than 200 clinical trials. For more information, please visit http://www.hollingscancercenter.org.
---