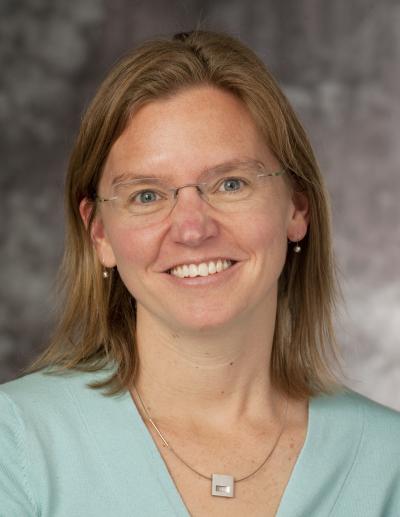 Geoscience assistant professor Anne Egger took a class as an undergraduate at Yale University that examined how pure science connects to society. Not only did the class draw her in more dramatically than other classes had, it helped determine how she would engage future generations of students.
"The class did a good job at making us think hard about the issues," says Egger, who works in the departments of geological sciences and science education at Central Washington University. "Now, as a professor, it helps me realize how to enact that ideal of teaching, not only content, but why the content is important."
A course module she created, entitled Seismicity and Relative Risk, introduces students to real scientific data from the United States Geological Survey (USGS) and asks them to consider questions in which they have personal interest. Because of its effectiveness at bringing students into the world of real science and leading them to formulate questions stemming from their own curiosity, Egger's module has won the Science Prize for Inquiry-Based Instruction (IBI).
"One challenge in inquiry-based teaching and learning is incorporating the use of real-time data into the classroom," says Melissa McCartney, editorial fellow at Science. "Seismicity and Relative Risk successfully accomplishes this by taking advantage of highly reliable data to engage students, who are then challenged to consider real-world problems relating to seismic risk."
The Science Prize for Inquiry-Based Instruction was developed to showcase outstanding materials, usable in a wide range of schools and settings, for teaching introductory science courses at the college level. The materials must be designed to encourage students' natural curiosity about how the world works, rather than to deliver facts and principles about what scientists have already discovered. Organized as one free-standing "module," the materials should offer real understanding of the nature of science, as well as providing an experience in generating and evaluating scientific evidence. Each month, Science publishes an essay by a recipient of the award, which explains the winning project. The essay about Seismicity and Relative Risk will be published on June 29.
"Improving science education is an important goal for all of us at Science," says editor-in-chief Bruce Alberts. "We hope to help those innovators who have developed outstanding laboratory modules promoting student inquiry to reach a wider audience. Each winning module will be featured in an article in Science that is aimed at guiding science educators from around the world to these valuable free resources."
Growing up in Sioux Falls, South Dakota, Egger was interested in the outdoors and biology. From a family of architects and engineers, she was also drawn toward the three- and four-dimensional thinking in geoscience. When she went to college, she took both biology and earth science classes, and found that the biology classes tended to be huge and focused on molecular biology. She was more interested in ecology.
"A smaller department, smaller classes, and going into the desert in the summers are probably what led me into geoscience," she says.
In the class Egger took that examined how science connects to society, the students were asked to use newspaper articles to explore the use of natural resources, looking at the science behind the use of a particular resource and the consequences of using that resource. The class hit home with her.
"It's always been important to me to think about why people should care about a particular topic, why it's important to them," Egger says. "I thought of the class as being both very engaging and hard work."
As Egger made her way academically, she worked as a river guide on the San Juan River in Utah. It was as a river guide that she discovered her love of teaching. "I really loved the teaching that could happen in that setting," she says. "I could offer some knowledge and guidance, and people didn't even know they were being taught."
Throughout Egger's graduate school years at Stanford University, she did research and taught. Later, as a professor, she found she really wanted to engage, not only earth science majors, but students in intro classes with other orientations.
"The challenge in an intro class is helping students engage when they've often already decided they're going to do something else," Egger says.
The topic of earthquakes, which is part of every geoscience intro class, became a focus of Egger's teaching for a number of reasons. For one thing, Egger found there were lots of misconceptions about earthquakes. Because large, destructive quakes feature prominently in the news, students' impressions of them are biased. Also, some news accounts, as well as introductory geoscience textbooks, present earthquakes in an oversimplified and erroneous fashion.
Most importantly, the earthquake data provided by the USGS is both excellent and extremely accessible.
"One of the things that is so important is that I can show students how to find high-quality, highly appropriate, vetted information on the Web for free," Egger says. "That's something they can take away from the course and have forever."
Egger experimented with different ways of engaging her students in the USGS data and settled on having them research three cities to learn about the magnitude of quakes the cities are susceptible to, how often quakes occur, and how well the cities have prepared to withstand earthquakes. She reports that her students engage enthusiastically. Her students at Stanford, where she taught from 2004 to 2011, looked at shake maps and were shocked to find that dozens of earthquakes had occurred "right under their feet" in just the preceding week. Looking at the USGS site, the students started to formulate their own questions, such as asking why the number of deaths attributed to earthquakes differs so highly, with 20,000 deaths connected to one earthquake and only 42 deaths in an earthquake of the same magnitude in another location.
"Even if you're not going to be a scientist, it's interesting for personal, economic, and political reasons," Egger says.
Hoping that other educators will realize that her module could be used anywhere, Egger says she loves how it unfolds in the classroom.
"I love the spontaneity that can occur in the classroom when we're all seeing data for the first time and asking questions," she says. "I hope people realize that this module is utterly adaptable to wherever you are, with whatever students, using a computer, or a smart phone—you name it. There are earthquakes to look at all around the world."
###
To see the USGS earthquake data, go to http://earthquake.usgs.gov/
The American Association for the Advancement of Science (AAAS) is the world's largest general scientific society, and publisher of the journal, Science as well as Science Translational Medicine and Science Signaling. AAAS was founded in 1848, and includes some 262 affiliated societies and academies of science, serving 10 million individuals. Science has the largest paid circulation of any peer-reviewed general science journal in the world, with an estimated total readership of 1 million. The non-profit AAAS is open to all and fulfills its mission to "advance science and serve society" through initiatives in science policy; international programs; science education; and more. For the latest research news, log onto EurekAlert!, www.eurekalert.org, the premier science-news Web site, a service of AAAS.
---