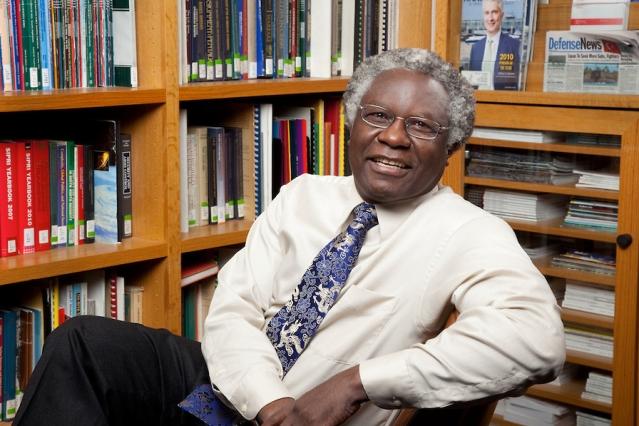 Harvard University's Calestous Juma will co-chair a new High Level African Panel on Emerging Technologies, created to identify and foster appropriate regulation and use of existing and emerging technologies of greatest help to Africa's economic development.
Prof. Yaye Kene-Gassama Dia of University Cheikh Anta Diop, Dakar, will co-chair the Panel of 10 eminent experts from diverse professional backgrounds, announced Dec. 18 by HE Dr. Nkosazana Dlamini Zuma, Chairperson of the African Union Commission.
NEPAD Agency and the African Union Commission will work closely with the Panel, mandated to assess the ethical and safety requirements and standards of emerging technologies and help promote their responsible regulation without imposing an undue burden on their adoption.
The Panel will provide evidence-based analyses and recommendations to inform continental, regional and national level legal and regulatory policy. It will also recommend regional institutional arrangements to promote and sustain common regulatory approaches.
"The adoption of every technology is sometimes associated with controversies bordering on the mix of benefits and potential adverse effects. The appointed High Level African Panel on Emerging Technologies shall be used as a resource pool from which AU Member States and Regional Economic Communities (RECs) can draw expert knowledge and advice," HE Dr Zuma emphasized.
Said Dr. Juma, Professor of the Practice of International Development at the Harvard Kennedy School's Belfer Center for Science and International Affairs: "Africa has historically had an uneasy relationship with technology. By the time technologies made it Africa they were already in their twilight hours. Mobile phones changed that routine. Africans started to adopt mobile phones at their dawn and so were able to shape their evolution and create radically new industries by seeking to solve local problems."
"These are the lessons that inspired African leaders to set up a high level advisory panel that keeps its eyes on the frontiers of new technologies so they can shape them to their needs. This way Africa is not always being asked to follow the paths shaped by others or even compete with them. It can help to define technological trajectories and be able to add its creations to the global economy, like it has done with mobile money. The world will have a lot more technological solutions to benefit from with Africa as an early player."
Other Panel members are:
Prof. Roseanne Diab, Executive Officer, Academy of Science of South Africa (ASSAf) and Emeritus Professor, School of Environmental Sciences, University of KwaZulu-Natal
Prof. Berhanu Abegaz, Executive Director, African Academy of Sciences
Prof. Francine Ntoumi, Director, Foundation Congolaise pour la Recherche Medicale and Senior Lecturer, University M. Ngouabi, Congo-Brazzaville
Prof. Abdallah Daar, Professor of Public Health Sciences, Dalla Lama Faculty of Public Health, University of Toronto, with a cross-appointment in the department of Surgery.
Prof. O. Ibidapo-Obe, Distinguished Professor of Systems Engineering and former Vice Chancellor, University of Lagos; currently Vice-Chancellor, Federal University Ndufu Alike Ikwo, Ebonyi State, Nigeria
Dr. Rachel Chikwamba, CSIR Group Executive: Strategic Alliances and Communication and manager of the CSIR's high-level partnerships and stakeholder interactions and associated communication
Prof. Dr. Shireen Assem, Director, Agricultural Genetic Engineering Research Institute (AGERI), Agricultural Research Center (ARC) of Egypt
Prof. Karim Maredia, Director, World Technology Access (WorldTAP) Program, College of Agriculture and Natural Resources, Michigan State University, East Lansing, Michigan, USA.
###
---