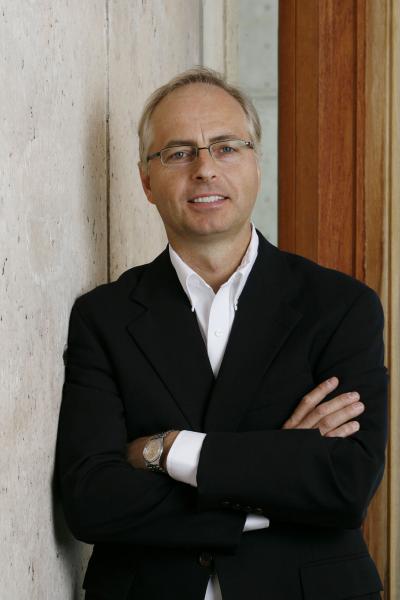 LA JOLLA, CA -- The Salk Institute has been awarded a $15.6 million grant by the California Institute for Regenerative Medicine (CIRM) for translational research focusing on developing a novel stem-cell based therapy for Amyotrophic Lateral Sclerosis (ALS) – or Lou Gehrig's Disease.
Sam Pfaff, Ph.D., a professor in the Salk's Gene Expression Laboratory and an investigator for the Howard Hughes Medical Institute, will lead the group of researchers who will work on the four-year project announced today as part of the $250 million CIRM Disease Team Award.
It marks the first CIRM funding explicitly expected to result in FDA approval for clinical trials. The grants were given to multidisciplinary teams of basic scientists, clinicians and industry in collaboration with two international partners, the Medical Research Council, UK, and the Cancer Stem Cell Consortium, Canada.
ALS is a progressive neurodegenerative disease that affects nerve cells in the brain and the spinal cord. When motor neurons die, the ability of the brain to initiate and control muscle movement is lost. The progressive degeneration of motor neurons in ALS eventually leads to paralysis and death.
The research team, which includes co-principal investigators Drs. Larry Goldstein and Don Cleveland, both of UCSD, will focus on astrocytes, the star-shaped support cells that provide nutrients for nearby motor neurons. Working with six different lines of human embryonic stem cells (hESC), Pfaff and the team of researchers will grow clinical-grade astrocyte precursor cells and identify the line that is best suited for implantation in laboratory models.
They hypothesize that the transplanted human astrocyte precursors (hAP) will mature into astrocytes in vivo and provide support for diseased spinal motor neurons. Astrocytes are also capable of clearing excess neurotoxic glutamate and could thereby slow or halt the progression of ALS by preventing motor neuron degeneration.
Once the astrocyte precursors are tested for efficacy and safety to minimize the possibility of tumorigenesis, the next step will be to move forward with human clinical trials after approval by the FDA, says Pfaff.
"This team grant is a natural fit for San Diego because it capitalizes on the strength of neuromuscular disease research from the local scientific community," says Pfaff. "The standard has been set very high on this project because we are aiming to grow a safe population of astrocytes that can be introduced into patients. Our success will be measured by whether it will help extend the lives of patients suffering from ALS."
CIRM President Alan Trounson said the pace of the Disease Team projects stands in contrast to the decade or more that's usually required to reach clinical trials. "Scientists have talked for years about the need to find ways to speed the pace of discovery," he said. "By encouraging applicants to form teams composed of the best researchers from around the world we think CIRM will set a new standard for how translational research should be funded."
###
About Sam Pfaff:
Pfaff's laboratory is interested in embryonic development of the spinal cord, specifically he focuses on investigating how motor neurons form and make their predetermined connections between the spinal cord and the muscles in the body. These connections are necessary for all body movements. Disruption of motor neuron function is typically at the center of paralysis due to spinal cord injury or disease.
About Larry Goldstein:
Larry Goldstein, Ph.D., professor in the Department of Cellular & Molecular Medicine at the UC San Diego School of Medicine and Howard Hughes Medical Institute Investigator, is director of the UC San Diego Stem Cell Program. Goldstein is national leader in stem cell research and policy, having served as co-chair of the scientific advisory committee for the campaign to pass California's Proposition 71, the voter-endorsed measure to provide $3 billion in stem cell research funding in California. Goldstein has also appeared on numerous occasions before the California legislature and the U.S. Congress and Senate to testify in support of stem cell research.
About Don Cleveland:
Don Cleveland, Ph.D., professor of Medicine, Neurosciences, and Cellular and Molecular Medicine, and head of the Laboratory of Cell Biology at the Ludwig Institute for Cancer Research, is chair of the department of Cellular and Molecular Medicine at the UC San Diego School of Medicine. One of the country's leading experts on ALS or Lou Gehrig's disease, his pioneering discoveries of the mechanisms of chromosome movement and cell-cycle control during normal cellular division, as well as of the principles of neuronal cell development and their relationship to the defects that contribute to inherited neurodegenerative disease, led to his being named to the American Academy of Arts & Sciences as well as the National Academy of Sciences in 2006.
About the Salk Institute for Biological Studies:

The Salk Institute for Biological Studies is one of the world's preeminent basic research institutions, where internationally renowned faculty probe fundamental life science questions in a unique, collaborative, and creative environment. Focused on both discovery and mentoring future generations of researchers, Salk scientists make groundbreaking contributions to our understanding of cancer, aging, Alzheimer's, diabetes, and cardiovascular disorders by studying neuroscience, genetics, cell and plant biology, and related disciplines.
Faculty achievements have been recognized with numerous honors, including Nobel Prizes and memberships in the National Academy of Sciences. Founded in 1960 by polio vaccine pioneer Jonas Salk, M.D., the Institute is an independent nonprofit organization and architectural landmark.
---