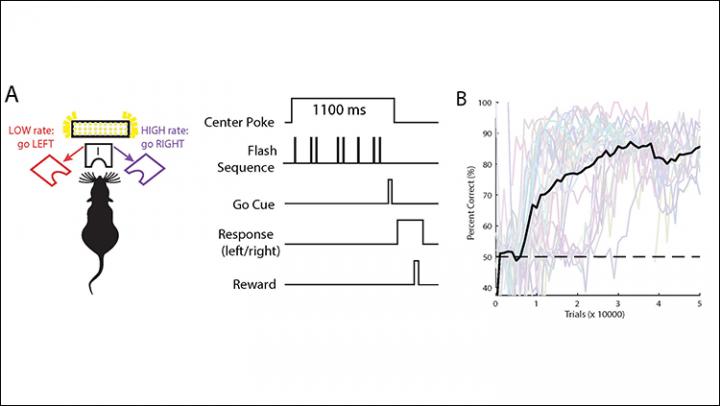 Mice can be used to study the neural circuits underlying complex decision-making, suggests an analysis of more than 500,000 mouse decisions reported in JNeurosci.
Some of the most advanced tools in neuroscience are developed for use with mice, yet studies of behaviors most relevant to humans typically involve other model organisms. Anne Churchland and colleagues addressed this gap by investigating the mouse's potential as an animal model of decision-making.
The researchers trained a large group of mice to distinguish between high and low rates of flashing light and found that the animals employed a decision-making strategy more similar to that used by nonhuman primates than rats. They also identified a brain region that may be part of a circuit supporting this strategy. The research paves the way for manipulation of such a circuit, to be further defined in the future, with powerful techniques to probe its structure and function.
###
Article: Visual evidence accumulation guides decision-making in unrestrained mice*
DOI: https://doi.org/10.1523/JNEUROSCI.3478-17.2018
Corresponding author: Anne Churchland (Cold Spring Harbor Laboratory, NY, USA), churchland@cshl.edu
*A preprint of this manuscript has been posted on bioRxiv
About JNeurosci
JNeurosci, the Society for Neuroscience's first journal, was launched in 1981 as a means to communicate the findings of the highest quality neuroscience research to the growing field. Today, the journal remains committed to publishing cutting-edge neuroscience that will have an immediate and lasting scientific impact, while responding to authors' changing publishing needs, representing breadth of the field and diversity in authorship.
About The Society for Neuroscience
The Society for Neuroscience is the world's largest organization of scientists and physicians devoted to understanding the brain and nervous system. The nonprofit organization, founded in 1969, now has nearly 37,000 members in more than 90 countries and over 130 chapters worldwide.
---