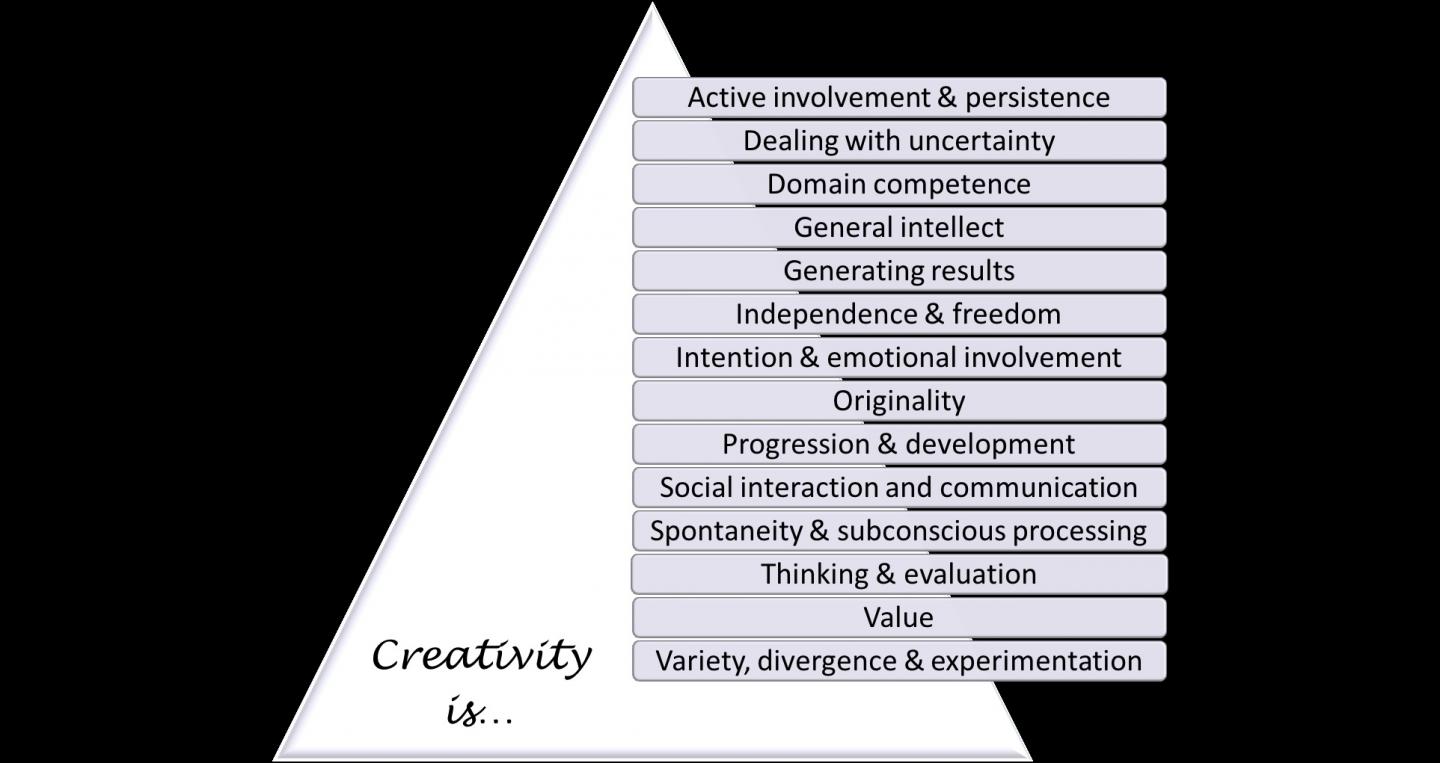 The elusive and complex components of creativity have been identified by computer experts at the University of Kent.
Dr Anna Jordanous, lecturer in the School of Computing, worked with language expert Dr Bill Keller (University of Sussex) on how to define the language people use when talking about creativity, known in the field as computational creativity. With that knowledge it becomes possible to make computer programs use this language too.
Dr Jordanous and Dr Keller looked at what people say when they talk about "what is creativity" in academic discussions, from various disciplines - psychology, arts, business, and computational creativity.
In an article entitled Modelling Creativity: Identifying key components through a corpus-based approach, published by PLOS ONE, they describe a unique approach to developing a suitable model of how creative behaviour emerges that is based on the words people use to describe it. Computational creativity is a relatively new field of research into computer systems that exhibit creative behaviours.
Using language-analysis software they identified the creative words and grouped them into clusters. These are considered to be 14 components of creativity. These clusters have been used to evaluate the creativity of computational systems, and are expected to be a useful resource for other researchers in computational creativity, as well as forming a basis for the automated evaluation of creative systems.
###
For further information or interview requests contact Sandy Fleming at the University of Kent Press Office.
Tel: 01227 823581/01634 888879
Email: S.Fleming@kent.ac.uk
News releases can also be found at http://www.kent.ac.uk/news
University of Kent on Twitter: http://twitter.com/UniKent

Note to editors
http://journals.plos.org/plosone/article?id=10.1371/journal.pone.0162959
For further information on Dr Jordanous' work, you may watch
Established in 1965, the University of Kent - the UK's European university - now has almost 20,000 students across campuses or study centres at Canterbury, Medway, Tonbridge, Brussels, Paris, Athens and Rome.
It has been ranked: 23rd in the Guardian University Guide 2016; 23rd in the Times and Sunday Times University Guide 2016; and 22nd in the Complete University Guide 2015.
In the Times Higher Education (THE) World University Rankings 2015-16, Kent is in the top 10% of the world's leading universities for international outlook and 66th in its table of the most international universities in the world. The THE also ranked the University as 20th in its 'Table of Tables' 2016.
Kent is ranked 17th in the UK for research intensity (REF 2014). It has world-leading research in all subjects and 97% of its research is deemed by the REF to be of international quality.
In the National Student Survey 2016, Kent achieved the fourth highest score for overall student satisfaction, out of all publicly funded, multi-faculty universities.
Along with the universities of East Anglia and Essex, Kent is a member of the Eastern Arc Research Consortium (http://www.kent.ac.uk/about/partnerships/eastern-arc.html).
The University is worth £0.7 billion to the economy of the south east and supports more than 7,800 jobs in the region. Student off-campus spend contributes £293.3m and 2,532 full-time-equivalent jobs to those totals.
In 2014, Kent received its second Queen's Anniversary Prize for Higher and Further Education.
---