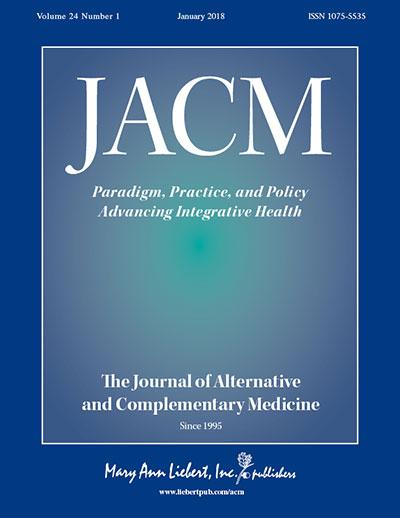 New Rochelle, NY, May 11, 2018--Two commentaries in JACM (The Journal of Alternative and Complementary Medicine), a peer-reviewed journal from Mary Ann Liebert, Inc., publishers that is dedicated to examining paradigm, practice, and policy advancing integrative health, raise questions about whether the value to health care of traditional, complementary, and integrative practices and practitioners is unfairly de-valued by the dominant biomedical model.
In ''Statutory Regulation of Traditional Medicine Practitioners and Practices: The Need for Distinct Policy Making Guidelines,'' internationally respected whole systems researcher Heather Boon, PhD, Dean of the University of Toronto School Leslie Dan School of Pharmacy, and Nadine Ijaz, PhD urge a re-examination of what they consider ''colonial'' models in regulation of traditional medicine practitioners. ''Biomedicine's globalized dominance,'' the co-authors write, ''is far less the result of biomedical science's evidenced efficacy than it is a feature of the ongoing sociopolitical subordination of precolonial indigenous knowledge systems and related healthcare practices.'' In present context, they argue that "'biomedicine is widely and falsely universalized as 'culturally neutral''' --to the detriment of even-handed evaluation of traditional medicine practices.
In an accompanying editorial, "Colonialism, Health Justice, and (Re)Examination of the Value of Traditional Practitioners and Licensed Integrative Health Professionals", JACM Editor-in-Chief John Weeks, johnweeks-integrator.com, Seattle, WA, suggests that the Boon-Ijaz theme is timely: "Harmful limits of biomedicine's reductive predilections are increasingly under attack amidst the moves from volume to value, patient-centrism, multi-modality treatment, team-based care, use of nonpharmacological approaches, and individual and group coaching of people into life-changing healthy behaviors."
###
About the Journal
JACM (The Journal of Alternative and Complementary Medicine) is a monthly peer-reviewed journal published online with open access options and in print that is dedicated to research on paradigm, practice, and policy advancing integrative health. Led by John Weeks (johnweeks-integrator.com), the co-founder and past Executive Director of the Academic Collaborative for Integrative Health, JACM publishes human clinical trials, observational studies, systematic reviews and commentary intended to help healthcare professionals, delivery organization leaders, policy-makers and scientists evaluate and integrate therapies into patient care protocols, payment strategies and appropriate protocols. Complete tables of content and a sample issue may be viewed on the JACM website.
About the Publisher
Mary Ann Liebert, Inc., publishers is a privately held, fully integrated media company known for establishing authoritative peer-reviewed journals in many promising areas of science and biomedical research, including Alternative and Complementary Therapies, Medical Acupuncture, and Journal of Medicinal Food. Its biotechnology trade magazine, GEN (Genetic Engineering & Biotechnology News), was the first in its field and is today the industry's most widely read publication worldwide. A complete list of the firm's 80 journals, books, and newsmagazines is available on the Mary Ann Liebert, Inc., publishers website.
---
Journal
The Journal of Alternative and Complementary Medicine