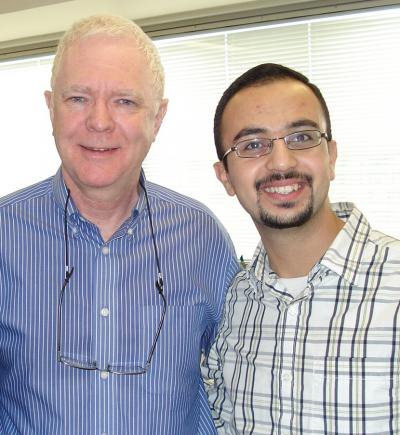 [TORONTO,Canada, Feb 18, 2014] – A protein that has been known until recently as part of a complex communication network within the cell also plays a direct role in regulating sugar metabolism, according to a new study published in the journal Science Signaling (February 18, 2014).
Cell growth and metabolism are tightly controlled processes in our cells. When these functions are disturbed, diseases such as cancer and diabetes occur. Mohamed Soliman, a PhD candidate at the Lunenfeld Tanenbaum Research Institute at Mount Sinai Hospital, found a unique role for the p66Shc adaptor protein in regulating glucose metabolism and cell growth. This report could lay the foundation for future studies to target adaptor proteins in cancer and diabetes therapy.
Proteins are functional units of cells that assemble in a precise manner to control cellular processes. Specifically, adapter proteins act as linkers or switches to fine tune cellular functions. Soliman and colleagues became interested in studying the p66Shc adaptor protein following observations regarding the role of this protein as a mediator of insulin sensitivity and longevity. Mice deficient in p66Shc have a greatly increased lifespan and show no signs of cancer. These mice also have better glucose tolerance and are resistant to the development of obesity and diabetes. The findings prompted Soliman to take novel approaches to elucidate the mechanism for this. Soliman comments "we found that silencing the adaptor p66Shc in cells, enhances not only glucose metabolism, but also the metabolism of molecules involved in the making the cells building blocks, resulting in overall increased cell growth."
Thus, p66Shc may have evolved to be a switch that responds to nutrient availability. This role for p66Shc as a sensor of energy levels appears to be unique to higher level organisms. Soliman's current mentor, Dr. Jim Dennis, explains "the gene responsible for p66Shc protein expression is relatively new by evolution standards, as it is not seen in species other than vertebrates". Simply stated, p66Shc acts to suppress insulin signaling and energy metabolism when glucose levels are high, as in the case of diabetes.
Mohamed Soliman is a Vanier scholar and was mentored by the late Dr. Tony Pawson whose research is credited for pioneering the field of signal transduction. Dr. Pawson was the first to describe in the 1980's that proteins contain modular domains that allow them to interact with each other to control cellular communication. Mohamed is currently completing his PhD in the laboratory of Dr. Jim Dennis, a Senior Investigator at the Lunenfeld-Tanenbaum Research Institute, and a professor at the University of Toronto. This study has been done in collaboration with Dr. David Sabatini at the Massachusetts Institute of Technology.
###
Co-authors from the Lunenfeld Tanenbaum include the late Dr. Pawson and Drs. George Fantus, Anas M. Abdel Rahman, Maria Frigolet, and Yong Zheng. Coauthors also include Judy Pawling, Huogan Lu, and Adrian Pasculescu.
Funders include the Canada Research Chairs Program, Canadian Cancer Society, Canadian Institutes of Health Research, Genome Canada through Ontario Genomics Institute, Ontario Research Fund Global Leadership Round in Genomics & Life Sciences, Sydney C. Cooper Program, Mount Sinai Hospital Foundation, and Vanier Canada Graduate Studentship. US funders include (US) National Institutes of Health, (US) Department of Defense, and Howard Hughes Medical Institute.
---
Journal
Science Signaling